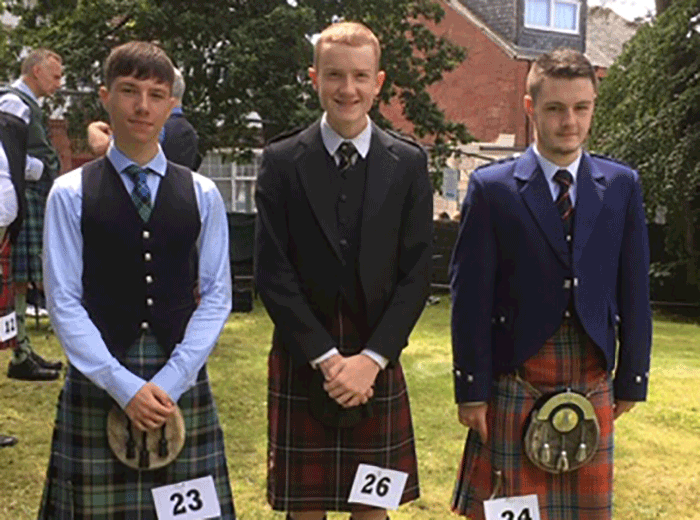 A beautiful sunny day at the southern end of Loch Lomond. All piobaireachd events were judged by Malcolm McRae and William Morrison. They reported an outstanding winner in William Geddes. All ceol beag was judged by Barry Donaldson. There was an amateur event for CLASP participants at Balloch and we hope to bring you those results later. The above picture shows junior prizewinners Ryan Cupples-Menendez, Christopher Happs and Bobby Allen.
Open Piobaireachd
1 William Geddes, Old Men of the Shells
2 Calum Wynd, Salute to Donald
3 Jonathan Greenlees, Lament for Donald Duaghal MacKay
4 Allan Russell, Park Piobaireachd No2
Open March
1 Kris Coyle
2 Allan Russell
3 William Geddes
4 Jonathan Greenlees

Open S&R
1 William Geddes
2 Allan Russell
3 Brian Lamond
4 Ashley McMichael
---
[wds id="2″]
---
Under 17 Piobaireachd
1 Christopher Happs
2 Bobby Allen
3 Dugald MacKechnie
4 Nicholas Knowles
15-17 March
1 Ryan Cupples-Menendez
2 Bobby Allen
3 Nicholas Knowles
4 Christopher Happs
15-17 S&R
1 Ryan Cupples-Menendez
2 Christopher Happs
3 Bobby Allen
4 Nicholas Knowles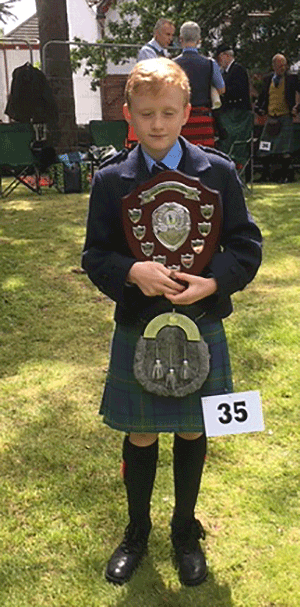 Under 14 March
1 Fraser Hamilton (pictured above)
2 Dugald MacKechnie
3 Lewis Maxwell
4 Euan Lindsay
Under 14 S&R
1 Fraser Hamilton
2 Dugald MacKechnie
3 Ryan McCreadie
4 Euan Lindsay
Local March: Mark Morrison
Local S&R: Mark Morrison
---
---

Judges for these amateur events were Roderick Livingstone and Neil Mulvie.
Piobaireachd
Grade 3 (2 played)
1. Hector Thomson
2. Megan Kenney

Grade 2 (7 played)
1. Iain Kirkwood
2. Stephen Whitton
3. William Wardrope
Grade 1 (9 played)
1. Bianca Kail
2. Con Houlihan
3. Gill Cairns
Light Music
Grade 3 (4 played)
March
1. Lachlan MacDonald
2. Megan Kenney
3. Hector Thomson
Strathspey & Reel
1. Lachlan MacDonald
2. Megan Kenney
3. Cameron O'Neill
Grade 2 (6 played)
March
1. Iain Kirkwood
2. Dugald MacLeod
3. Duncan Lamont
Strathspey & Reel
1. Iain Kirkwood
2. Duncan Lamont
3. Dugald MacLeod
Grade 1 (9 played)
March
1. Robert Wilson
2. James Murray
3. Bianca Kail
Strathspey & Reel
1. James Murray
2. Robert Wilson
3. Gill Cairns
---
[wds id="8″]