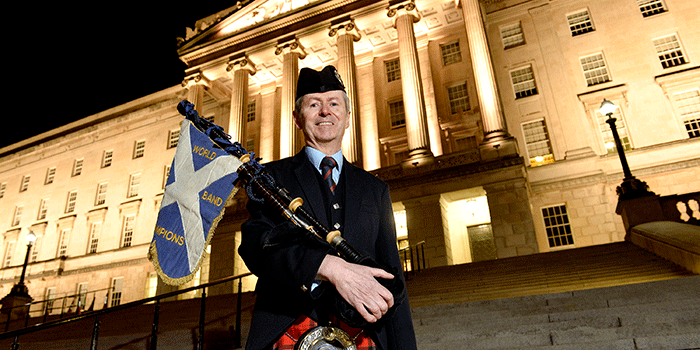 By Gilbert Cromie
Congratulation to Pipe Major Richard Parkes MBE of the Field Marshal Montgomery Pipe Band who has been named one of the eighteen leading figures from the world of business, science, sport, academia and the arts to become Honorary Graduates of Queens University Belfast for 2019.
This is outstanding recognition for Richard who for over three decades has steered the Field Marshal Montgomery Pipe Band to an amazing twelve World Pipe Band Championships, an unprecedented three Grand Slams (winning of all five major championships in the same year) and an almost complete domination of top class pipe banding in that time.
It is undoubtedly a well deserved recognition for Richard on a personal level but it is also acknowledging the role of the pipe band community in Ireland in which he has played such a prominent role in developing over the years.
---
[wds id="2″]
---
Only last year the Field Marshal Montgomery band were the recipients of a Gradam Ceoil Special Award from the TG4 Television Channel which in itself was identifying the role of the pipe band within Irish folk music which I don't think had ever received such recognition previously.
The importance of this Honorary Doctorate should not be underestimated and while I won't list all of the illustrious recipients it is worth noting that Richard will be in the company of personalities such as Clare Smyth MBE, (recently named as the World's Best Female Chef), Mark Carruthers OBE (BBC Northern Ireland presenter), Jonathan Rea MBE (four time world superbike champion) and Seán O'Neill (three time All Ireland GAA Football winner).
---
St. Laurence O'Toole Pipe Band launch raffle ahead of Armagh Concert

Following on from last week's article regarding the St Laurence O'Toole concert in the Armagh City Hotel on 27th April the band has also announced that there will be a fund raising raffle ahead of the concert with the two outstanding prizes on offer namely a set of Wallace Classic 2 Model Bagpipes and a McCallum bellows blown smallpipes in the key of A.
The first prize winner will have the choice of either instrument. Tickets are £5 each or three for £10 and the number of tickets has been limited to 300. The draw will be made live on Facebook and the winner announced at the band's last practice before the concert 25th April. Get raffle tickets here.
---
---
The RSPBA has issued a reminder to all bands that British Pipe Band Championship entres close on April 3. Entries can be made online on the RSPBA website.
The competition will be held at St James Playing Fields, Paisley, on May 18. The draw will be held on April 10 at RSPBA HQ in Glasgow.
Playing requirements: Grade 1 will submit two MSRs, G2 a 4-6 minute medley, G3 MSR, Juvenile 3-5 minute medley, NJ/G4: four or two part tunes from prescribed list.
First prize in G1 is £750 and £650 in all other grades. There are six prizes in each. Judges are as follows:

---
[wds id="8″]