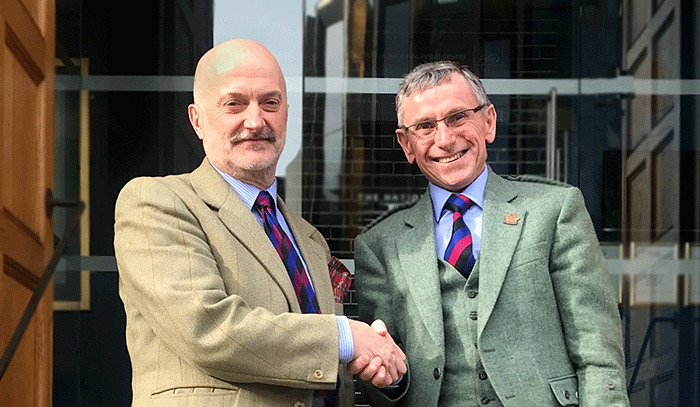 Piping Press editor Robert Wallace has been elected President of the Piobaireachd Society. Mr Wallace takes over from Dr Jack Taylor who has retired after 12 years in post.
The appointment was confirmed at the Society's AGM held yesterday (March 23) at the National Piping Centre in Glasgow.
In proposing Mr Wallace Dr Taylor said the Society was following precedent in offering the vacant post to the Vice President and added that 'no one knows more about piobaireachd or the Piobaireachd Society than Robert Wallace'.
'He has been a great support to me and his advice and suggestions have been highly valued,' he said.
---
[wds id="2″]
---
Mr Wallace was then asked to say a few words on his own behalf. He said that if elected he looked forward to continuing Dr Taylor's work and added that over the past 12 years there had been occasional difficulties but that both he and Dr Taylor had always put the Society first in all their dealings.
The proposal was then put to the floor and Mr Wallace was elected by acclamation.
In accepting the position he said he applauded the members' good taste and was honoured to be leading such an august body as the Piobaireachd Society.
---
---
He then paid tribute to Dr Taylor: 'I have worked with Jack as his Vice President for 12 years and I hope that that has been as worthwhile for him as it has been for me.
'It now falls to me to say a few words about him – a duty I am more than happy to fulfil.
'The Piobaireachd Society was founded 116 years ago. Our Patron is Her Majesty The Queen. The royal approbation is well deserved, for we have a distinguished history.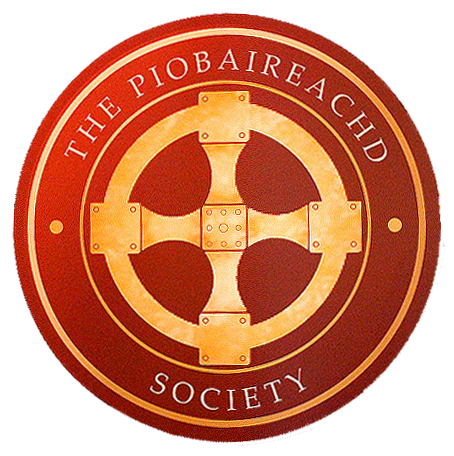 'We have done great work. We have rescued a struggling tradition and brought it to the notice of the world. Ceol mor is played on every continent on this earth. Today, more tunes are known by more people than ever before in the history of this music.
'We talk of the Golden Age of the MacCrimmons; has any more lustre than our own? It has taken the work of many individuals to create that sheen. They have been foremost in convincing the unbelievers, via the Society, of the worth of what we all know and appreciate.
'We recite the names: Gen Thomason, Shf JP Grant, Rothiemurchus, Archibald and James Campbell, Kilberry, Archie Kenneth, Stronachulin, Gen Frank Richardson, Captain John MacLellan, Lt Col DJS Murray and past Presidents such as Andrew Wright here today….the list goes on and on.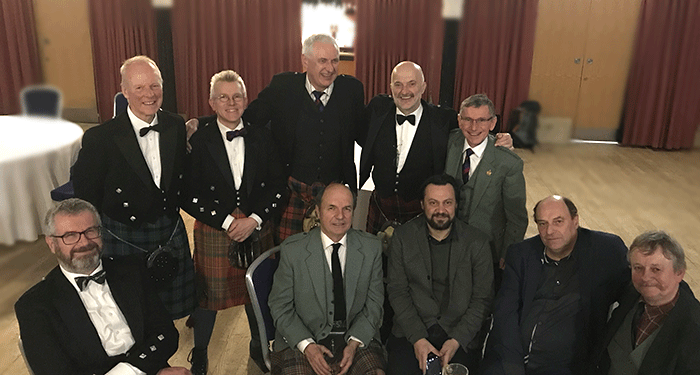 'But I say this to the master mason: gather up your tools and prepare to strike the name of another paladin onto that tablet of distinction – that of Dr Jack Taylor.
'For consider if you will a few facts: 2007 Dr Jack takes office, cash in hand £22,000; 2019 Dr Jack leaves office, cash in hand £50,000; 2007 membership: 300 ; 2019: 600
'These facts are impressive achievements but they do not tell the whole story. Just look at the archive Jack, and Jack alone, has established on our website. From a standing start it is hard to believe that we now have such a repository of classical pipe music at our disposal.
'Tune after tune remembered only in a fleeting hint on the radio or a from recalled thought of vintage piping at Oban, a memory from Inverness or some games now lost in the ether.
---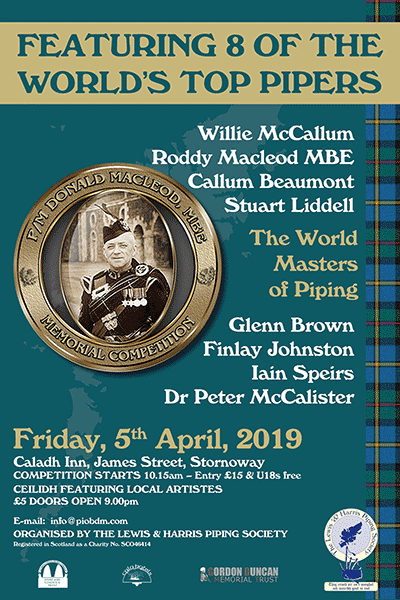 ---
'Not any more. Now we have it all at the click of a mouse in its raw glory. It's there, a reference for aspirants to enjoy and study – and for the cynic to scorn.
'Can we hear how James Campbell played? (no toiling amateur he). Yes!, of course we can. Do we know if Hector MacFadyen was as good as they say? Yes!, of course he was.
'We can hear it all at our leisure and all thanks to the labour, the unstinting sense of duty, of our retiring president. It truly will be a lasting legacy of his presidency.
'When Jack was proposed for our highest office all those years ago that sure and steadfast member from the deep south, John Shone, made the telling, if understated observation, 'I think Jack will make a good president.' How understated but how true; how true.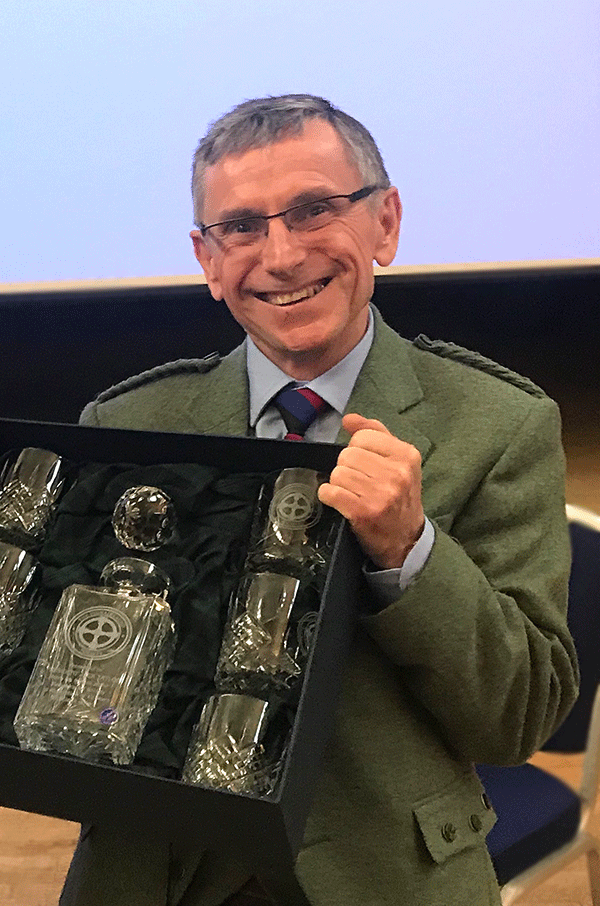 'So to mark this occasion the General Committee has had a whip round. We've pawned a few medals and got together enough cash to present Jack with a memento of his historic time at the helm of our esteemed Society
'We have an engraved lead crystal decanter and a set of glasses for him, all suitably emblazoned with the Society logo and the decanter the simple legend: 'Presented to Dr Jack Taylor by his friends at the Piobaireachd Society in recognition of 12 years service as President'.
'So now ladies and gentleman, I ask of you one thing, and one thing only. That is to applaud as I ask Dr Jack to come forward to accept this small token of our considerable respect, and to wish him a very, very happy retirement.'
---
[wds id="8″]