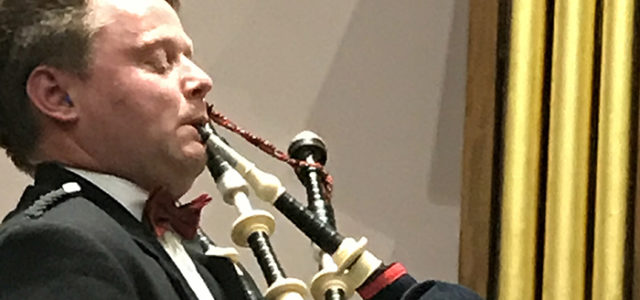 Metro Cup Invitational Solo Piping Competition, Newark, New Jersey, ­ 16 February 2019. 
Overall: Callum Beaumont (pictured playing at the Piobaireachd Society's Edinburgh Fringe concert last August).
Piobaireachd
1st Derek Midgley, Lord Lovat's Lament
2nd Callum Beaumont, Lament for the Earl of Antrim
3rd Andrew Carlisle, The Red Speckled Bull
4th Angus D. MacColl, The Battle of the Pass of Crieff
5th Alex Gandy, Rory McLoude's Lament
Judges: John Cairns, Michael Cusack
Medley
1st Callum Beaumont
2nd Andrew Carlisle
3rd Alex Gandy
4th Ian K. MacDonald
5th Cameron Drummond
Judges: Ken Eller, Donald MacPhee
Other competitors: Glenn Brown, Ben Duncan, Bruce Gandy, Cameron MacDougall, Ben McClamorock and Sarah Muir.
---
[wds id="2″]