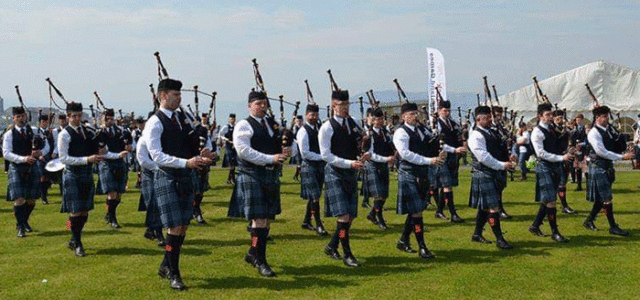 Last month the Editor visited Johnstone Pipe Band's practice hall and took the opportunity of interviewing P/M Keith Bowes Snr. about the band's recent success and the foundation on which it is built. Johnstone is a small town near Paisley, south west of Glasgow.
P/M Bowes: We are in our 76th year so we were formed in 1943. The original purpose of the band was to march the local Home Guard [aka Dad's Army] around the town during WW2.
One of the founding members, Ian Sinclair, fought in the war and was injured. He's still going strong today in his 90s and was one of the guests of honour at last year's anniversary celebrations.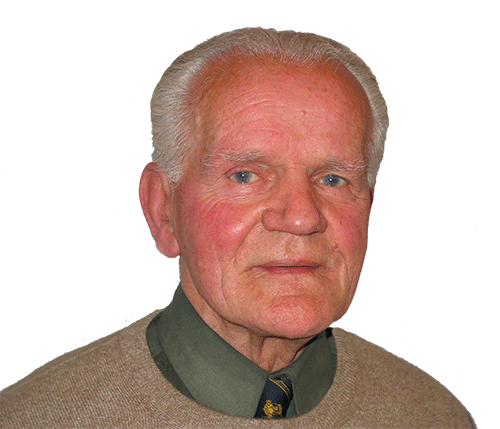 It was Ian's idea to bring together a few pipers for the Home Guard parades. I am 25 years with the band and when I came Ian was still very much playing and competing with the band. He must have been in his 70s at the time. He was on and off pipe major.
The band had lapsed its competing and was more of a community band. My connection with the area is through my wife who is from Inchinnan. It isn't exactly Johnstone, but it is one of the closest townships to here and on leaving the Army it was back to my wife's home town we went.
---
[wds id="2″]
---
I'd been playing in Grade 1 for a number of years with the Scots Guards and then Polkemmet, Black Bottle and British Caledonian Airways and I fancied a total change in direction.
I decided I would look for a local band that maybe needed a bit of help and Johnstone fitted the bill at that time. This would have been in 1994.
Slowly but surely we've come up through the grades. When I came here it was a non-competing Grade 4 band and over the years we have grown beyond recognition from what it was 25 years ago.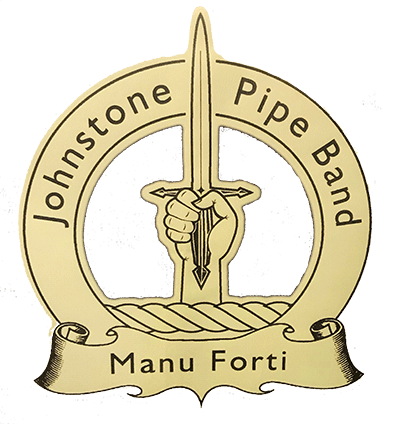 Such has been the success that we now have three bands, the Grade 1 band which is going well, and we've got a Grade 3 band and we've got the Novice schools band.
We are responsible for Renfrewshire Schools band and their learner groups so we probably have four different areas we are working on at any one time.
The Renfrewshire band is a sort of feeder band for us and already after just its second year competing there are four players progressing to our Grade 3 band.
We hope that these boys will make it to Grade 1 but they are only 15 at the moment so we need to give them another two or three years.
The Johnstone band is lucky to have its own band hall. Our hall is actually the Cartside Community Centre. It was being underused and somewhat neglected.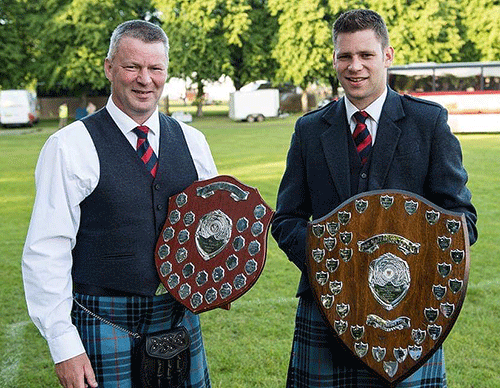 It was in danger of being demolished. Our band secretary, who worked for the local council at the time, heard about it.
We were looking for premises and made an approach. We had to put a business case together to show that we were a proper organisation that could afford to pay the running costs.
Our bid was accepted and we are now in here four days a week and in summer it is closer to six days; it is certainly getting well used.
We have children from eight or nine years old learning on the practice chanter or pad, all the way through to the pipers and drummers in the competing Grade 1 band.
We pay the extraordinary sum of £1 per year, yes £1, to the council. It is unbelievable – but on top of that we have to pay about £1,000 annually for our overheads, electricity etc.
We are charity registered so we don't pay rates [local buildings tax]. We meet the overhead costs by carrying out regular fundraisers. We've had Burns nights, curry nights, karaoke nights. We've run recitals with the likes of Fred Morrison playing for us.
So we use the building to generate money but we need other resources so to be a member of the band everyone has to pay £15 per month.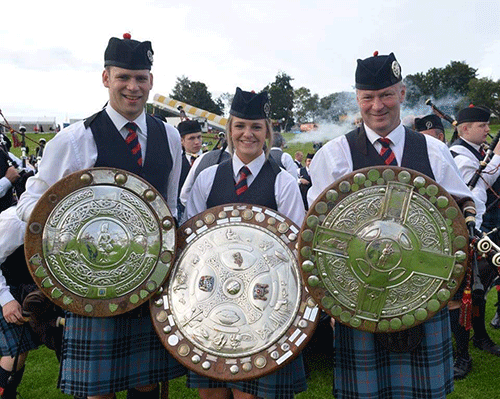 That money goes towards uniform costs, bags, chanters, reeds, drums, band buses. We also try to offset some of the travel costs to places like Belfast or Forres.
The band is permanently just in the black and no more. It is a very expensive business trying to run three bands.
We are not here to make money however and a lot our youngsters now are gaining SQA qualifications through their piping and drumming – all directly stemming from the teaching they are getting in this hall. This will stand them in good stead for the future.
Much of the recent success of the band is due to my son Keith junior. I am very proud of what he has achieved. Keith first played with Johnstone as a boy in Grade 3.
But we were in Grade 3 band at the time with no great prospects. We were always struggling for a drum corps and Keith was at that level where he needed a better challenge.
So he went to play with David Urquhart Travel and I joined him! I had dual registration with the RSPBA for a year or two. When Keith was 15 or 16 he went to Scottish Power and learnt his trade there.
He became Pipe Sergeant and the natural thing for him to do after that was to take over a band of his own.
I had just taken Johnstone into Grade 2 and I felt Keith was the better person, with the ideas and the energy, to take it to the next level. It was a natural progression.
He took over the band in 2015 and we won the Worlds in Grade 2 that year. We won it in '16 as well and we went into Grade 1 in 2017.
The pleasing thing is that there is still a good scattering of players in the Grade 1 band that played with us in Novice Juvenile. They've come right through.
Keith works very well with the new leading drummer Les Galbraith. Les has a good pedigree. He was a Juvenile World Champion and played with Strathclyde Police, the Vale of Atholl and Black Bottle I think.
Les is local and he has a good corps around him and I see the two of them, Les and Keith, having a good future in Grade 1.
I think the Grade 1 band has good prospects because of what we are doing at the lower levels. There are always people coming though.
A lot of Grade1 bands are hoping that they get players from other bands, relying on fly-ins etc. But I can see the future of this band coming from our own roots as it were.
At one time we had pipers coming through but not drummers, so a number of years ago we started our drumming classes. It is a bit behind the piping. For example our Grade 3 pipe corps is all home grown but at the moment the drum corps isn't.
However all of our Novice band drummers are from our own teaching and we hope they will progress into the G3 band eventually and perhaps to the G1 band.
The Grade 1 band made the final of the Worlds this year which was a tremendous achievement. It provides a beacon for the rest of the organisation.
You can see when we go to the competitions the Novice and G3 band tracking the big band, hanging about them all the time hoping that one day it could be them playing in the 'big' band.
The band made the Worlds final which is absolutely wonderful, but they can't just sit back as if that is the end of their effort.
They've got to work even harder to maintain their position and perhaps get into the top six.
They've got to go out and get an eighth and then a seventh then on a good day they will make the list. We always want them to be better than they were the previous year.
---
[wds id="8″]