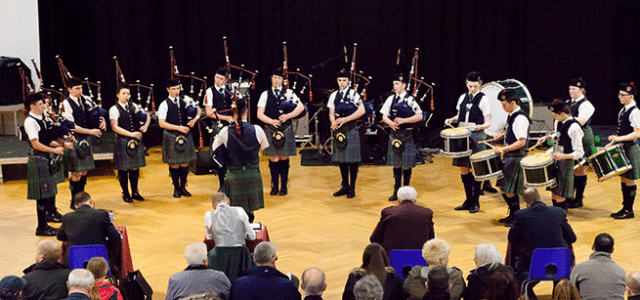 A parent has raised questions about access arrangements for the forthcoming Scottish Schools Pipe Band Championships. The Championships are growing in popularity attracting dozens of bands and hundreds of followers to the annual event. 
Indeed the promoters, the Scottish Schools Pipe & Drum Trust, say next year's contest, to be held on March 10 will be the biggest yet with an estimated 150 bands taking part. The venue is Inveralmond Community High School in Livingston, West Lothian.
A parent who has written to Piping Press has asked to remain anonymous and to make it clear that he fully supports the Championships and the good work that the SSPDT do for teaching piping and drumming in schools.
He writes: 'This is always a well organised and worthy contest, allowing all abilities the chance to compete. It is a very upbeat and energetic day. But away from the performance halls and on a practical point, it would be good to hear what the organiser will do about traffic and parking.
---
[wds id="2″]
---
'There were widespread complaints (and social media posts) from locals last year as hundreds of attendees abandoned cars around the perimeter of the campus (wrecking grass verges and the like).
'Parking inside was off-limits from very early morning and extremely limited anyway, only for a very large number of RSPBA judges, officials, stewards and Trust staff.
'I fully understand this. but for the spectators the surrounding streets were difficult. On a Sunday, public transport is also limited and Livingston isn't the easiest to navigate without a car.
'Then there is the likely band bus traffic. Are they going to have bus shuttles from a better parking venue? The number of bands matches the likes of an RSPBA Championship, so spectator numbers will be high.
'Parking has been a perennial challenge for the Championship at all venues in the past. Using a school campus, whilst appropriate, presents the attendees with real parking problems.
---
---
'We feel the angst of the local residents already. So far, the Championship has been in central Edinburgh or Livingston. I would have thought a University Campus in say, Stirling would provide ample accommodation and parking in a very central location.
'Schools do not have ample parking these days for teachers, never mind hundreds of visitors.'
In reply Patrick Gascoigne, organiser of the Championships, said: 'We are grateful to the author for pointing up an aspect of the Scottish Schools Pipe Band Championships that has been a concern to us over the past six years.
'He is correct to say that 'schools do not have ample parking these days for teachers, never mind hundreds of visitors'.
'But this downside should be balanced against other aspects that make certain schools very attractive from the organisers' point of view: high numbers of suitably large classrooms all within one building (essential for participating bands), spacious competing halls with appropriate acoustics and sufficient audience seating capacity all within one building (again essential for competing bands), and in-house catering facilities geared for schoolchildren.
'Of course, as the author hints, such facilities are available in some universities, but we would highlight that few have our essential requirements outlined above, and not all have ample parking for our purposes.
---
---
'Generally the hire of university facilities comes at a far higher price than schools.
'Of paramount importance to the organisers is the safety of competing school-children, particularly when debussing and embussing close to the entrance of the venue, where a bus drop-off and pick-up point and turning circle inevitably further restrict car-parking space.
'When the Championships were held in Edinburgh we paid the City of Edinburgh Council £1.2k annually to close off a road in order that schools' buses could deliver and collect their passengers safely.
'As the author will appreciate, inconsiderate parking outside the school grounds is not something we can control directly, but each year we alert Police Scotland to the event, and the school works closely with its community council on a host of aspects concerning the Championships including nuisance parking.
'Going forward, we intend to improve parking arrangements within the school grounds by making better use of space and by having additional parking staff.
'We will also investigate the feasibility of providing a mini-bus shuttle service.
---
Listen to the terrific playing of P/M Niall Stewart's Lochalsh Junior Pipe Band at this year's Championship:
---
'On top of that we are always on the look-out for bigger and better facilities to keep pace with the burgeoning popularity of the Championships.
'Lastly, we're always happy to talk to anyone who thinks they may have ways of improving the event.
'We will be alerting all competitors and accompanying guests that parking is an issue, and advise that they combine for parking purposes, use buses where possible, and avoid anti-social parking.'
Away from the Championships, the good work that the SSPDT do for piping and drumming is highlighted in their most recent annual report:
'The Trust supports a range of partners to structure, develop and deliver pipe band programmes, including local education authorities, charities, parent councils, Fèisean, constituted community organisations and community pipe bands. In some cases the Trust helps to create and constitute steering groups, and provides on-going guidance such as networking, knowledge transfer, professional development for instructors, help with recruitment, communications and fundraising.
'During the course of the year, the Trust supported 2,550 pupils to receive tuition in 190 primary and secondary schools, in 18 local education authorities. A total of £511,775 towards tuition and related costs was disbursed. The Trust also purchased musical instruments to the value of £17,400. At year-end, 129 bagpipes in total were on loan or pledged to partner organisations.'
The table shows progression over the past three years:

• To find out more about the Championships and how to enter your band click here.
---
[wds id="8″]