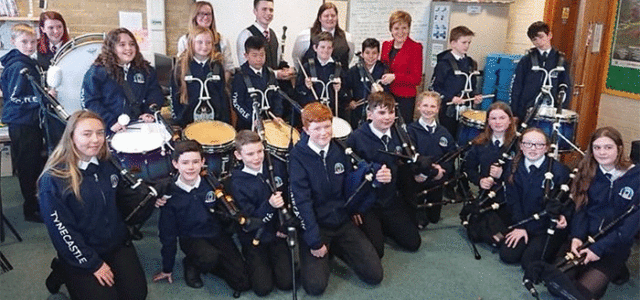 My point on Monday about the quality of timing and phrasing in P/M Donald MacLeod's 6/8 march can be illustrated by comparing this recording with Donald's playing:
This is from a leading prizewinning piper who shall remain nameless. Click here to brush up your 6/8s.
Here's an excerpt from the article: 'The left and right beats are shown clearly. We give a little more to the left than we do to the right, and we have an ever-so-slight pause at the end of the phrases (the first and third in each line marked with the vertical line).
Follow this pattern in all your 6/8s (applies to drummers too) and you will not go wrong. And when playing solo, under no circumstances follow the example of the thump, thump of the bass drummers as they batter out the tempo for massed bands – they are just trying to keep everyone together, not trying to appeal to the finer aspects of your musical appreciation……'
---
[wds id="2″]
---
The kids pictured top with First Minister Nicola Sturgeon are from the Tynecastle piping and drumming project in Edinburgh. The project organisers are crowd funding to try to raise £1,000 to keep the tuition going in what is not a well off area of the capital.
From what I have heard this very worthwhile project used to be sponsored by Creative Scotland and the Scottish School Pipes & Drums Trust.
I hope they are still helping out at Tynecastle. Money is there for elite projects in piping but not enough is done for grassroots teaching in needy areas such as this.

The blurb on the crowdfunding website reads, 'We provide first-class piping and drumming tuition to over 80 young people in the Tynecastle catchment area, an area of significant diversity and deprivation. Tuition is free and open to all young people in the area, allowing us to remove barriers, foster a positive and encouraging community ethos and challenge inequalities, all whilst learning new skills.
'Pipe bands are about more than just developing musical skills; they develop attributes for life, learning and work including confidence, resilience, a sense of discipline and dress, teamwork, and individual and shared achievement…..'
Help out if you can by clicking here.
---
---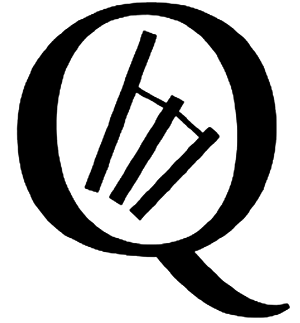 Congratulations to all the pipers who played at Queensland's Piobaireachd Day on November 4: Christopher McCosker (Scots PGC) – Munro's Salute,Fraser Collins (Scots PGC) – Struan Robertson's Salute, Abby Dalziel (Scots PGC) – Massacre of Glencoe, Nic McGahan (Scots PGC) –  McIntosh's Banner, Bruce McLeod – Lament for Donald of Laggan, Sandy Dalziel – Weighing from Land, Ross Campbell – Lament for the Little Supper, David Marriner – Lament for Mary MacLeod, Ross Campbell –  Clan MacNab's Salute, Ewen McFarland (Scots PGC) – Munro's Salute, Pete Murray – A Flame of Wrath, David Marriner – Melbank's Salute, Sandy Dalziel – Lament for Sir James MacDonald of the Isles, Ross Campbell – Piper's Warning to his Master
This was the QHPS's eighth annual recital. The Society's recent newsletter reports: 'Ross Campbell believes that there must be other pipers out there who would like to learn how to play piobaireachd.
'He therefore proposes to conduct properly structured lessons (free of charge) to anyone who would like to participate between 2:00 and 4:00 in the afternoons following each of our regular monthly meetings as detailed above. If enough want to come to justify this plan going ahead, the first session will be on Sunday 3rd of February. To enrol e­mail: ross_campbell@mac.com'. Well done Ross.
---
David Colvin has written: 'I am the writer of the 'Thunderstruck' play, a drama about piping legend Gordon Duncan which performed a one-off show at Piping Live 2018. We have now been asked to perform two shows at the upcoming Celtic Connections festival in Glasgow and we were wondering if we could post a flyer for the play on your Piping Press page.'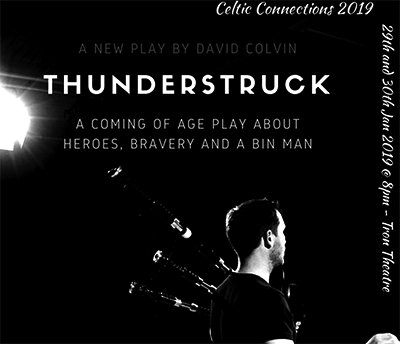 The Celtic Connections shows are at the Tron Theatre, Glasgow, on the 29th and 30th January.
Good luck with the CC showings David. Click here for more.
---
New letter today about Henry Starck pipes. Read it here.
---
[wds id="8″]