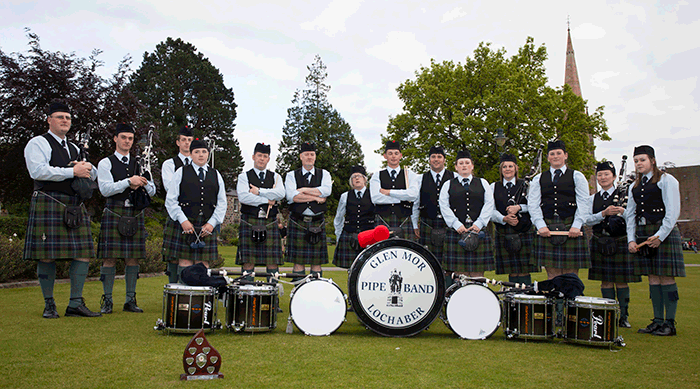 Glen Mor Pipe band, Fort William have sent this…
It's the end of a piping and drumming era in Lochaber as one of the area's pipe bands has been forced to dissolve.
Glen Mor Pipe Band was formed in 2006 as a competing band to represent Lochaber at the five major pipe band championships run by the RSPBA. With the area not represented on the world stage, the bold step was taken to form a new band, not in rivalry to the well-established local pipe band, but in compliment to it, giving local pipers and drummers the opportunity to enhance their skills and test their ability in competition.
Glen Mor started in the lowest RSPBA ranking, Grade 4B. It took a few years to establish a grounding but numbers grew and more and more pipers and drummers joined the band, though many switched allegiances regularly between the three local bands. In 2013 Glen Mor Pipe Band were crowned Scottish Champions, 2nd in the British and 8th in the Worlds in Grade 4B. With less than six years of competing behind them, this was no mean feat and they were promoted the following year to 3B.
---
[wds id="2″]
---
With this came the higher standard of tunes that were required in this grade and unfortunately after only one year in 3B numbers started to dwindle and without more experienced and accomplished players coming in, maintaining this higher standard proved difficult. 
The band took a year out from competing in 2015 with a view to establishing a firmer grounding and in 2016 requested a drop to Grade 4A where the tunes expected were still testing, but a little bit more relaxed. Things still proved difficult with members struggling to make practices and the fall from grace was confirmed when it became apparent that the band would never be able to compete due lack of numbers.


Some attempts were made to merge all local talent together into one band, however in August 2018, Glen Mor officially withdrew membership of the RSPBA and dissolved its status with the Office of Scottish Charity Regulator.
Pipe Major Willie Evans said, 'Hopefully the experiences in the good times and bad have benefited our members then and now and I look forward to Lochaber having a proper competition band once more in the future.'
There are many theories as to how it has come that Glen Mor Pipe Band have succumbed to this. The geography of where we are situated is one theory with a fair distance to travel to compete. This clearly also has a financial burden that due to lack of sponsorship, was often borne by individuals. Indeed within Lochaber area, members also found it difficult to travel long distances to attend practices.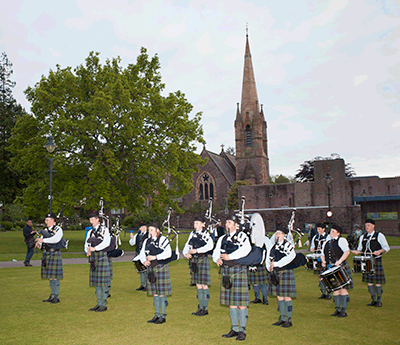 More and more teenagers are now leaving school and leaving Lochaber for university or work. There is a plethora of pipers and drummers within the Lochaber area all of varying degrees of ability but until a solution is found to unify the clans it will be difficult to give Lochaber the world class pipe band it deserves.  
As per its constitution and OSCR rules, the assets of Glen Mor Pipe Band have now been shared to like-minded local charities. Lochaber Schools Pipe Band, Isle of Skye Pipe Band and Fèisean nan Gàidheal all received equipment and over £3000 split between the Salvation Army (for the use of their hall), The Buzz Project, Lochaber Music School and Cothroman Ceol Beul Aithriseach.  It is hoped that these donations will help talented young musicians in the Lochaber area.
---
[wds id="8″]