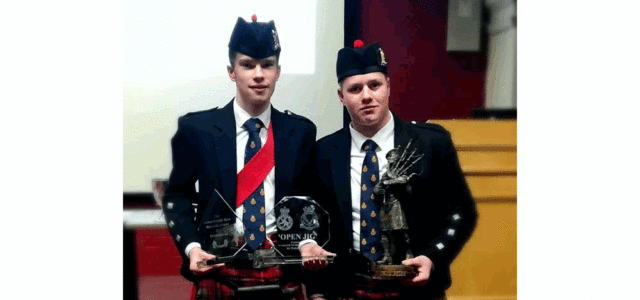 There were two juvenile solo competitions in Scotland last weekend. We have already reported on the Festival of Juvenile Solo Piping. The other was the Army Cadet Forces piping competition at Redford Barracks, Edinburgh.
The above picture shows Pipe Major John A. McLaren and Cadet Rory Robson of 1 Highlanders Pipes & Drums, Inverness, who took first places in the piobaireachd events. Both John and Rory are from Invergordon and play for Ross and Cromarty Pipes and Drums School as well.
• We have yet to receive the full results from this contest and would be obliged if someone could forward same. PP
---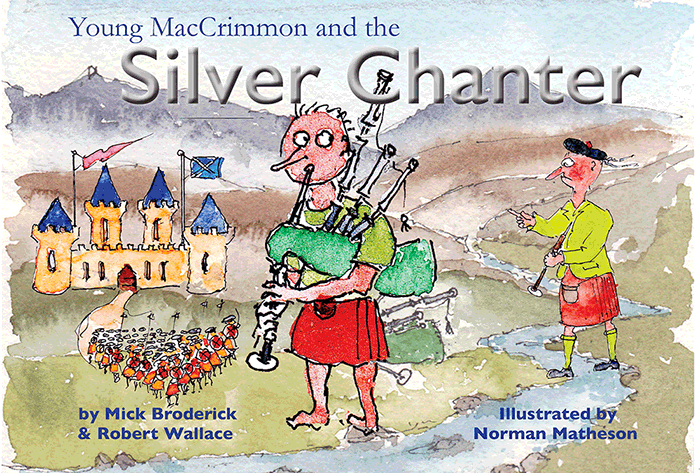 PP Editor Robert Wallace and well-known adjudicator Norman Matheson MBE have produced a new children's book in time for Christmas. Mr Matheson, a talented illustrator, has produced the drawings to go with Mr Wallace's text. The tale is taken from the storytelling of the late raconteur and folk singer Mick Broderick. It tells of the fabled silver chanter and how it brought fame and fortune to the MacCrimmon family only to see it lost forever. The book begins…'A long, long time ago, before even the oldest person you know was born, there was a music school in the Highlands of Scotland. To this place were sent all the children who wanted to learn the bagpipes. Tucked away in a spooky glen, surrounded by lots of mountains and a great big loch and a dark forest, there was  the school…..
The book, priced £6.99, is available from the Piping Press Shop.
---
John Kelly reports from Northern Ireland….
A Civic Reception hosted by Councillor Richard Smart (Mayor of Ards and North Down Council) was held at Bangor Castle on Tuesday 23rd October to recognise the fantastic successes of the youngest ever Adult World Champion Drum Major, Emma Barr (Field Marshal Montgomery Pipe Band).
Nineteen-year-old Emma, from Ballygowan, is the daughter of Alan and Jacklyn Barr. Emma started learning her drum major skills at just four years old under the tuition of the 2011 Adult World Champion, Drum Major Alicia Dickson.  
From eight years of age until the present day, Emma has been trained by three-times Adult World Champion Drum Major Brian Wilson MBE. Emma started her drum majoring career with Ravara Pipe Band in 2003 and joined the Police Service of Northern Pipe Band in May 2013; since May 2014, she has been the drum major of twelve-times Grade One World Champions ,Field Marshal Montgomery.  
Emma's father Alan, a member of Ravara Pipe Band says, 'Emma started competing at just five years of age and has won too many titles to mention them all.  She won all majors in Junior Grade and all but one championship in Juvenile Grade; and was third at the other championships.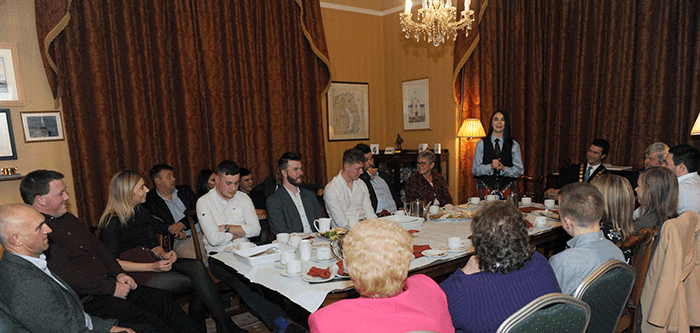 'In her first year in Adult Grade she won at Cookstown and at the All-Irelands at New Ross and was placed in all the other competitions at home. At the majors, she won the UK and the World Champion titles and was third in the other three.  
'Also in her first year in Adult Grade, she won the Champion of Champions title in Scotland and has been World Champion of Champions for the past six years in a row in her respective grades.'  
Now a two-times World Champion Drum Major, Emma won the Junior World Champion title in 2010 when she was a member of Ravara (the year the band were crowned Grade 2 World Champions), and won the Adult World Champion title in 2018 when she was a member of Field Marshal Montgomery Pipe Band (the year the band were crowned Grade 1 World Champions for the twelfth time).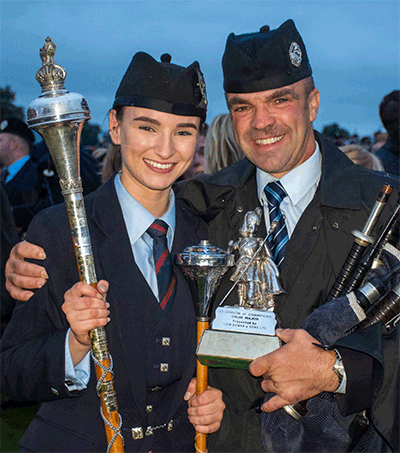 Speaking of the civic reception event to recognise her successes, Emma said, 'I feel honoured to have been given this civic reception by the Mayor of Ards and North Down Council.'
---
[wds id="2″]