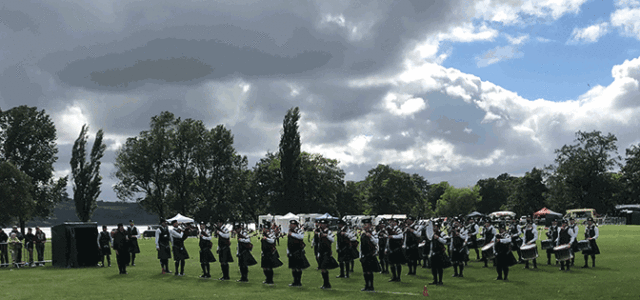 St Laurence O'Toole Pipe Band were declared Scottish Pipe Band Champions today at a damp Levengrove Park, Dumbarton. P/M Alen Tully and his band are pictured at the line. Unluckiest band in Grade 1 were Shotts & Dykehead who had to play through a torrential downpour but still managed a sixth place. The weather had an effect on the crowd but there were still significant numbers enjoying the music and the sideshows. 
The other G1 places went to:
2 Inveraray
3 Field Marshal
4 Scottish Power
5 Fife Police
6 Shotts
with the drumming going to SLoT.
Each band had to submit two MSRs, one of which was chosen at the line. The judges in Grade 1 were James Wark, Ronald MacShannon (piping), Alexander Steele (drumming) and Paul Turner (ensemble).
---
[wds id="2″]
---
There will be more on Grade 1 from our Editor later.
Grade 2
1 Ravara
2 Grampian Police
3 Closkelt
4 Manorcunningham
5 Isle of Islay
6 Bucksburn
Drumming: Manorcunningham
Stay tuned to PP for MacStig's exclusive take on this very competitive grade.
Other grades:
3a
1 Udd. Strath.
2 Annan
3 Portlethan
4 St Joseph's
5 5th-2622 RAF
6 Quinn Mem.
Drumming: Udd. Strath.
3b
1 Scottish Borders
2 Battlehill
3 Johnstone
4 Scots Guards Assoc.
5 Turriff
6 Bowhill
Drumming: Johnstone
---
Follow Piping Press on Twitter! Click on pic! Get all the latest from the piping and pipe band worlds.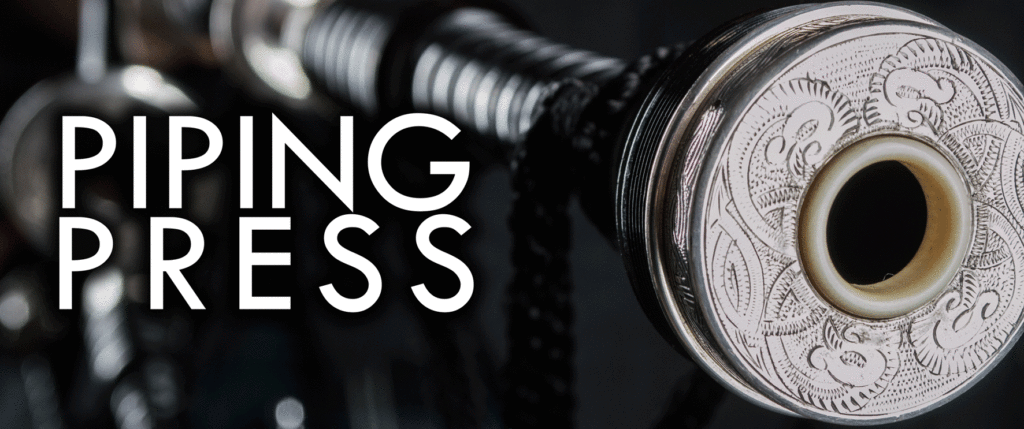 ---
Juvenile
1 Dollar
2 G Watson's
3 G Heriot's
4 N Lanarkshire Schools
5 W Lothian Schools
6 Boghall
Drumming: G Heriot's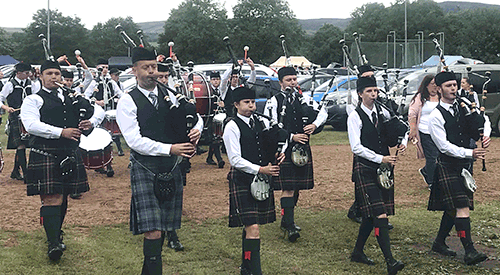 4a
1 Lochryan
2 Dunbar RBL
3 Cullybackey
4 Glenrothes
5 Kilmarnock
6 Tweedvale
Drumming: Glenrothes
4b
1 Bessbrook Crimson Arrow
2 Camelon
3 Stockbridge
4 Rothesay
5 Mid-Argyll
6 Dunoon Argyll
Drumming: Rothesay
Novice A
1 Dollar Acad.
2 Oban High
3 George Watson's
4 Brisbane Boys' College
5 Boghall & Bathgate
6 George Heriot's
Drumming: G Watson's
Novice B
1 N Lanark Schools
2 1st Troon BB
3 Preston Lodge
4 MacKenzie Cal.
5 Brisbane Boys' College
6 Kintyre Schools
Drumming: N Lanark Schools
Get the full summaries here.
---
[wds id="2″]