Some say that when he thinks top hose he thinks fire engine ladder….that his only drone is the one where he goes on and on…..but, but, but…. our readers follow his every utterance so here is the latest from MacStig…….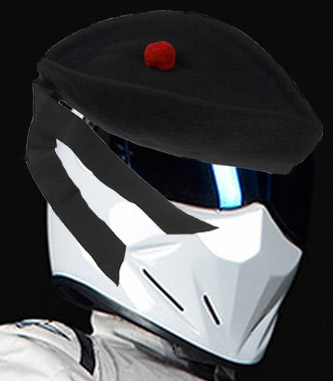 To Paisley, town of the Abbey, town of Coats & Paton, the famous 'pattern' and famous son Gerry Rafferty, as the first RSPBA 'Major' machinery rolls onto the St James' Playing Fields for the May 19th British Pipe Band Championship. 128 bands listed, versus 146 last year –  we are all set for the 2018 season.
In this first Grade 2 competition we have a new deck of bands with three promoted, one coming in from Grade 1, a handful stepping down or out and a bit of shuffling of the pack too. The heavyweight overseas names won't be present until the warmer days of August, and probably approaching a dozen of them will appear (from North America, Australia and the like) at North Berwick. Saturday's competition will set the tone for the weeks ahead though. (See the draw here.) It's a 2pm start for the Grade, running to a little after 4pm, so G2 stalwarts will be able to walk over to the Grade 1 arena and catch the penultimate and last bands on, Scottish Power and Field Marshal Montgomery, respectively.
Adjudicators on duty for Grade 2 are Messrs Semple, Worrall, Mordaunt and David Brown, for this March, Strathspey & Reel competition (one of two, drawn at the line). And for those who get excited and follow such things, that is 50% of judges from 'overseas', one from the Republic of Ireland and a Canadian, if it is at all relevant. My own view? They are adjudicators. Period. Destined to please a few and disappoint many, and we should be grateful for their expertise, time and effort. They score what they hear.
---
[wds id="2″]
---
Up to the Grade come Wallacestone & District, Royal Burgh of Stirling and New Ross & District. From last year's cohort a number of others don't feature, some choosing not to and others we wait to see. Dumbarton, Oban, Thiepval Memorial (downgraded but not listed in G3), Glasgow City (disbanded) and Annsborough. Add to that, Ravara coming in from Grade 1 and you arrive at 14 listed to play. As an early forecast, I suspect we could be looking at two qualifying heats of 12, or more for the Worlds in August.

Back to the Paisley preview: First off, Isle of Islay (main picture) sponsored by the local Kilchoman Distillery. They had their best day at Forres last year with a third in Ensemble. They failed by the slimmest margin to take one of the hard-fought qualification places for the final at Glasgow Green last August, and that level must be on the radar as the season progresses. The Ensemble scores on a couple of occasions point to musicality, to which I can attest, but up and down Piping and Drumming scores suggest a lack of consistency. If they improve on that, they will certainly be a distillery set to music.
Closkelt will be on second and a tidier band you'll find hard to come across. A stylised wolf head logo from Celtic knotwork is the new look for the band. Very snappy. Last season they delivered some of the finest piping in the Grade and the tone is usually rock solid. But for a disappointing drumming score in the Worlds final, they were in the prize list. If it all holds together and the Ensemble is on a par with Piping, I reckon this band will go one better for this one and will be in the mix at tea time.
Third up, City of London marching in memory of the late Iain Westgate the founding pipe major of this band. A year of progress is expected in their second competitive season. The key is locking down the tone early and focusing, absolutely focusing, on the precision requirements for around five minutes. I haven't heard them outdoors this season yet and recordings are notoriously tricky to gauge. This group is one to follow. I'm sure they will have up and down days but more up than down. As a mark of respect to P/M Westgate, I urge all to receive their performance warmly as they leave the circle.
---
Follow us on Twitter
---
Hot from the great success of their Centenary Concert, MacKenzie Caledonian step up next. I'm forecasting that the concert preparation will have given them a jump start on the season and I expect them to come out raring to go. With their eyes on the prize, they will be in the mix by the time Ian Embelton is reading out the names in the early evening. It's just a matter of 'where' in the order? These domestic championships might just be their time to shine, but there are a few Irish and Northern Irish bands that might have more to say about that. Expect a strong season from this crew. March Strathspey & Reel competition days, like this one, might be the peaks.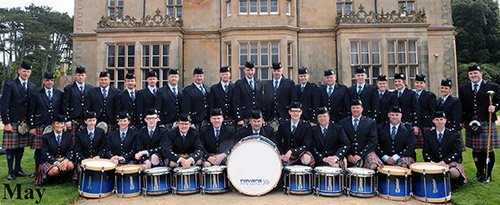 Ravara are an unknown Grade 2 quantity having made ten Grade 1 appearances last year, now gracefully taking Grade 2 status and building again. Matthew Shaw is the new lead tip having taken over at the back end of 2017. It's highly likely Ravara will find their feet quickly and be in the hunt for silver throughout the season.
New kids on the block, and newly promoted, Royal Burgh of Stirling play next. I took a look at this band last year as the early tic tac suggested they would be a strong promotion candidate along with Wallacestone. At their peak they cruised to the 3A Worlds final and comfortably took first overall. When playing up to G2 at minor contests they also beat a few G2 names. 2017 was one of those seasons where momentum was building, confidence growing and a degree of inevitability entered the stage. However, their older experienced heads will be reminding everyone that Grade 2 is a different matter altogether. A wider and deeper repertoire is needed, consistent precision playing and strong sound quality are simply expected, or adjudicator mercy is invisible. As I've said, those judges can only score what they hear. Best of luck Royal Burgh, get it on from the attack and hold your nerve.
On that point of mercy, City of Discovery had an interesting season last year with some real promise, some other more damaging scores and the disappointment of something going wrong in the Worlds qualifying heat ending the season earlier than they wanted – sooner than I certainly thought. That qualifier was a Medley, this is the MSR and they do possess an ability to play good strathspeys across piping and drumming. Greater consistency is required to improve outcomes however. This band has a high degree of promise when at its very best.

Balagan, 'the Danes', with a good few more honorary Vikings from far-flung and not so far-flung places added to the ranks. A strong close season signing of Derek Craig, formerly of a number of bands, most recently Scottish Power, who steps in to replace the well-regarded lead drummer Louise Lindhardtsen. If P/M Bernard Bouhadana has added other strong pipers to the combination of experience and youth, this could be the dark horse. They will be playing in all five 'majors' and that will assist consistency. Top six every time must be the target.
Ninth on to the field, Grampian Police. A very busy band (ten performances last year)  supporting most 'majors' and some minor contests too. They missed the UKs in Belfast, but placed sixth at the Scottish and Europeans. The pedigree is there and you might well see them flickering around the top six list. If they can lock in and avoid the odd piece of freelance piping and tighten the ensemble they will be in the mix. Early results at the Northern band contest saw them pipped in drumming and ensemble by G3 Portlethen (a tip for the G3 title).

They will be followed by another emergency service in the form of Scottish Fire & Rescue, a large band with its own juvenile programme creating a conveyor belt of younger talent. The band will have to crack on to improve on last year where mid table was almost as good as it got. They deserve another go this year and will improve, but they have to contend with the newly promoted bands aiming to go higher than them. In a very early outing in 2017 RBS did just that. I admire what SFR is doing and they will reflect on their best placing (7th) at the UKs last year as a platform to build from.
Another band with a lengthy pedigree is Bucksburn & District, the highly successful promoters of the Aberdeen Beach Ballroom 'pre season concert' recently featuring Fife Police ('Decade on the Beat'). B&D made four championship appearances last year, including two at the Worlds. After qualifying, they were finalists in a very high calibre Grade 2 contest. The band finished near the bottom of the final order but had moments of promise. The first in piping from one adjudicator at the 2017 British assisted in their sixth place that day. Capable of that again for sure. If they had more of the Mac Cals consistency, the top six would be theirs regularly.
---
A Better Way to Learn
---
Newly promoted Wallacestone & District have a proud and the longest civilian history of any band. They are now in their 131st year. 2017 saw back-to-back Major wins mid-season and enough to take Champion of Champions in 3A, but what must have been a disappointing final placing at the Green. The recent concert at Dobbie Hall entitled 'There and Back Again' highlighted the talent orbiting around the band. It was hosted by a famous son Stuart Cassells, a founder of the Red Hot Chilli Pipers. The cabaret table set up was smart and you can pick up video extracts of the programme online. 

The band is certainly on the 'up' and it will be interesting to see how the P/M pitches things at Paisley. Will they go for it and take risks, or will they play inside the lines and a bit safer? If they take a leaf out of the guest pipers at the concert – Ben Duncan (Army School of Piping) and Alasdair Henderson (Gold Medallist and P/S of Inveraray) they will demonstrate control, sound technique and musicality – then let rip.
Another G3 promotion, New Ross and District, will debut as the penultimate band in the Grade. They finished second in 3A at the Worlds and catapulted themselves up the Champion of Champions table to be one of three elevated to Grade 2. They certainly get the prize for the most imaginative fundraiser over the winter with a sponsored 'beard shave and leg wax' going on. Who might have needed a shave, and who might have had need of both treatments remains a mystery. No hipster beards and the 'other end' will mercifully be covered by kilts and long hose. The Grade 2 band has also been stateside to the Virginia Tattoo and, from what I hear, it was a very worthwhile tour albeit that they were not in the top three against the US bands. I'm looking forward to hearing how they cope with this step up to Grade 2. Their motto, translated from Gaelic, is 'Musicians without Borders' and might now be musicians without beards.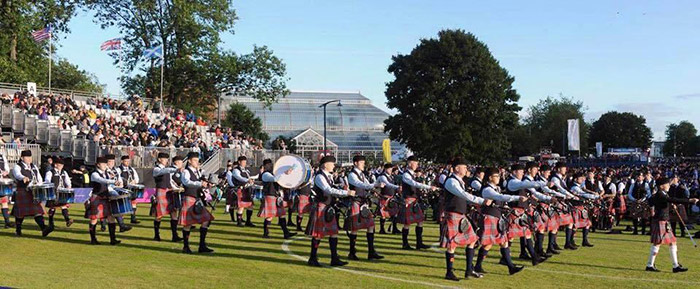 Last on, and one of my top tips for the year, are Manorcunningham, from East Donegal. The band will close the Grade at approaching 4pm. They made a great play through a tough 'Worlds' qualifier in 2017 and got on the rostrum in sixth place. Quite a pinnacle, but those who followed their progress and listened to them from that first 'major' in Paisley will know they had flashes of brilliance over the season. Consistency, week in week out, just like the very top bands in Grade 1, is a must to make the list every time. I have a strong hunch that ManorC will be a name to watch this season and might well end up fighting it out with the Ravara, Mac Cals, Closkelt and a couple of others for the four championships before the big one in August. 
That's the running order and my overarching hope is for high quality music, some risk taking, a bit of fun, and an exciting season. The very best of fortune to you all and I sincerely hope you match your targets and aspirations for the coming months. From all Grade 2 watchers, and myself and the Piping Press team, we salute you. Over and out.
• Going to Paisley? Check out the transport situation here.
---