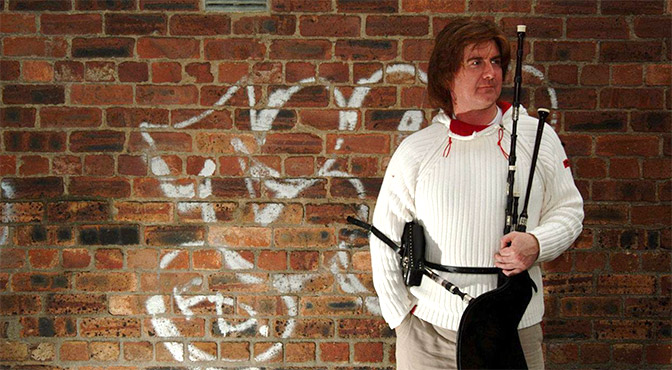 The Scots Guards Club's Knockout contest details have been announced featuring some of the best young professional pipers currently on the solo scene. The club is also staging a recital  by Fred Morrison. Jimmy Banks: 'Our winter piping programme will start again on 24 September [this coming Sunday] with the first in our popular series of knockout events starting at 4pm. Tickets are £5 on the day with pies on sale.
'The legendary folk musician Fred Morrison (pictured top) will perform from 5.30pm on Sunday 26 November, immediately after the knockout. Tickets on sale shortly.'
Sun 24 September: Callum Moffat v Jonathon Simpson
Sun 29 October: Ben Duncan v John Dew
Sun 26 November: Jamie Elder v Dan Nevans
Sun 28 Jan 2018: Callum Watson v Ross Miller
The Scots Guards Association hold their annual junior competition in Inchdrewer House, home of the Army School of Piping, on October 21. The school hosts the Captain John MacLellan Memorial professional competition on Oct 7.
---
[wds id="2″]
---
Denny & Dunipace Gleneagles Pipe Band: 'We had a successful 2017 season in which the band were placed in four of the five majors and placed in the top three in all the minor contests entered including becoming Grade 4A British Champions and placing fourth in the World Championships. The band is now hopeful of being upgraded and is looking to increase both the pipe corps and drum corps for the 2018 season.

'This is an exciting time for the band with the senior band also making a return. The band also teaches beginners on Monday nights from 7pm with the aim of developing players to go right through the grades. Anyone interested should contact P/M David Todd  or get in touch through the band Facebook page or go along to practice on Monday nights in Denny High School.
---
John Kelly reports: Chris Pollock, who for the past twelve years has played the bass drum for Field Marshal Montgomery Pipe Band, has announced that his time with the band has come to an end.  I first photographed this big guy in July 2008 at, of all places, my home town of Lisburn.
In a Facebook post Chris says, 'For the past 12 years I have had the honour to play for Field Marshal Montgomery Pipe Band.  Every second has been a pure joy.  In particular the last 11 seasons, the time I was entrusted with beating the big drum, will be a time that I will treasure forever.  It's not possible to put into words how humbling it is to be deemed good enough to play in Keith Orr's drum corps and in Richard Parkes' band.
'That alone makes my time in FMMPB special.  The music – wow, what a thrill!  The titles are just a bonus.  But there is 'a time for everything' and my time in FMM has come to an end.  Work commitments and my growing family mean that I would be letting down the people I love the most, my Lord, my family and my band mates, if I were to continue.  So, I've handed the big drum on to Robert Smyth and no finer man could I be handing it to!   Robbie, I pray you have as much fun playing in 'the best spot in pipe bands' as I did – and even more success!'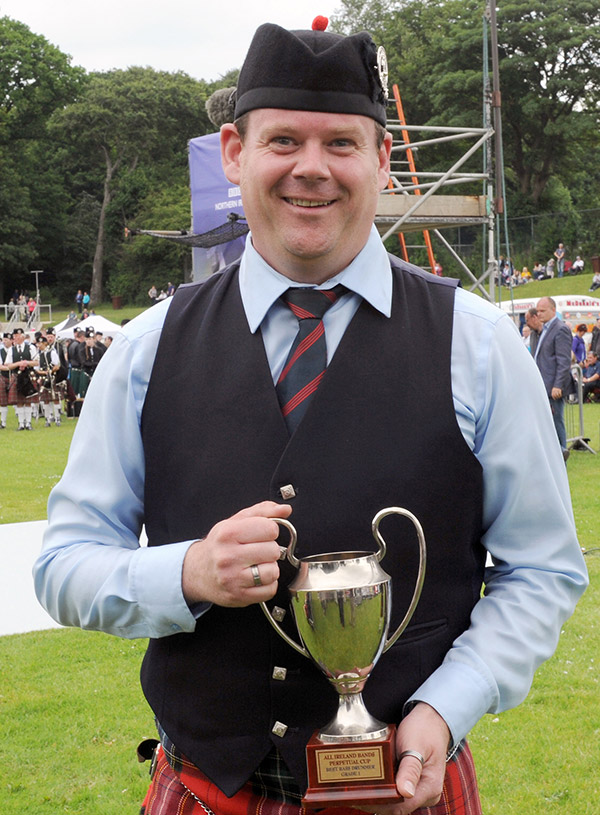 ---
[wds id="3″]