A few weeks ago we received a letter from Cailean Maclean of Skye Media and the BBC radio piping programme 'Crunluath', regarding Skye piper Donald MacKinnon. Cailean wrote: 'Do you know anything about Donald MacKinnon, composer of the Sound of Sleat? I know he was from Skye (I am trying to trace his origins here) and that he was a Pipe Major with the KOSBs and served in Korea. Why he was in the KOSBs rather than the local regiment is anyone's guess. He emigrated to Queensland in Australia where he died. A friend, Norman MacDonald, and I have produced two volumes of what we call 'The Great Book of Skye' and we would like to include an item in the forthcoming third volume on Donald MacKinnon.'
The power of Piping Press knows no bounds and we are very grateful to Iain Bruce, in his day one of Australia's top pipers, for responding so expeditiously with what follows…… 
By Iain Bruce, Queensland, Australia
Donald MacKinnon was my teacher from 1965 to 1971. I went to his house one Saturday per month for the full day to learn piobaireachd. Just being with Donald was an education in itself, and one learned much across the whole spectrum of piping – light music, setting up a pipe and performing in public.  
He was a great raconteur, and one never failed to come away inspired and uplifted. He was born in Skye. All I know of his family is that he had a sister Bessie, for whom he wrote a jig published in the Donald MacLeod collection. He got his piobaireachd from Donald at Fort George. After a late night Donald MacLeod would play himself home with his pipe case supported on the belt at the back of his greatcoat. For this Donald MacKinnon wrote a four-parted 2/4 called Donald MacLeod's March to Ardersier.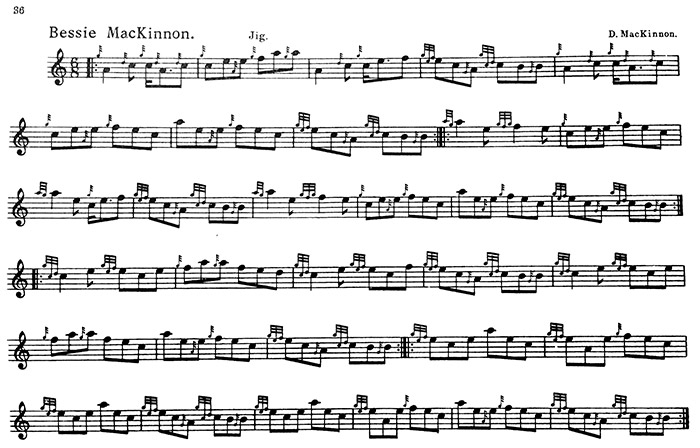 Donald [MacKinnon] served in the RAF during the war, and his wife Ina once told me he was shot down over the English Channel. After the war he joined the KOSBs and he and Ina lived at Berwick on Tweed.  He served in Korea in the early 1950s and was the famous pipe major who played into a microphone with loud speakers aimed at the enemy.
In 1956 he was offered a job at Mount Isa in Queensland to be pipe major of the pipe band, which at that time was the one of the best in Australia.  Mount Isa is a mining town which at that time was very wealthy. Donald became a well known character there. He was a good singer of Gaelic songs. He was much in demand and would play 'Mac the Knife' with the jazz band at dances. A man accosted him one night and accused him of denigrating the bagpipe. Donald gave a faint smile. 'Oh, I can play the other stuff too.' he said.
---
[wds id="2″]
---
Donald had heart problems, and was forced to retire to Brisbane in 1964. The piping community found him a job as office manager of an importing firm, and he played with the Red Hackle Pipe Band, started in the early 60s by Sandy Campbell from Kirriemuir. He also played in the Brisbane Caledonian Band. He had a set of silver and ivory Starcks, the firm originally founded by William Ross, Queen Victoria's piper.
In 1965 he was instrumental in forming the Queensland Highland Pipers' Society 'to promote a spirit of fraternity among pipers' as he put it. As a teacher he was much sought after. He was a most musical man, player and composer, and had a huge repository of piping history and lore. In 1955(?) he was placed in the Gold Medal at Oban playing Kinlochmoidart No.1.  The Piping Times of that year reported that 'MacKinnon played very well'.
He had a big influence on piping in Queensland, and those close to him saw the pipe in a new way as a conspicuous medium of musical expression. He played at weddings and funerals and regularly at the Clansman Restaurant which was a popular venue in those days. He judged bands and solos everywhere.
In 1970 Captain John MacLellan, Director of Army Bagpipe Music at Edinburgh Castle, came to Brisbane for five weeks of lecturing and judging. He immediately recognised Donald and they shared many memories of people and places. A grand dinner was held at the York Hotel one night in John's honour, and Donald played around the tables and saluted with great dignity, just as he must have done in the regiment.
He was a prolific composer and his tunes have an identifiable 'blas' to them. Everyone knows his reel The Sound of Sleat. When the Queensland Pipers' Society published a collection of music in 1985, Donald's family (his wife Ina, and two sons Donald and Robin) were unwilling to allow many of his tunes to be published as they said they were working on a book solely devoted to his tunes. That book never appeared.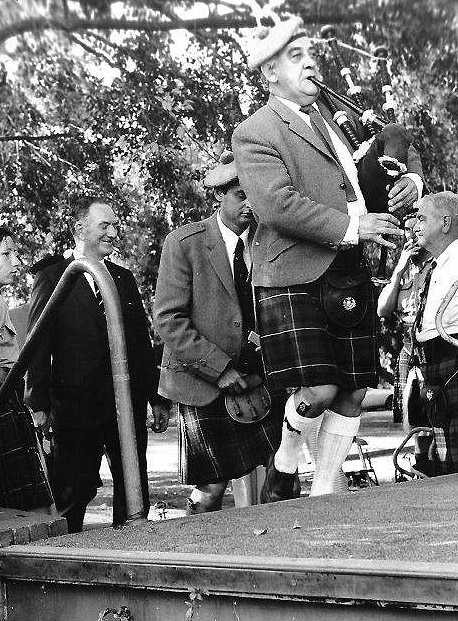 However there are five of his tunes in the Society Collection. Donald had many manuscript books filled with his music and if you admired a tune he would tear the page out and give it to you. So many people have his music, scattered here and there throughout the world. He corresponded with Donald MacLeod by cassette tape, sending tunes to each other.  'By the way', said Donald MacLeod on one occasion, 'how do you get your pipes to sound so well?'
He did experiment with recording methods, using only a domestic recorder. Once he showed me how he would place the microphone under the bag cover, so that the recording would pick up the harmonics that are so inscrutably mixed within the bag.
Donald's health deteriorated in the early 80s and he went to live in the gatehouse of a Carmelite monastery and acted as caretaker. It was an enclosed order but once a year a fair was held at which Donald played for the crowd. Donald was not brought up as a Catholic but he joined the church and used to assist at the altar.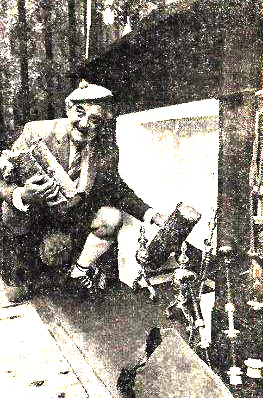 I had lost touch with him by then so I do not know when he died but it was before 1985. I believe Ina, who was allowed to live on in the gatehouse, died soon after. I wrote an obituary when Donald died, but cannot find it now. Since moving house I have disposed of many old files and books so I have written from memory. There may well be others with interesting recollections of Donald.
---
[wds id="10″]