The National Museums of Scotland film archive have put out some new silent shots of Shotts Highland Games from September 6, 1952. Mostly of smiling faces in the crowd, there are one or two clips of bands. The one up top shows, I think, P/M Tom McAllister Senior leading the Shotts band. Is that JK McAllister right behind him?
The other band shown on parade and very smart in their balmorals (whatever happened to this traditional headgear?) is not known to me. Suggestions please. Here they are: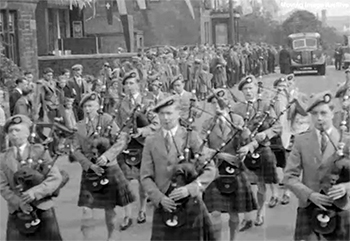 Check out the film here and remember your tickets for the Shotts concert during Worlds Week.
---
Don't forget the SPA Professional at the College of Piping tomorrow.  Healthy entry and the piping begins at 9am with results here as we get them. Judges are Andrew Frater, Roderick Livingstone, Ian McLellan and Andrew Wright. Also tomorrow are the Kintyre Junior Solos in Campbeltown. Secretary: please forward results and pic if possible.
---
[wds id="6″]
---
Northern Ireland correspondent John Kelly reports: Lisnamulligan Pipe Band held a fundraising concert in Ballymore Inn, Tandragee, on Saturday 1st April.  The band last competed at Portrush in August 2012 and will make a welcome return to the competition arena at the first pipe band contest of the 2017 season at Bangor on Saturday 13th May.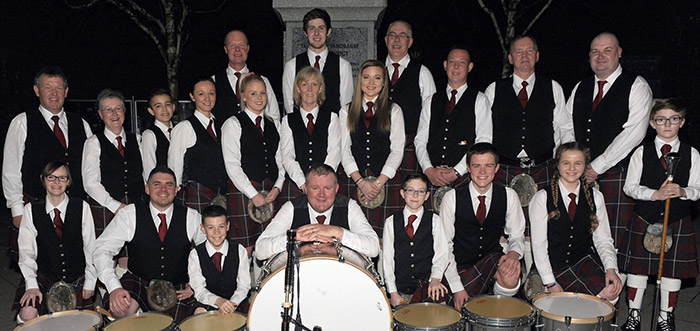 The compère on Saturday evening was Alan Kerr (of the band). Under the direction of their new pipe major, Dylan Walker, and their new Drum Sergeant, Alan Kerr, the band (pictured) kicked off a great evening of entertainment as they played a selection of foot tapping tunes.  Also taking part were: Major Sinclair Memorial Pipe Band (Ballyclare), Marlacoo & District Pipe Band (Co Armagh), Ardarragh Accordion Band (Rathfriland), Downshire Flute Band (Banbridge), Hamiltonsbawn Silver Band (Co Armagh) and Co Armagh Drum Majors.  There was a disco held after the concert.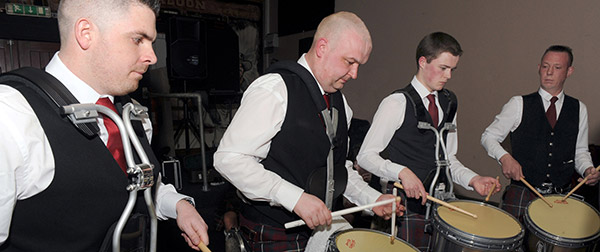 ---

Lee Moore reports: Preston Lodge High School Pipe Band hosted the 4th East Lothian Solo Piping and Drumming Competition on March 18. The event attracted a good entry of soloists from across East Lothian Schools. It was good to see an almost full school hall of participants, friends and family for prizegiving at the end of the day.
Results:
11 & under Chanter: 1 Harry Hawkins, Loretto 2  Harry Lee, Yester Primary 3 Jamie McCallum, Prestonpans Primary
Stick/Pad 11 & under: 1 Archie O'Brien, Law Primary 2 Rebecca Wilson, Law Primary 3 Amy Douglas, Sanderson's Wynd Primary Piping 12 & under: 1 Michael McDermott, Longniddry Primary 2 Ben McGregor, Preston Lodge 3 Michael Williams, Loretto
14 & under Drumming: 1 Tyler Dryburgh, Preston Lodge 2 Clara Wilberforce, Knox Academy 3 Kieran Dryburgh, Preston Lodge Junior Piping 14 & under: 1 Fergus McClintock, North Berwick High 2 Freya Morris, Preston Lodge 3 Blair Scott, Preston Lodge[wds id="10″]
Open Drumming 18 & under 1 Hannah Yorkston, Preston Lodge 2 Aaron Hall, Preston Lodge 3 Cal Molloy, Loretto
Junior Bass Drumming 14 & under: 1 Liam Till, Preston Lodge; Open Bass 18 & under: Becky McKean – Preston Lodge
Junior Tenor 14 & under: 1 Hannah Donaldson, Preston Lodge 2 Erin Read, Preston Lodge 3 Olivia Pryde, Knox Academy
Open Tenor 18 & under: 1 Emma Lacey, Preston Lodge 2 Kate McKay, Loretto
Open Piping 18 and under: 1 Blair Scott, Preston Lodge 2 Erin Ritchie, Preston Lodge 3 Ruari Black, North Berwick High
Piobaireachd 18 and under: 1 Erin Ritchie, Preston Lodge 2 Sam Addis, Broughton High  3 Saul Sweeney, St David's High
---
Professional piper John Angus Smith was a visitor to the recent Dunedin Highland Games in Florida and sent this snap. It proves there are no cultural barriers in this piping game: