P/M Alen Tully is one of the new breed of Grade 1 pipe majors. Still aged only 33, P/M Tully has already secured two major championships for his band, St Laurence O'Toole, Dublin – and this in less than three seasons in charge. His latest success was at the European Championships at Forres last Saturday. Here he talks of what that meant to the band, of their meticulous preparation before every major contest, and of the influence of his predecessor and father, P/M Terry Tully. 
The band did not do well in the early part of this season; were you worried?
We were very disappointed at Paisley [the British Championships]. On the Thursday night beforehand I think we had the best ever band practice I have conducted, so we were really well prepared. Unfortunately we got caught out by the weather and had to cope with a heavy rain shower five minutes before going on and our sound might have been below par as a result. Reading the weather is a big part of competing.
I thought we had a good run at Belfast, I really did, but we ended up with two sevenths for piping and an eighth for ensemble. You just have to take these results on the chin and keep focussing on the playing, not the result.
You've done remarkably well in a short time in charge.
There was a very smooth transition, that's true, but I was Pipe Sergeant for 12 years so knew what to do and had great support from everyone.


Your dad still plays with the band.
Yes, he's always there to help out and gives me encouragement when it is needed, but all the decisions are mine. He doesn't interfere, but it is great to have his knowledge and experience to call on.
What have you changed since taking over?
Not a lot really. Perhaps the top hand of the chanter is a bit brighter. We still play all sheepskin bags and cane reeds. The pipes therefore take a bit of maintenance but it is worth it when you get the sound we had on Saturday [at Forres]. To be honest I think we would have been happy just to make the top three again, but to win was, well I can't describe it. We were ecstatic. We were thrilled that the judges recognised the quality of our playing
How did you prepare?
As for every major we practised on Tuesday, Thursday and Friday. We worked very hard in the run up. You must prepare as much as possible at band practice. I do a lot of unison work with every piper. I know exactly how they are playing. We try to get it as tight as we possibly can. I knew things were going well last week and we went up to the line with a lot of confidence. To win so comfortably [SLoT were five points ahead of second placed Field Marshal] was a big bonus.
Listeners were impressed with the expression and commitment in your performance.
Yes, we try to play with heart. We are passionate about the music; maybe it's an Irish thing, but we do try to portray that when we play.
How many pipers at Forres?
We went with 23 and played 22.
Can you say something about your drum corps?
Stephen [Leading Drummer Stephen Creighton] is fantastic to work with. We have a great relationship. We are always analysing what we do and how we can improve. He is very focussed on the band not just in winning the drumming prize. [SLoT are the current World Drum Corps champions].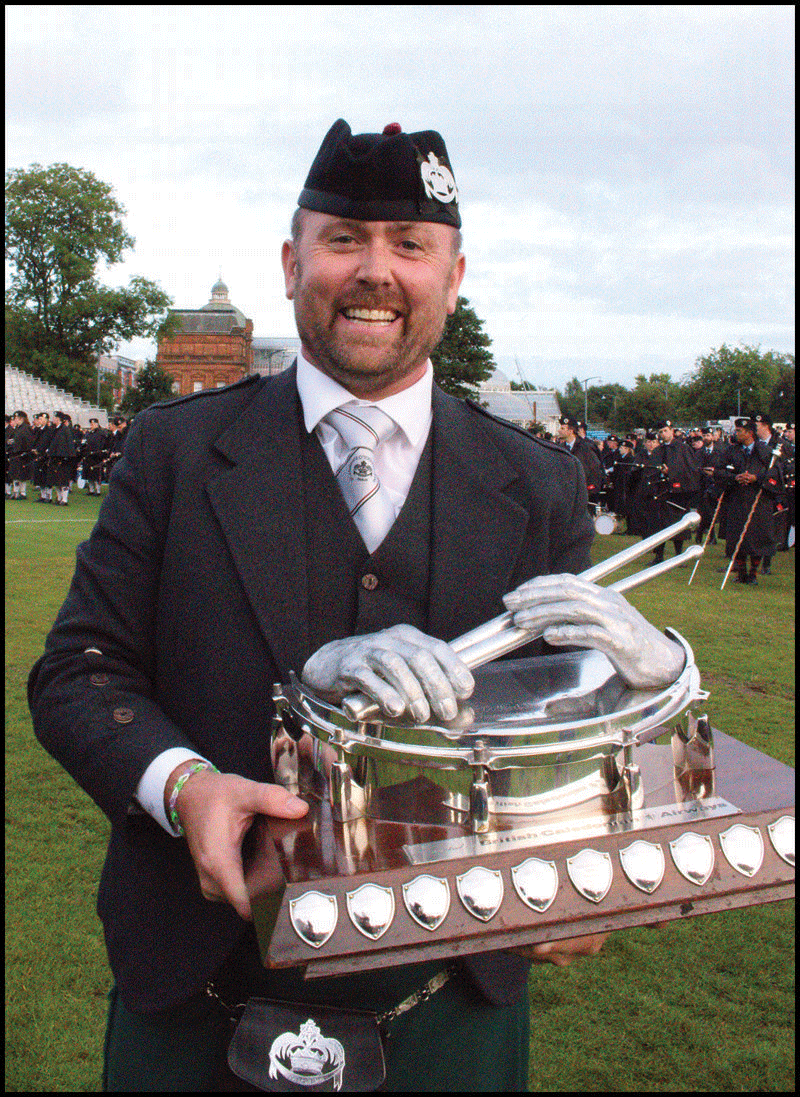 When we practice I have 30 minutes with the pipe corps and then an hour and a half with the drummers. The drumming is very important but the band more so. Stephen is with me on that. We work all year round on tunes and then five or six of us, including Stephen, will put it all together.
When the band won the Worlds in 2010 you received very little recognition in your homeland.
Yes, that was a shame. I suppose they go more for the uillean pipes than the Highland pipes, though we have probably had a piping tradition in Ireland as long as in Scotland.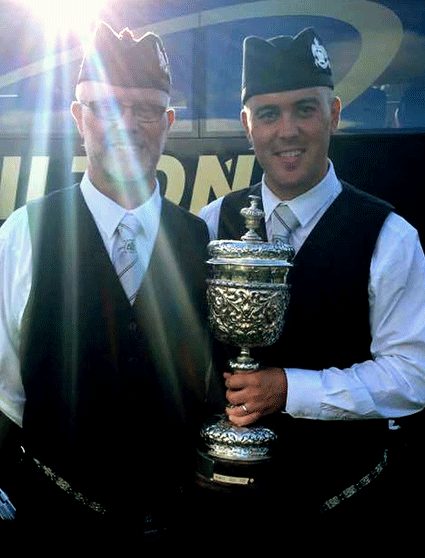 The next major contest is the Scottish Championship at Dumbarton where you will be playing a March, Strathspey and Reel.
Yes, and we are looking forward to it. We prepare for an MSR just as we do for a Medley. We have been very consistent in this discipline for the last five or six years. We do a lot of work on our strathspey playing to make sure we are capturing the correct idiom. The MSR holds no fear for us . When we won the Worlds we had four firsts for the MSR so that gives us a lot of confidence.
• The Scottish Championships are at Levengrove Park, Dumbarton, on July 30th, starting 10am. Admission is free. 120 bands have entered. Piping Press articles and interviews are free to everyone thanks to your support for the Piping Press Shop and for our advertisers .