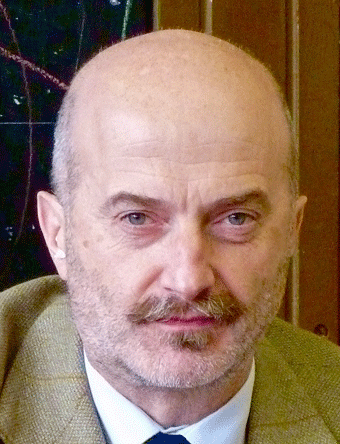 We are indebted to Calum MacLean, Tobermory, Mull, for this unique, handwritten copy of the famous 2/4 march Dugald MacColl's Farewell to France – handwritten by the composer himself, the great John MacColl.
It was given to Calum's grandfather by John MacColl and is rightly displayed with pleasure on the wall of Calum's piping room.
The tune was written to commemorate the safe delivery from WW1 of John MacColl's son and, as compiler Dale Brown says in the introduction to his book of John MacColl compositions: 'My own personal favourite, Dugald MacColl's Farewell to France, exudes a joy that had to have been in John's heart on the return of his son.'
Strangely, this tune, from probably the finest 2/4 competition march composer of all time, is seldom heard on the solo platform. In past years it was very popular with bands, though that popularity seems to have waned recently.
Given the proliferation of Highland Weddings, Lord Alexander Kennedy's etc. is it not time Dugald MacColl's Farewell to France was revisited by pipe majors?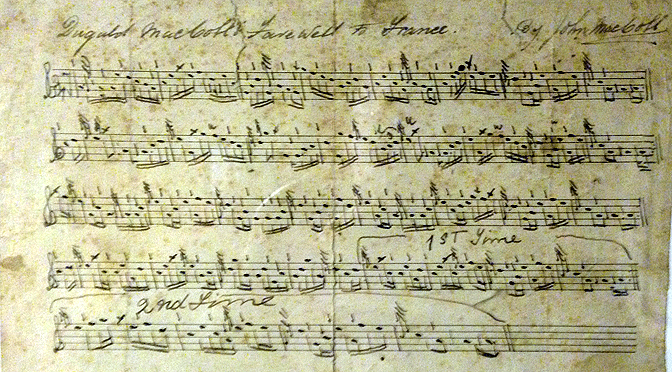 As can be seen the tune is written without any dots or cuts – probably for ease of writing rather than to convey any musical direction. That other great composer, GS McLennan, was prone to do the same so we are told.
You will see from a close study of the first part that the taorluaths are written in the old style with the 'redundant' A, and the grips are full out. Missing are the doublings on D and on E, omissions which make the tune a lot easier to play. Would this be acceptable today? Judges who condemned a piper for not playing them would have a hard job of justifying their stance were the piper in question to thrust forward a copy of the tune as here reproduced.


The double Es do make an appearance in the second part increasing the difficulty here, and the composer has erred in writing the birl from high A by omitting the first low A. The rest of the tune is more or less as we have it and hear it today: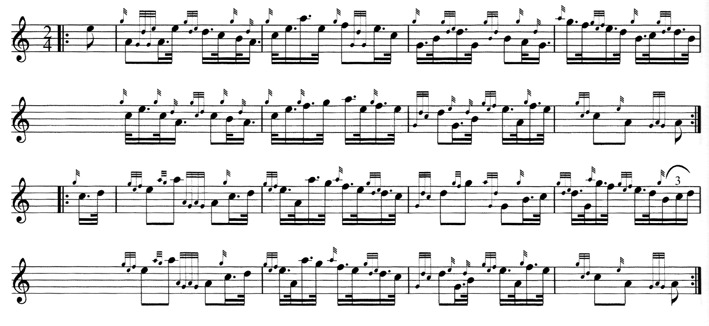 For sheer melodic ingenuity, variety, rhythmical structure this tune has to rank among the finest in the 2/4 competition march canon. When ranked alongside John MacColl's other monumental achievements: Jeannie Carruthers, Mrs John MacColl, Arthur Bignold of Lochrosque, Major Byng Wright, Clan MacColl, Argyllshire Gathering and John MacFadyen of Melfort, we see a composer of real genius.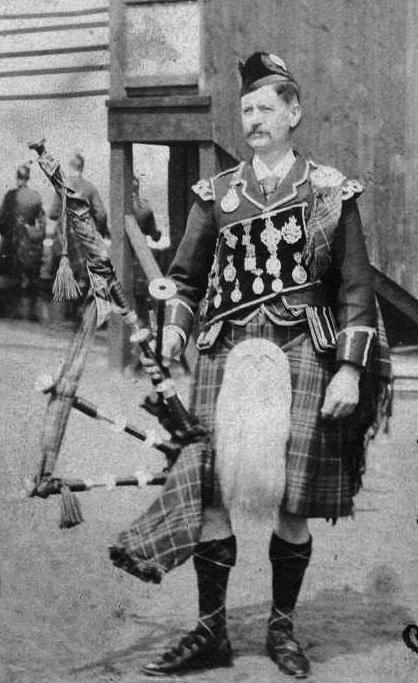 John MacColl (1860 – 1943) was born in Kentallen in Duror, Argyll, and taught initially by his father, also Dugald. Moving to Glasgow as a teenager he came under the wing of pipe maker and expert piper Donald MacPhee, in 1877 'the best piper in Scotland' according to Ronald Meldrum. After two years and MacPhee's death, John returned to Argyll and took a job as piper to MacDonald of Dunach. He started competing seriously round the games and at all the major competitions eventually winning every award available to him including the Centenary Gold Medal of the Northern Meeting in 1888.
John MacColl was so successful that he managed to make a living as a piper – but often competing in Highland dancing and athletics at the games to augment his inevitable piping prizemoney. All this time he was composing, gradually gaining in expertise until the masterpieces began to flow. One of these, Jeannie Carruthers, was named for his wife's sister. Their father had been farm manager on the Kilberry Estate in Argyll, a regular haunt for pipers thanks to the patronage of the Campbell of Kilberry family.
Read more on John MacColl here. Listen to a version of Dugald MacColl's Farewell to France on the Tobar an Duachais website. The piper is Alec Stewart and the 1955 field recording has been made by folklorist Hamish Henderson.
Listen to an excellent rendition of the tune by the Manawatu Scottish Pipe Band from New Zealand recorded at the Worlds qualifier in 2011: