A couple of weeks ago we launched a poll asking the following question: Should all competing pipers have to belong to the CPA before they get to compete in Scotland?
From the answers below a significant majority of respondents don't believe in a Competing Pipers Association hegemony and there was not much in it between those who do and those who believe the promoters should decided who gets to play. Here are the results:
| | | PERCENT | |
| --- | --- | --- | --- |
| YES; UNITY IS STRENGTH | | 22% |   |
| NO; I DON'T BELIEVE IN A PIPER'S CLOSED SHOP | | 59% |   |
| UP TO THE PROMOTERS WHO THEY LET PLAY | | 16% |   |
| PIPING CONTESTS SUCK; I'M A FOLKIE | | 2% |   |
It is always wrong to read too much into these polls, but taken at face value, the result does not surprise me. I think part of the problem stems from the lack of diversity in the grading system employed by the association, with too few judges consulted on performance levels and too much emphasis placed on track record and whether a contest was graded or not. For instance an outstanding performance at a small games with five pipers, three sheep and a dog will rate poorly against a mediocre one at a graded event with 15 playing.
The CPA hierarchy have a difficult job mind; not easy to keep everyone happy where grading is concerned. That said,  I do feel that by consulting with judges more and offering greater transparency they would improve their standing considerably.
---

Euan MacCrimmon of Inverness Piping Society has sent this: 'Just a note of our next piping recital; Friday 19th February, Tulloch Castle, Dingwall; 7.30pm for 8pm start; Colin MacLellan & Jenny Hazzard; £10 seniors & £5 juniors.'
Find out more about this busy society and their excellent recital series here.
---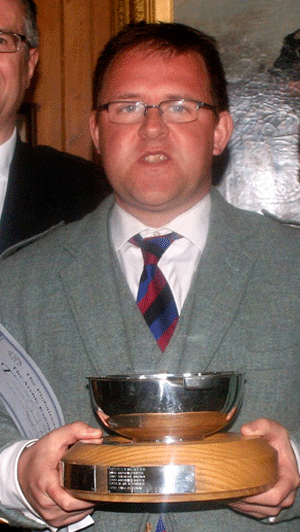 Well done to piper and leading journalist Tom Peterkin of the Scotsman for highlighting the embarrassing lack of piping being taught in our state schools. In case you missed last week's story, here's part of Tom's report:
'Fewer than a quarter of Scotland's schools offer pupils the chance to learn the bagpipes, new research has revealed. Some local authority areas don't offer any piping at all, while only Dundee, Edinburgh and Stirling provide 100 per cent provision across all schools. The lack of tuition for the pipes has been a bone of contention for some time with many pipers expressing dismay that the instrument appears to be more of a priority in the private sector than in state schools.
'A survey conducted by the Scottish Conservatives under freedom of information legislation revealed that only 21 per cent of primaries offering the chance to learn Scotland's national instrument, and 44 per cent of secondaries. Overall, the total national average for both primary and secondary schools to 24 per cent. According to the figures, no schools in Aberdeenshire, Clackmannanshire and Perth and Kinross offer bagpipe lessons.
'This in comparison to places like Dundee, Edinburgh and Stirling, where all schools have the option. In some councils, pupils can learn the instrument in primary schools, but then experience difficulty in continuing their studies because there are no piping classes provided when they go on to secondary school. Scottish Conservative education spokeswoman Mary Scanlon said: 'In many areas across Scotland, it means parents will have to pay for expensive private lessons if they want their child to play the bagpipes, and not everyone will be able to do that. We clearly need the Scottish Government to look again at music lesson provision in Scotland's schools, to make sure this disparity is brought to an end.'
'A Scottish Government spokeswoman said £1 million had been invested in 2012 to give children better access to musical instruments including the pipes. She added that the £10 million Youth Music Initiative, which included £100,000 to the National Piping Centre in Glasgow, had supported more than 225,000 young people in and out of school to get involved in music.'

This is an issue on which I have long campaigned, so welcome on board Tom. Welcome too to Angus Tulloch and David Johnstone and everyone else at the Scottish Schools Pipes & Drum Trust and also to the Royal Scottish Pipe Band Association's National Juvenile Pipe Band Fund. Through collective effort we may be able to turn this situation round. Most pipers I know deplore the current situation but very few speak up against it. Let's have your comments and we'll forward them to Tom to help him keep the momentum going.