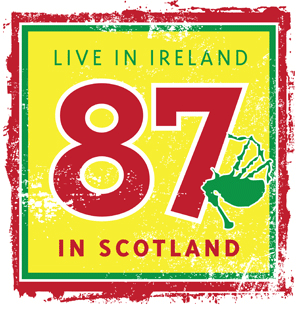 A very pleasant few hours were passed at the reception held last night for this Saturday's 'Live in Ireland' concert. Not for the first time a Glasgow city centre pub thronged with some of the best known names in piping and pipe bands.
Indeed, one of the remarkable things about the concert is the way so many Grade 1 pipe majors and leading drummers have recognised the significance of the occasion and given it their full-blooded support.
No one could deny the history-making achievement of Bill Livingstone's 78th Fraser Highlanders when, at the Worlds at Bellahouston Park in August 1987, they became the first overseas band to win the highest honour available to them – the Grade 1 Championship title. They did it with music which, for the time, was new and embraced time signatures and rhythms hitherto confined to piping folk groups such as the Whistlebinkies, the Tannahill Weavers and the Battlefield Band. It was this music, and the way it was played, that made the 78th's pre-Worlds concert in Ballymena such a success.

Reid Maxwell told me that when he joined the 78th from Dysart & Dundonald he found that all the jigs and reels were played in a round fashion and he, as the new leading drummer, was asked to conform. 'No problem for me',  said Reid, 'it was a lot easier for any drummer that way. The Little Cascade was a bossa nova!' I hadn't realised that Reid's corps also won the World title that day in 1987 which, for a 21-year-old leading tip, was some doing.
Saturday's concert came from an idea he had whilst watching a television documentary on the rock band, The Eagles. It charted the ups and down of the group's career, culminating in a reunion concert. 'I realised that over the years the 78th Frasers pipe band had had the same sort of roller-coaster existence and the idea of a reunion concert for us too seemed a good one. I contacted Mike Grey and the ball was rolling.' Watch Reid on video: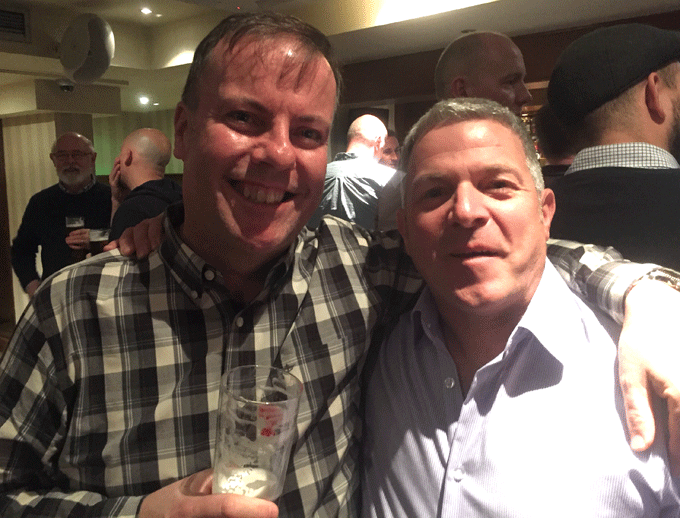 Mike himself has been credited with all the hard work in bringing the 'Live in Ireland' show together. 'Once I had spoken to Reid I contacted Bill and the enthusiasm was immediate,' he said. 'Celtic Connection were quick to come on board too, as were our sponsors McCallum Bagpipes. Without this support we could never have done it.'
Mike is very busy man in his professional life. He has important responsibilities at the Bank of Montreal where he oversees the downsizing of corporate office space and the current worldwide trend towards employee home working. Given these high-end duties, all the more credit to him. Pictured up top are P/M Bill Livingstone, Bruce Gandy, Kenny MacLeod of McCallum Bagpipes, Mike and Stuart McCallum of McCallums. Each piper will wear a banner specially made by McCallums for the show. One side has the 'Live in Ireland' logo and the other the piper's name.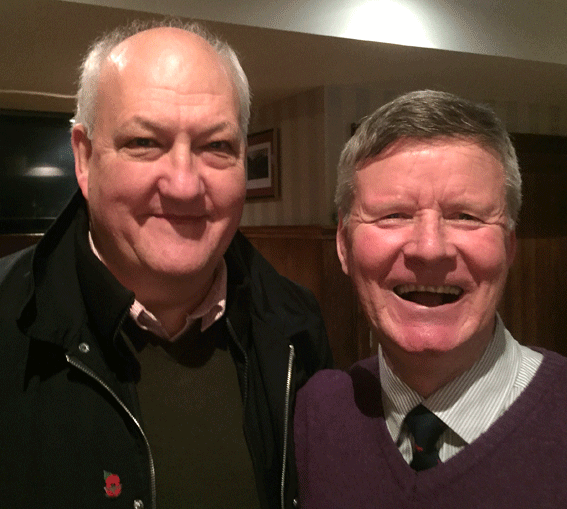 The concert, if you didn't know, is on Saturday afternoon and will be co-hosted by Bob Worrall and John Wilson. Bob tells me he has a new pair of tartan trews in the making and might wear them for the show. They are the real MacKay, he says, high waist, tapered cut etc. Like all the participants Bob paid his own fare over but accommodation for their stay is gratis. From Florida came Ian Donaldson formerly of the British Shop and now teaching half a dozen bands at Dunedin. Bruce Gandy had to make a long trek via New Jersey and London as the direct flights from Halifax NS don't start until later in the year. Bruce tells me he is very busy with his teaching. Using an online lecture facility, he is able to take a whole class at a time.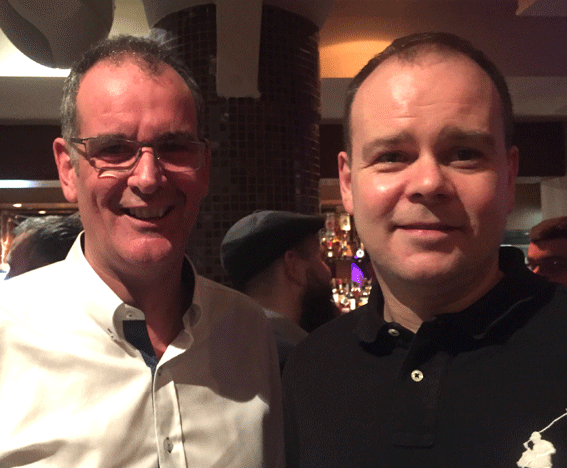 Closer to home Ross Walker said he was thoroughly enjoying his retiral from Boghall and had no plans to play again. I hope, however, Ross takes up some teaching duties. He has so much to offer. Gregor Stirling is the BBC's man at the Worlds. Though not a piper, he is a veteran of brass band competition and fully understands the competitive milieu. Isn't it grand that he can go out of his way to attend such a pipe band evening even though the Beeb are not recording the concert? Gregor explained to me the intricacies of directing the outside broadcast from Glasgow Green and agreed that it was time the bands thought about a different way of presenting themselves. The closed circle must go! Gregor's compromise of having the MSR in the old way and the Medley in open formation may be a good first step.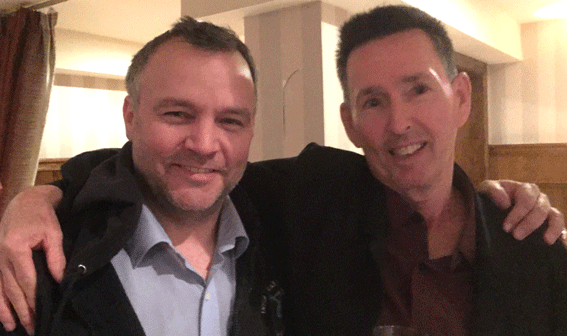 In a quieter moment I had a chance to talk to Bill Livingstone at some length. His memoirs are coming along well, though Saturday's concert may force him to write a new epilogue. The book concentrates on the three pillars of his life: his wife Lillian, his career as a lawyer and his passion for piping. Bill's father was from Ayrshire and was off the same teaching stream as Gordon Walker. 'My father was a fine player,' said Bill, 'but he never got over the loss of my mother at the age of only 57 and despite my success was never one for a great deal of praise. Not that I was looking for it. My passion drove me on.' Bill agreed with me that having this passion was almost as important as the pursuit that drives it. The book could be out this year. With artwork by John Slavin of DesignFolk  we know it will not only read well, but look the part too.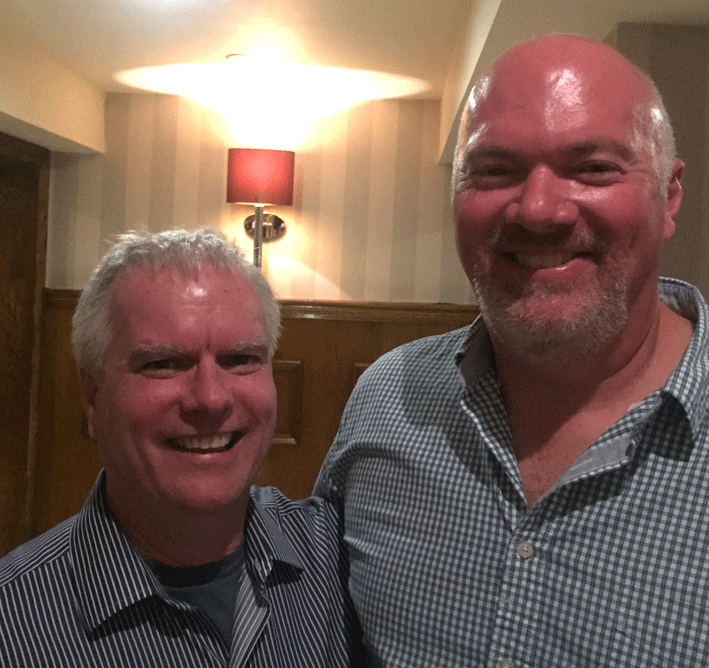 The concert programme will follow the sets from the Ballymena concert of 1987. As then, there will be very little tenor drumming. It may be refreshing to hear a band without them. Joining Bill and members from the original 78th  will be P/M Richard Parkes of Field Marshal, P/M Stuart Liddell of Inveraray, P/M Ross Walker formerly of Boghall, P/M Ian Duncan formerly of the Vale, P/Sgt Duncan Nicholson of Glasgow Police, P/Ms Terry and Alen Tully of SLoT and many other big name pipers and drummers. Saturday will be a unique occasion and one to brighten the January mirk. Try to make it if you can, and if not look out for the DVD.