Spotlight on the man at the helm of one of the world's great pipe bands – P/M Ross Walker of Boghall & Bathgate Caledonia
This article first appeared in Pipe Band Magazine in January 2011. It features P/M Ross Walker, a winner of major championships and for years leader of one of the top six bands in the world – and all achieved with home grown talent via the Boghall & Bathgate piping and drumming education programme. He is a superb musician in his own right and one of our best pipe majors. His extraordinary story loses nothing in the retelling.

'I started the pipes as the youngest of three boys. My eldest brother Craig and my youngest brother Grant were being taught in the band and like any young brother I just wanted to be like them. It was a natural progression that I should want to be a piper too. I've still got my tutor book from 1966 when I started to learn the chanter. It has a critique from Robert Martin, 'taorluaths not good enough, and work needed on the doublings'. Initially Bob was my teacher but obviously having brothers, they helped too, probably more Craig because he was a bit older. He used to give me help with the bits I couldn't play. As soon as I was of a good enough standard I joined the novice band. Robert had had an influx of kids who weren't good enough to play in the Grade 3 band so they decided to start a Novice Juvenile band. That was 1977 and I played my first competition at Dunblane that year at the tail end of the season, so I didn't play in any of the championships but I got my first run out along with my best friend Craig Ireland who stayed along the road.
'Straight away the novice band was upgraded to Juvenile. That was after our first year when I think we won four of the five championships. I played in Juvenile from 1978 until 1982 and then in 1983 I managed to earn my spurs to get to play with the Grade 1 band. It was such a thrill for me. Fantastic. I mean I had literally grown up overnight although I was only 13 at the time. I had watched my brothers winning prizes and getting into the Grade 1 band so that was where I wanted to be too. It was a very interesting experience because as a kid watching the adults get ready for a competition and go on and play in a championship it looked as though everything was so controlled and straightforward. But when you actually joined the pipe corps you realised that it was a bit like a swan – above water everything was a picture of serenity but underneath the feet are going like mad. I realised there was a huge amount of thought and work done before the band was ready to take the field at that level.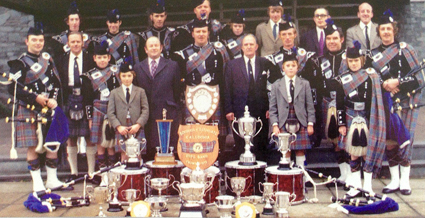 'Bob Martin was a really special character especially for the guys who were taught by him and who still play in the band. The way we still operate and think is testament to the hard work and graft ethic that Robert instilled in us in those days. I mean Robert took the band from their first competition in Grade 4 to Grade 1 in about six years, and it was all down to his hard work and his vision. He really wanted to take the band to the top. Back then it took a big heart to do it. He used to play in Torphichen and Bathgate so he knew the dedication that it would take to actually achieve that level with a bunch of kids. He was a very special man and we hold his memory very dear. He didn't get around much before he died but it was always great to see him at the practices. I know that if there was anyone who wanted the band to win the World Championship it was Bob. Just a pity he passed on before that could happen.[easyrotator]erc_12_1414049835[/easyrotator]
'Many of our players, both pipers and drummers, are homegrown and we have to thank Bob for setting that system up, that investment in kids, way back in the 70s. It is a delight for me because we can encourage them into good habits, good attitude, a good way of playing. We don't have to worry about anyone having to change their style. They are hungry and they really want the best for the band. This investment in kids means we have parents and local people who care about the organisation. They don't just come along for a couple of season and then disappear. When times are tough and the band isn't playing that great, that is when that special thing that we have at Boghall bears fruit. People stick around and they say 'right, let's get this sorted out, let's the band back where it should be'.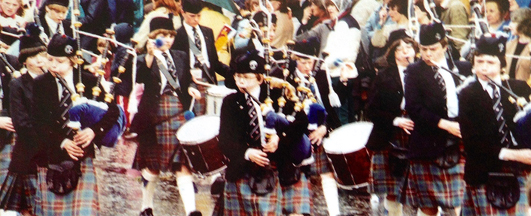 'Funding is an ongoing problem of course. It is quite frightening the money that we turn over. Every year we go to the AGM and look at the balance sheet and wonder where all the money came from. It is a very large undertaking. We don't have a commercial sponsor. We sometimes get help from the local council but by far and away the biggest income we get is from various fundraising activities, gala days, prizemoney – and it would be nicer if that was higher but everyone has got to cut their cloth –  and engagements. We always try to sniff out opportunities to earn money. It is a trade off because if we had a commercial sponsor they would want their pound of flesh. So you either play for jobs for yourself or you play for jobs for a sponsor. It is a bit swings and roundabouts. The way we do it we have a bit of freedom to do our own thing. We are in control of our own destiny. This comes at a cost in people's time and energy and you are never far away from tough times. If you lose a couple of jobs you can really start to struggle. But we have a very hard working committee behind the scenes and one advantage of having children in the organisation is that they always willing to take part in sponsored walks and that sort of thing. And of course we all pay our subs every month, so that is a source of income too. It all helps.[easyrotator]erc_75_1413484305[/easyrotator]
'As regards the drum corps, I have a great relationship with Gordon [Gordon Brown the Boghall leading tip]. The way we work is that before the band gets a new tune I will have spoken to some of the guys about it and to Gordon. We'll discuss whether we think it is going to work or not. What we tried to do last year was to get the medley, if not 100% cast in stone, pretty much there before we handed the music out to the band. It can be very distracting if you drip feed a tune and two months later you take it away and say 'right, we're not playing that any more'. It can be frustrating for the guys and that is something I've learned through trial and error and getting wrong. Gordon and I have more less got the whole thing sorted. Certainly last year that was the case with about 80% finalised with just a few tweaks here and there afterwards. We would try it on chanters and pads firstly before pipes and drums and then we are more or less ready to go. Anything that isn't going to work usually occurs when we try it on the chanters and we change things at that stage. But very much Gordon and I work as a team. Sounds a bit hackneyed and cliched I know.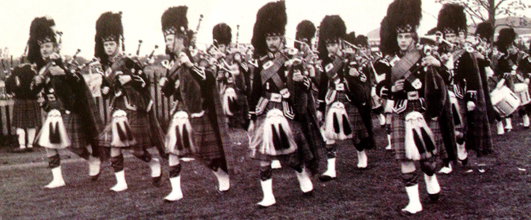 'Over the years I've learned not to push tunes on Gordon that I fancied. He understands what he can get out of his instrument. If he is not getting a good feeling about a tune I will not push it as I maybe did in the past. When I did this I always regretted it because it just didn't work and we paid for it on the contest field. So it is better to ditch a tune, kill it early rather than keep trying to make it work. As far as tune selection goes melody is king. If a tune hasn't got that then there is no point in pursuing it.
'Anything that isn't going to work usually occurs when we try it on the chanters and we change things at that stage…'
Sometimes it might sound good on a recording but once you strip away the accompaniment there is not much there. We only have melody remember on the pipes so what might sound good played by a folk band or a pipe band with accompaniment may not work at all in the pipe band only format.'
* Next time: The bands I admire, sorting things out with Gordon and my hopes for the future.