Thanks to Patrick Molard in Brittany we are today able to hear some of the superb piping of Captain Andrew Pitkeathly, former Piper to HM The Queen, and Director of Army Bagpipe Music at Edinburgh Castle.
Patrick writes: 'Hi Rab, here is a recording; it is Andrew Pitkeathly when he came over to Brittany in 1973 ( Batz-sur-Mer near La Baule), for a piping workshop and a competition. The quality of the playing is excellent, with some nice settings of well-known tunes. Unfortunately , the background is a bit noisy as this was recorded in a restaurant as far as I remember, and Andrew was asked to play a couple of tunes after lunch.
 
'To illustrate the recording, I enclose a picture taken the same day where you can see Andrew adjudicating with Jakez Pincet on the left of the picture, and myself (with hair !) on the right .

'Andrew was a great player and Bob Brown spoke very highly of him both as a player of Ceol Mor and Ceol Beag. Bob Brown also spoke of Bob Hardie with a lot of respect, and he told me that he thought he was a great Ceol Mor player, although he was not of the same school.
'It is true that many people [through this recording] will discover the playing of Andrew Pitkeathly. Andrew was very modest and few people know how great he was.'
Readers can access the recording on the PP Audio Archive 
here
 and thanks once more to Patrick for making it available to the piping world.
Andrew Pitkeathly joined the Argyll & Sutherland Highlanders in 1946 and appointed Pipe Major of the 1st Battalion in 1952. He was chosen as Sovereign's Piper in 1966 and served HM The Queen in that position until 1973 when he was commissioned to the Regimental Band Company at Dreghorn Barracks, Edinburgh.
From 1976 he served as Director of Army Bagpipe Music retiring in 1981. His Senior Pipe Major at that time was P/M Angus MacDonald, Scots Guards. Angus wrote a fine 9/8 march for Andrew and it can be found in Angus's collection Book 1.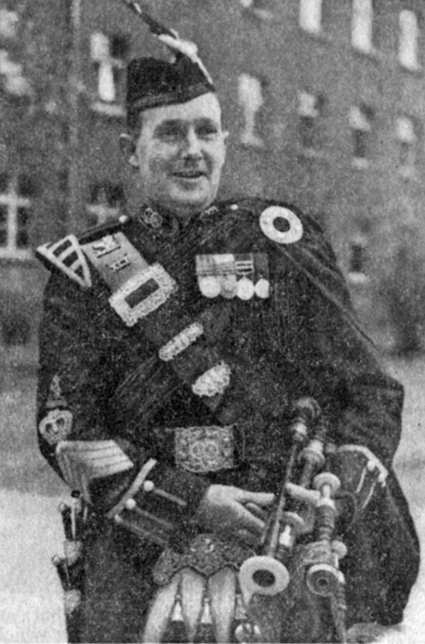 Andrew Pitkeathly was not fond of competition and though at the height of his powers in the late 1940s, '50s and '60s, rarely ventured away from his Army or Royal duties to play at the major gatherings. He did however compete at Oban in 1949 when he won the Gold Medal playing  MacCrimmon's Sweetheart, and at London in 1950 where he won the Gillies Cup for Open Piobaireachd.
His expertise in ceol mor can be heard on the Piobaireachd Society's website (member's area) where he gives an expert rendition of the ground and early variation of the difficult Daughter's Lament.
On retiring from the Army, Captain Pitkeathly was in much demand as a judge and tutor with top pipers Gordon Walker and the late Alasdair Gillies among his star performers.
Andrew Pitkeathly, pipe-smoking,  genial, helpful and encouraging at all times, was well liked by everyone who met him. He died in 1994.
---
[wds id="3″]