IN this, the concluding part of our interview with P/M Richard Parkes MBE of Field Marshal Montgomery Pipe Band, we hear of his early influences, what he thinks of the players in his band, and the support he gets from his family and employer. Read the earlier excerpts from this interview here.
PP: Who would you say were your biggest influences? You mentioned Ian McLellan and Strathclyde Police and what they were doing when you started out.
RP: Very much so; they had the sound that everyone wanted in the 80s, and I certainly watched what they did. Even in the time before I was a pipe major I watched these leading bands and tried to study how the pipe major worked. Ian McLellan was someone who I wanted to try to emulate, especially in the sound that he produced. I was very much influenced by Ian from the sound perspective.
PP: Yes Ian, told me that he got out of the scene just in time before all the round stuff took over from the pointed music [see second part of interview]. Now you've got real quality players and I suppose your job is to meld them into a real fighting unit for want of a better way of putting it. Most bands in years gone by were always trying to make the best of what they had, but you can pick from some very high-end pipers who are flying in from all over.
RP: Well that's right; the standard of player in the band now is as good as it has ever been. It's been like that for a while now right enough, probably right back to 2002 or 2004. But from 2011 it really could not get any better to be honest. It really is top-notch.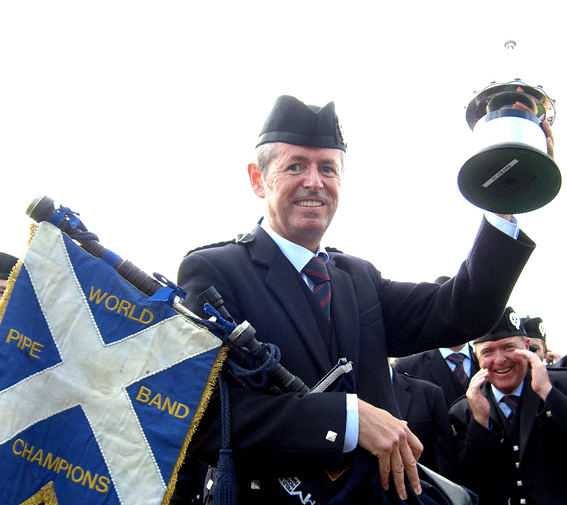 PP: How do you manage to keep up with all these young superstars?; some of them have got fantastic fingers.
RP: You're right; it's hard for me; the older I get the more I have to practice. That's the problem – I'm going the wrong way! They're on the way up and I'm on the way down!
PP: But you've got the knowledge, the maturity and the experience Richard. There's no substitute for that, and they all have the greatest of respect for you. Do you enjoy seeing your pipers doings well in the solos? We see the names Coyle, Carlisle, McMichael, Fitzhenry and Greenlees in the lists regularly. Are you happy for them to be working at their solo stuff?
RP: Yes, I think it's brilliant. As I say, the level of player we have is excellent and to hear them play is a pleasure and from my perspective it is great to know that they still want to play in this band.
PP: Turning away from the band, you must have seen some big changes in the Northern Ireland Branch of the RSPBA and the teaching that they are doing. Would you like to say a word about that?
RP: I was involved in the Northern Ireland Piping and Drumming School for 21 years. It's great for the kids of Northern Ireland that we have the school running on a weekly basis.
PP: It's not something that was around in your day. How did you start?
RP: I started at band practice and was taught by the Pipe Major of the band I was with. The first was Sandy Cummings and after that I'd like to mention Billy Maxwell and John Garrett.
PP: Were they all pipe majors of yours?
RP: Yes they would all have been pipe majors at one point with Fraymont and Raffray or Field Marshal.
PP: Did they take you privately?
RP: No, just at band practice but when I started to play in solos I had tuition from Jimmy Banks when the Scots Guards were stationed here [in Northern Ireland] and I learned a lot from Jimmy. That would be in the early 80s.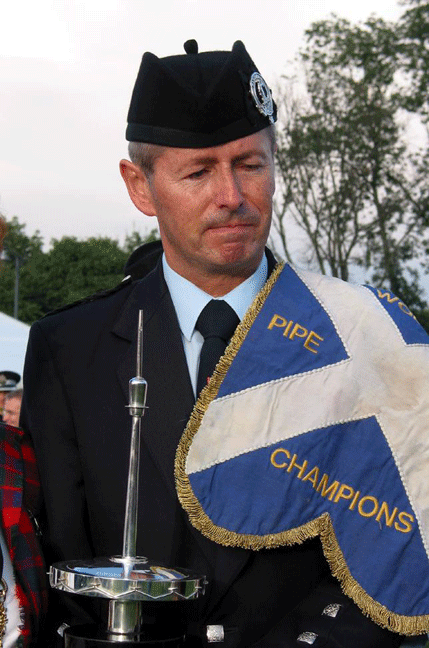 PP: Do you ever miss the solo stuff Richard? You did a bit of it and were quite successful. [Richard won all the ceol beag awards in Northern Ireland and other prizes at London, the Uist and Barra and on one occasion the Jigs at the Northern Meeting.] Was it a case of having bigger fish to fry?
RP: In the mid-90s, when the band was getting to the very highest level, I realised I really had to make a choice. I could have done both but still felt I had to concentrate on the band and I was happy enough to do that.
PP: Some try to do both but it is a very, very difficult thing to do. In terms of the future Richard, you are taking every year as it comes?
RP: That's it; as long as I can continue to play at the required level I'll continue to do it, but obviously it is not going to go on forever. That said, over the next few years I don't see myself going down hill too much and as long as the band is prepared to continue at the level it is at I'll be prepared to continue.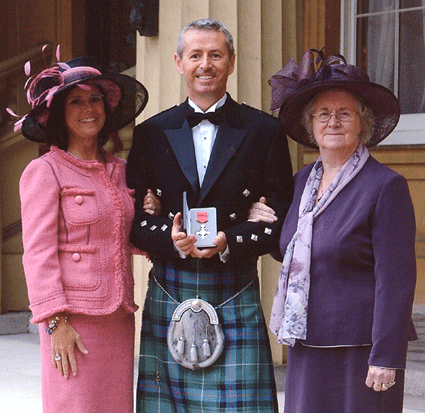 PP: Well I think we'll all be happy to see you stay on and one other thing, on a personal note, your wife Ruth is very supportive of what you've done and she's obviously very proud of what you've achieved.
RP: Well the support that I receive is amazing. They say that behind every successful man there is a woman offering her undivided support. I would not be able to do what I do unless I had that support and understanding from her.
PP: In terms of your work do they give you time off?
RP: They've been very good to me. My holidays are floating during the year so I can take them when I like, but I don't get any extra time off for band stuff. That said, they have been very supportive of what I do.
---
[wds id="3″]