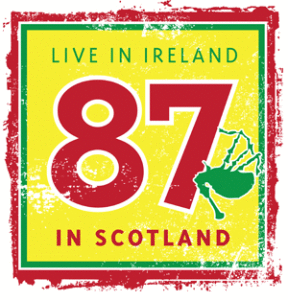 The organisers of the 78th Frasers  Concert at Celtic Connections next January have sent the announcement below. The above picture shows the band under P/M Bill Livingstone in 1987, the year they created history by becoming the first ever overseas band to win the World Pipe Band Championship:
 Superstar Percussionists Added to Cast of Glasgow's 2016 Celtic Connection Festival's Celebration of the Music of 'Live in Ireland 87' 
A group from the 1987 vintage 78th Fraser Highlanders Pipe Band and household names of the pipe band world come together to form a special once-in-a-lifetime band of big talent and towering experience. As announced in July 2015, almost 30 years after the now-legendary "Live in Ireland" concert was performed and recorded by the then soon-to-be world champion, Toronto-based, 78th Fraser Highlanders Pipe Band, a group of pipers and drummers are coming together to celebrate the music of that special mid-August evening in Ballymena, Northern Ireland. 
The 'Live in Ireland 87' show will be staged Saturday afternoon, January 30, 2016 at Glasgow's Royal Concert Hall and stand as a featured part of next year's Celtic Connections Festival, running from January 15 to 31, 2016. The show's Leading Drummer, Reid Maxwell, has augmented his already deep talent pool of percussionists with some of the greatest names ever to grace a pipe band performance venue, said Reid, "once we set the wheels in motion for this project and news of the event got around, well, the interest and enthusiasm has been just out of this world; I am just beside myself with excitement to let folk know that so many great people – and great talent – will be joining us on the Concert Hall stage in January." 
Added to January's performance roster are:  Gordon Brown (L/D, Boghall and Bathgate Caledonia),  Stephen Creighton (L/D, St Laurence O'Toole),  Jim Kilpatrick (ex-L/D Shotts & Dykehead Caledonia),  Paul Turner (ex-Vale of Atholl, Dysart & Dundonald) and  Eric Ward (L/D Greater Glasgow Police Scotland). Newly-minted show participant and current and six-time World Solo Drumming Champion, Steven McWhirter said, 'When there's good tunes to be played I'm thttps://pipingpress.com/letters/here and this show is all about good tunes – and, to play alongside so many greats, well, this is without doubt a once-in-a-lifetime opportunity!' Together, the percussionists on January 30th's Glasgow's Royal Concert Hall stage represent almost countless Grade One World Championship Drum Corps prizes and World Solo Drumming Championships awards. In addition to the raft of drummers, Pipe Major Alen Tully, St Laurence O'Toole, will also be participating, joining the ranks of pipers that include his father, legendary Irish piper, Terry. 
The "Live in Ireland 87" project is self-funded by the "Live in Ireland 87" group. Support from the public to help bring the show to life via the crowd funding site www.liveinireland87.myevent.com is greatly appreciated. Tickets are on sale now and available at the Glasgow Royal Concert Hall's website. Tickets are already selling well with the main arena area over 60% sold out. More information will be made available in the coming weeks at www.liveinireland87.com liveinireland87@dunaber.com; https://www.facebook.com/liveinireland87 
---
[wds id="7″]
---
Another recital/ concert, this time for solo piping. Fred Morrison will do the honours at Tulloch Castle near Dingwall on November 28th, 7.30pm for 8. All welcome. For more info contact Inverness Piping Society.www.invernesspipingsociety.co.uk.
---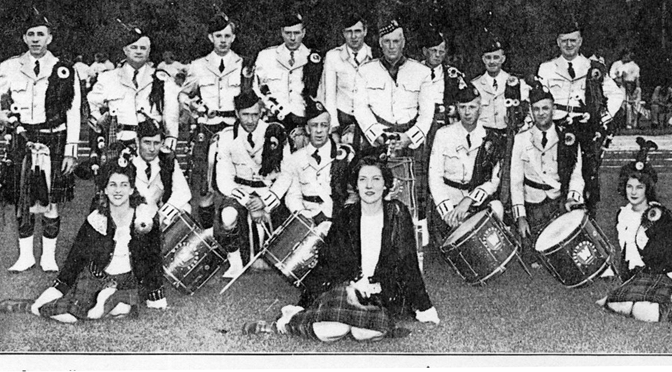 Following last week's letterJoyce McIntosh has confirmed: 'Yes, I checked with my long-time friend.  The dancer in the middle was indeed my first dance teacher.  I was five when I started, and I thought the sun rose and set on her!!!  I am pretty sure that's the pipe major on the left, so those are most likely my pipes in the photo!  How uncanny!  Pittsburgh and its environs were definitely a mecca for Scots to settle in, due to the steel industry, made known the world over by the famous Scot, Andrew Carnegie.'
---
Adjudicator Tom Johnstone has sent a letter re yesterday's London report. Read it here. Full results from London on our Results pages, updated with CLASP results.
---
The Competing Pipers' Association have announced an extension to the entry date for the Captain John MacLellan Competition a week on Saturday. Secretary Donald MacLeod: 'We've decided to extend the closing date for the Captain John MacLellan Memorial Piping Championship for another few days. There is a fairly solid entry for B and C grades but numbers are light in the P/A events. Entry is via the CPA website so you must be a current member to enter. Signing up takes five minutes and is done entirely online. This is a brilliantly run contest by Major Steven Small and his team at the Army School and I would urge everyone to support the event, which will take place on Saturday 14th November at the Army School of Piping, Redford Barracks, Edinburgh, commencing at 9 am.'
www.competingpipers.com
---
[wds id="3″]