Today we continue with our interesting interview with P/M Richard Parkes of Field Marshal Montgomery Pipe Band, the most successful of modern times. The band suffered a setback this year when trying for their fifth Worlds title in a row, but they still had a very satisfying season winning three Major titles and the Grade 1 Champion of Champions title. However, the Worlds was the big one, and here P/M Parkes talks of the work that will be necessary if his band is to regain the crown. He also gives insight into his pipe band philosophy and many other aspects of an approach that has led to his incredible success over more than three decades.
These super articles and insights are brought to the piping and pipe band worlds free of charge by Piping Press. Please keep this magazine free for all by supporting our advertisers and the Piping Press Shop.
PP: You are doing the concert at Worlds Week next year. Do you have a title for it yet?
RP: We have a few ideas but we're still working on that.
PP: How's the concert preparation going to affect your performance at the Worlds? Are you worried about that?
RP: The Worlds Week concert is a great experience and it can give you momentum going into the Worlds. You have to work extremely hard to get up to speed for the concert but the last twice that we've done that concert, we've gone on to win the Worlds right after it. So there are good signs there that it makes the band work harder to create that momentum and that will be the aim, to have a good concert as part of a build-up for the weekend.
PP: You have a couple of days to recover anyway and you don't always have to play the full pipe corps or the full pipe corps at the concert; you can mix and match a little.
RP: We have experience in doing the concert and we know how to fix the band. We've come back from it before, and, as you say, there's time to recover so we'll be ready to go again on the Friday.
PP: In terms of your pipes, your chanters and reeds, bags and everything like that, this fantastic sound that you get, you wouldn't be changing that would you? You may have had criticism but you've certainly not had criticism for your sound.
RP: No, no; I mean at the end of the day the pipe corps won the piping at the Worlds last year, so we don't need to change anything there, just leave it where it is and maintain the sound and the excellent playing that we've had over the past few years. We just need to continue producing that.
PP: Will you be doing more one-to-ones this winter to tighten up on anything or are you working harder with Keith, drum pad and chanter?
RP: Yes, I think we will be working harder with the drum corps to make sure we iron out any issues that are there, to just focus on that aspect of the band. I think that maybe what we do need to try to do, is play a bit more together, have more practices where we are playing together and less as separate units, pipes and drums in different rooms.
PP: Just going back to your own situation Richard, can I ask you what age you are now?
RP: I'm 55.
PP: Just a young man! How many years is that that you've been Pipe Major of Field Marshal?
RP: Mmmmm….34 I think.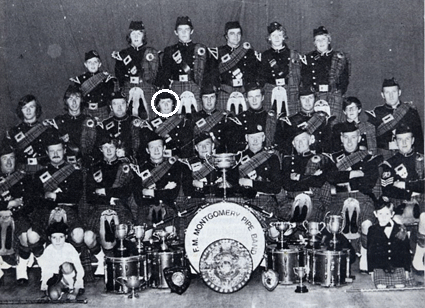 PP: That's extraordinary. Were you in the band as a piper before that or did you come specially as Pipe Major?
RP:: The history is that I started off in Raffray Pipe Band in 1969 and they amalgamated with Field Marshal in 1971 to play in competition because they didn't have enough members in each band. We were called Fraymont, an amalgamation of the two names. In 1976 there was a big influx into the Field Marshal end of the band and myself and my brother were the only ones left from Raffray Pipe Band so Field Marshal went under its own steam again in 1976 so I've been involved since the joining together in 1971.
PP: Were you just a piper in Field Marshal at that point, and if so how did you become Pipe Major?
RP: Yes, I was a piper in the ranks when there was a bit of a fall out in 1981 in the band and I took over mid-season in the July I think, and we managed to get second at the Worlds in Grade 2 that year, so that was a sign of things to come I suppose.
PP: Success right away. So what has been your approach, your pipe band philosophy? How do you run a band? What are you trying to achieve, where are you trying to get to?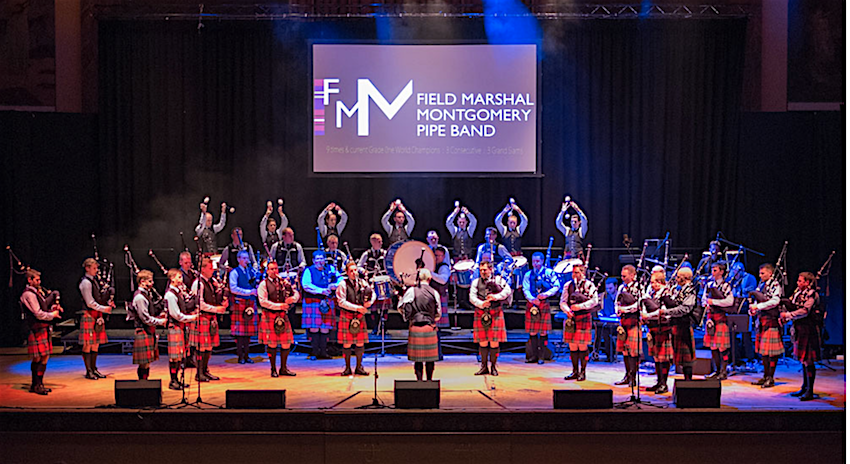 RP: I think my philosophy to begin with was that firstly we needed to create a really good sound in the band. It's like everything else. You wouldn't listen to any other instrument when it is out of tune, so the first thing back then was that I felt we needed to get a good sound. After that it was trying to attract people with the right qualities and abilities to play in the band in terms of technique and execution. So first of all it was about creating the sound and afterwards improving the playing. Until we got to the level we are at now that is. Now it is about maintaining that high level of technique and execution and maintaining the sound at all times. It's about always producing the perfect sound; thereafter the technique and playing come into it throughout both pipe corps and drum corps.
PP: Things have changed though Richard, since you first took over. The music's changed. How have you managed to adapt to that. You're not mired in the past; you seem to have been able to move with the times.
RP: Yes, it's changed in a number of different ways: the music has changed and the numbers of players in bands has changed. We can talk about that in a minute, but as regards the music, what I've always tried to do, if you look back through all of our medleys, is that I've always tried to include traditional tunes that I grew up with. Tunes like John Paterson's Mare, Train Journey North; but what you also need to do is listen out to the new recordings that come out where mainly younger players are playing revised versions of these tunes, and you have to select a version that works in a more modern format. But I am looking for tunes that I grew up with and loved and I want to ensure that the players within the band experience playing some of those tunes.
PP: The playing's gone from a very pointed style and it all became a bit more round, but you don't seem to subscribe entirely to that. You seem to manage to work a path between the two. Is that deliberate style of playing that you've worked on?
RP: Very much so. If you play everything in a  round fashion then it is all going to sound the same. You need to have something, especially in your medley, that has some sort of pointed feel to it if you are going to produce a balanced musical presentation. You are not going to get any impact if everything sounds the same.
To be continued
• Need an FMM fix? Download some of their music here.
---
[wds id="8″]