Robert Wallace: Jonathan Greenlees emerged as Champion Piper at the National Mod piping competitions held in Oban on Saturday. Jonathan won the Ceol Mor with Lament for Donald Duaghal MacKay and placed third in the MSR to take the overall prize. Only eight pipers competed in the senior events although 14 had entered. The standard was mixed but the prizewinners in the above events all played well with Jonathan's Donald Duaghal particularly noteworthy. He is pictured above with the piobaireachd trophy.
Ceol Mor
1 Jonathan Greenlees, Lament for Donald Duaghal MacKay (£150)
2 Angus J MacColl, MacLeod of Raasay's Salute (£100)
3 Colin Campbell, Lament for John Morrison, Assynt House (£75)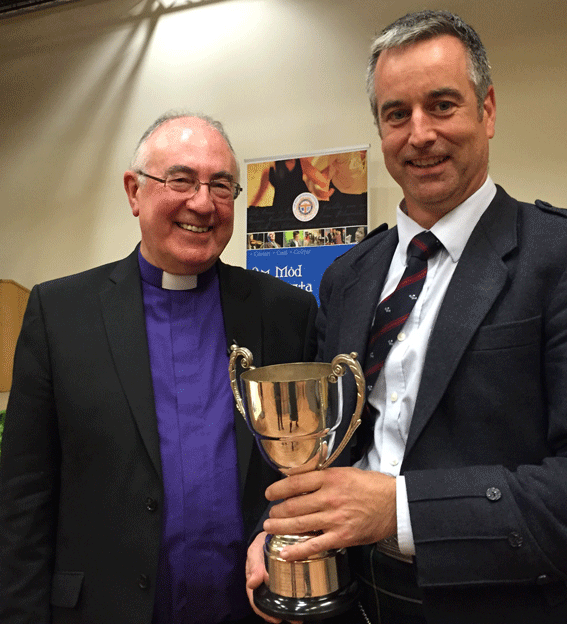 MSR
1 Colin Campbell, Allan Dodd's Farewell to Scotland, Cat Lodge, Kildonan (£100)
2 Decker Forrest, Glenfinnan Highland Gathering, John MacDougall Gillies, Drumlithie (£75)
3 Jonathan Greenlees, John MacDonald's Welcome to South Uist, John Roy Stewart, Alick Cameron, Champion Piper (£50)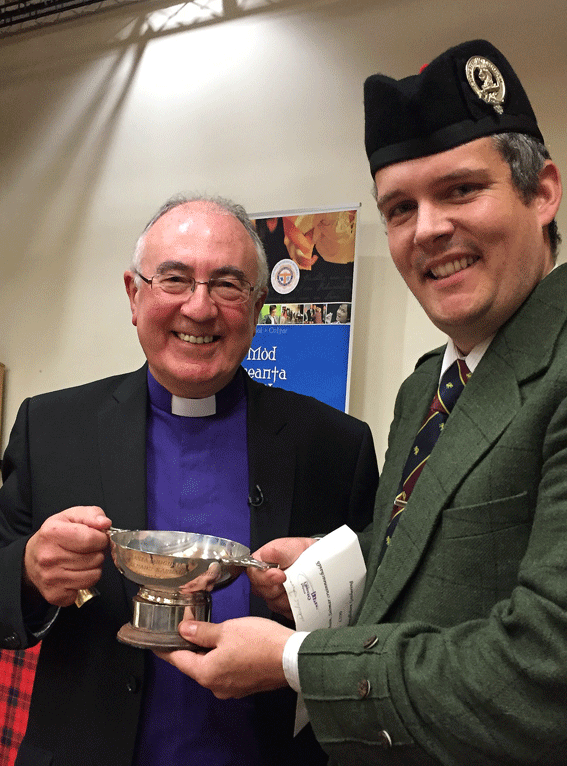 H&J (does not count towards the overall prize)
1 Decker Forrest, Ina MacKenzie, Over to Uist (£100)
2 Cameron MacDougall, Bobby Cuthbertson, John Paterson's Mare (£75)
3 James MacPhee, Jim Tweedie's Sea Legs, Alex MacDonald (£50)
Sheena J Nicol Trophy for Champion Piper on Piobaireachd preference: Jonathan Greenlees (£50). Judges for senior events: R Wallace, J Wilson.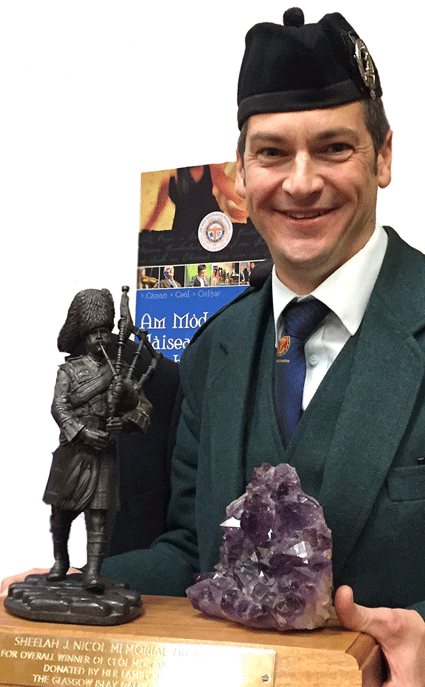 Apart from Jonathan Greenlees's solid Donald Duaghal we had a safe, too safe, MacLeod of Raasay from Angus J MacColl (good pipe and fingers) and another rather safe tune from Colin Campbell. Going along well with the Rout of the Lowland Captain was Sandy Cameron – going along well until disaster struck half way through with a change of mind and a break-down. Ross Cowan played very well on a lovely pipe, but his  Lament for the Only Son was a tune of two halves, the T&C open and deliberate contrasting markedly with finely structured earlier variations and ground. James MacPhee comes off the first strong pulse in the ground of Mary MacLeod too soon and this always upsets the listener. So it was here, but a good, if loud, drone and solid technique showed that with a little readjustment James could do much better. Decker Forrest seemed to play within himself in MacLeod of Raasay and was ponderous at the cadences and rather square with the a mach; another not far from the list however. Cameron MacDougall impressed everyone who heard him in the Silver Medal at the Northern Meeting with his Lament for the Duke of Hamilton complete with note errors – but his rendition of the same tune at the Mod never quite reached those heights, a flattish high G perhaps taking his mind off his phrasing and tempi early on.
In the MSR Colin Campbell had a keen high A, but this was good playing: nice pointing in the strathspey and good flow in the reel – entertaining tunes too. Second placed Decker Forrest had a resounding instrument and good fingers throughout. In the final analysis Colin had just a little more spark and lift. Jonathan Greenlees was third. Hanging on slightly at the end, his much improved bagpipe saw him into the list and to the overall prize.
Have a listen to Colin's strathspey and reel:
The Hornpipe & Jig was the usual mixture of rushing, rambling expression and rough technique with only the winners showing any sort of poise.
The turnout was disappointing and maybe the Mod needs to look at its early entry requirements. The piping world is different from that of the accordion, fiddle and voice. These last have nothing like the number of competitions open to the piper. They therefore will mark the Mod down as a must attend, whereas pipers have so many events to choose from they may enter in July but as the day nears lack the incentive to travel, particularly after a long summer of games. The official programme, with all named competitors, is the problem and my advice would be to leave the piping pages blank  and accept entries until a couple of weeks beforehand.
Other results:
Chanter
1 Molly Perkins
2 Laura Robertson
3 Declan Malloy
4 Andrew MacNeill
5 Corey Anderson
[polldaddy poll=9118761]
U-13 March
1 Eilidh Morag MacPhee
2 Innes Munro
3 Eoseph Caimbeul
13-15 March
1 Angus Finlay MacPhee
2 Finlay Cameron
3 Eoghainn Peutan
13-15 S&R
1 Finlay Cameron
2 Angus Finlay MacPhee
3 Eoghainn Peutan
16-18 March
1 Brighde Chaimbeul
2 John Campbell
3 Donald C Stewart
16-18 S&R
1 John Campbell
2 Donald C Stewart
3 Brighde Chaimbeul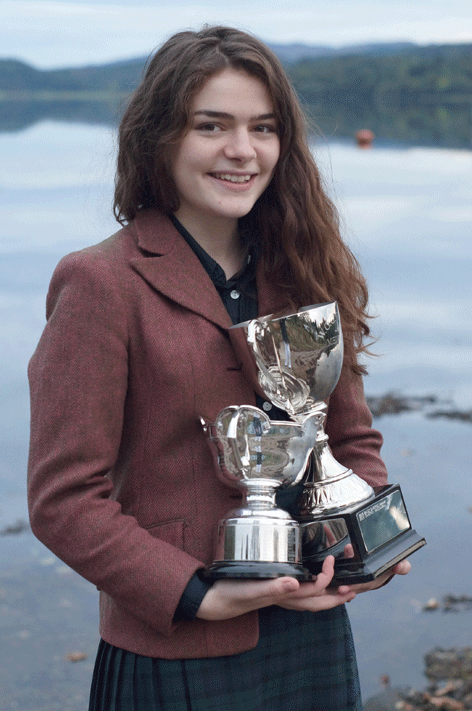 U-19 Ceol Mor
1 Brighde Chaimbeul (Lament for the Earl of Antrim)
Judges for all the above: A Forbes, I MacFadyen, A Maclean, W Morrison
Oban had a great atmosphere over the first weekend of the 2015 Mod with the Corran Halls ringing to the Fiddlers Rally and the parade of prizewinners from day one. Piping was well represented with three young pipers from the Oban band playing along with the fiddlers and a Gaelic singer, and then a set from Brighde Chaimbeul; nicely controlled reels on a warm-toned instrument:
---
[wds id="19″]