New letters added today headed Competition Notes, Monktonhall Pipe Band and the SPA WW1 concert.
---
Congratulations to RSPBA adjudicator and dedicated teacher of piping, Gordon Lawrie, on his BEM from HM The Queen. Here's how the local paper reported his receiving the award from  her representative, the Lord Lieutenant of Dunbartonshire. Gordon is pictured bottom right: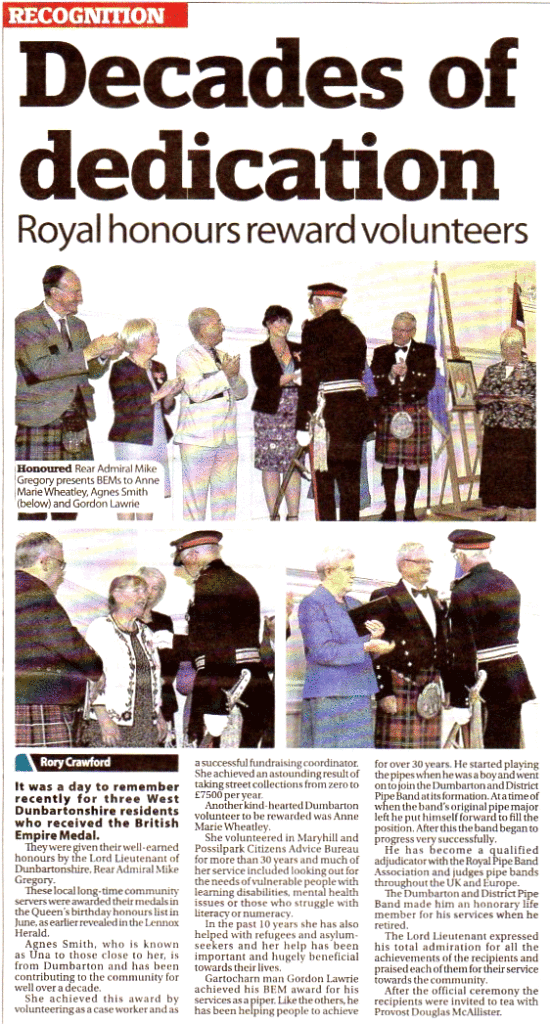 ---
Congratulations too to Bleary & District Pipe Band (pictured top) on their elevation to the hallowed ground of Grade 1 competition. Grade 2 Champion of Champions for 2015, the Northern Ireland band were just pipped at the Worlds by our own Johnstone Pipe Band. However, anyone who heard them this year would say they are well worthy of a crack at the big boys and we wish them all the best. For other regradings and details of the split in Novice Juvenile A & B go to the RSPBA website. Note: these changes, though likely, have still to be approved by the RSPBA's Board of Directors.
---
Final, final word on Whisky Galore; here's a cutting reporting the death of Calum Johnston at author Compton MacKenzie's funeral:

---
To Gairloch tomorrow for the annual 'Iain Dall MacKay Young Pipers Festival'. There are competitions for primary and secondary chanter players, and Under 15 and Under 18 pipers. In addition there is a composing contest for the Ishbel MacAskill Prize for an original composition for pipe or fiddle. Ishbel is the sadly missed Gaelic singer who passed away a few years ago. The night with her and Sheena Wellington at the outdoor ceilidh at Lorient several years back lives on as does the memory of Ishbel's beautiful voice.
Iain Dall MacKay, Gairloch, was a pupil of Patrick Og MacCrimmon and the likely composer of such masterpieces as the Blind Pipers' Obstinacy, Munro's Salute, the Unjust Incarceration and of course the tune written after he received erroneous news of his tutor's demise, Lament for Patrick Og MacCrimmon. Listen to part of it played by John MacDonald of Inverness on the PP Audio archive.
For more info on a great weekend in the north-west Highlands contact Ian MacKenzie
---