The Convenor of Balloch and Roseneath Highland Games, Colina Helen Campbell, has confirmed that the piping events at Roseneath Games, cancelled last Sunday, will go ahead at a later date.
Mrs Campbell reports: 'The Balloch solos went well, sunshine all day if a wee bit damp underfoot in places, but definitely a success. Here are the results:
Senior March
Allan Russell
Jonathan Greenlees
Jonathan Lamberton
Ross Miller
Senior S/R
Jonathan Lamberton
Allan Russell
Jonathan Greenlees
Calum Watson
Neill Mulvie and Barry Donaldson judged the light music.
Senior Piobaireachd
1 Allan Russell (Mary's Praise)
2 Calum Watson (MacKays' Banner)
3 Ross Miller (The Atholl Salute)
4 Kristopher Coyle (Lament for Capt. MacDougall).
Nine played.
Piobaireachd judges: Malcolm McRae and Roddy Livingstone.
Champion Piper: Allan Russell, Kelty (pictured with the overall trophy up top). Have a listen to Allan's excellent playing in this
video clip posted on YouTube
by Barry Ewan in 2007. The judge on this occasion was also P/M Barry Donaldson.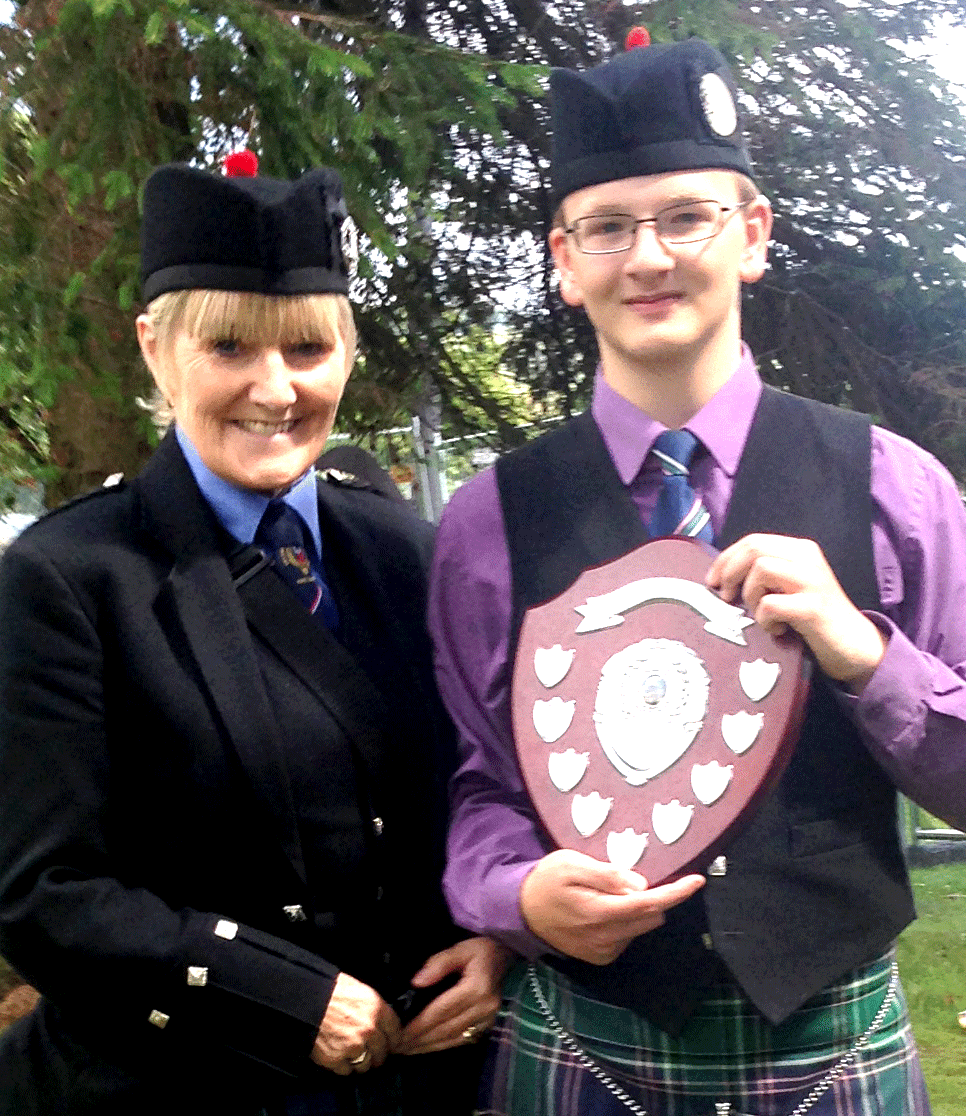 Juvenile March 15-17yrs
1. Duncan Johnston
2. Ewan Murray
3. Lewis Russell
4. James Miller
Juvenile S&R 15-17yrs
Ewan Murray
Lewis Russell
James Miller
Duncan Johnston
Juvenile  Piob. 17 and Under
1. Lewis Russell (Battle of Auldearn No. 2)
2. Ewan Murray (Catherine's lament)
3. James Miller (Lachlan MacNeill's Fancy)
4. Duncan Johnstone (The Little Spree)
Four played.
Open Juvenile 14 and under March
Liam Brown
Ruraidh Sutcliffe
Brogan Sutcliffe
Lewis Sutcliffe
Open Juvenile 14 and under S&R
Ruraidh Sutcliffe
Lewis Sutcliffe
Liam Brown
Mrs Campbell contiunued: 'I should add that although the Rosneath Highland Gathering was cancelled on  Sunday 19 July due to the park being flooded the Highland dancing went ahead in a local hotel and I have rescheduled the solo piping.  The confined and open juvenile piping will be held on Sunday 9 August at the Commodore Hotel in Helensburgh starting at 11am. The senior events will be held later in the year once  I have confirmed an indoor venue.  I will let you know when that is.'
---
Inveraray Games will be held later today in the grounds of the famous castle. Stay tuned for results later on. Other games this week include Tobermory (judges P/M Ian McLellan, P/M Ian Duncan, Robert Wallace and Andrew Frater), and the Young Piper of the Year in Benbecula. Check out the Guide to the Games for the full list.
---
[wds id="17″]
---