Three new tracks have been added to our pipe band audio archive today. They are of the famous Muirhead & Sons Pipe Band and were all recorded in Toronto, Canada, in the 1970s.
The quality is not the best, but listeners will get a good sense of the expert leadership and teaching of P/M RG Hardie and L/D Robert Turner. If any reader has a recording they would like to be considered for our archive – band or solo – please forward it to pipingpress@gmail.com. The band is pictured above playing at Prince's Street Gardens, Edinburgh, in 1967.
---
Anne Lore from Orleans, France, has sent a touching letter following the passing of piping academic and scholar Roderick Cannon. Read Anne's letter here. There is also a nice tribute on the Piobaireachd Society website.
---
[wds id="11″]
---
To Stormont tomorrow for the UK Championships. It will be the first outing for Grade 1 band medleys and I am looking forward to hearing the new stuff. Check here over the weekend for comments. First results via the RSPBA's Twitter feed and summaries at www.rspba.org. As I write the weather forecast is promising and RSPBA officials are already out and about on the field settings things up for tomorrow.
---
Bagpipemakers R.G. Hardie & Co. have signed a new sponsorship deal with the current World Champions, Field Marshal Montgomery. The band's P/Sgt is Alastair Dunn is also General Manager of Hardies. He said: 'Our past sponsorship of FMM has proven to be very beneficial for our company, and we are delighted to return as the band's primary sponsor for the foreseeable future.'
Many of the band's pipers play Hardie drones. P/M Richard Parkes said: 'I have been delighted with the contribution they have made to the band's overall sound over the years.

'FMM would not be able to do what we do without the sustained support of R. G. Hardie & Co. Since 2006, their sponsorship has helped enable the band to win 39 major championships, and six of the last 10 Worlds titles. Like most bands, we are a volunteer-based organisation. Thanks to R.G. Hardie & Co, we are able to minimise the worry about how the band will dress and equip itself; more time and effort is therefore made available to developing and refining the music.'
---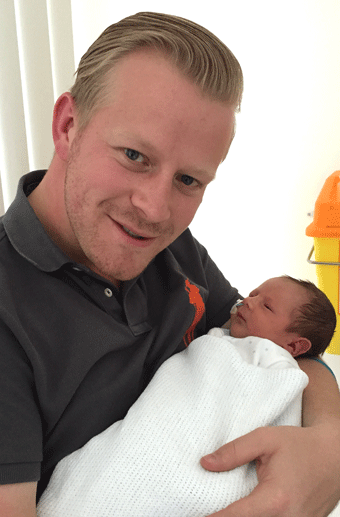 Craig Munro of Wallace Bagpipes, St Laurence O'Toole PB and the Red Hot Chilli Pipers, won't be at Stormont with his band. He's teaching and judging in Ottawa, Canada. Craig has just become a dad and has sent on this nice pic of new arrival Rees. Congrats to Craig and his wife Karen.
---
[wds id="15″]