Hector Russell has kindly sent me a copy of this picture taken in 1978 at the retiral of Muirhead & Sons P/M Robert Hardie and Leading Drummer Robert Turner.
The line up is: Dougie Alexander (drummer), Peter Anderson (drummer), John Kirkwood (drummer), Lawrence Jenkins (Band Secretary), Robert Wallace (I know, I know), Robert Turner, Derek Boyd (piper), Willie Williamson (bass & tenor), Les Hutt (piper), John Christie (Band President), Jimmy Anderson (piper), Jim Crawford (bass & tenor), Donald McBride (apprentice piper), Bob Hardie, Andrew Dowie (P/Sgt during the band's glory years), John Finlay (piper), Tommy Dempster (piper, front), Jock Waddell (bass & tenor, rear). Can't remember chap in beard and glasses far right I'm afraid, no disrespect intended.
It was a great night and a suitable tribute to two men who were giants in the pipe band game. Sadly it saw the end of the band too. Band members were unable to agree on the company's choice of successor to Bob and they closed us down almost overnight.
---
Pleased to see a positive attitude to piping from Crieff convenor Graham Taylor in these pages yesterday. Let's hope he gets the required support and can convince his committee that, in 2016, Crieff Games should have a well-run solo piping contest as before. 
One point I didn't make in my last broadside at his board was this: every other piping institution and business in Scotland embraces the World Pipe Band Championships. It is a cash-cow, Christmas come early, call it what you will. They see the Championships as an opportunity, not an impediment. Instead of complaining about someone raining on their parade they should welcome the Worlds and work with the championship. It's not going to go away, is it?
Crieff should be taking advantage of the thousands of pipers and drummers the RSPBA bring here to their superbly run event. Everyone else does. Flood the contest with handbills (flyers), advertise where you are and what you are about. Make Crieff the natural follow on from the Worlds or prelim to them, depending on the date. Contact former competitors directly and ask them if they will come and take part. Use social media. There really is no excuse for not getting the Crieff message out there and I have told Mr Taylor that pipingpress.com is at his disposal should he need us.
Meanwhile I hope there are some enterprising pipers who will take advantage of his non-competitive performance offer for 2015.
---
Still on the games, I hear that Thornton in Fife are considering introducing solo piping this year. Funny, I thought they always had it. Maybe it was just juniors. If you have any info please pass on and we'll add it to our comprehensive Guide to the Games.
---
Helensburgh's Clan Colquhoun Pipe Band are looking for drummers/ drum tutor. The band has a busy schedule of engagements this summer. They are also keen to recruit a piping teacher for their increasing number of young learners. Band practice is at Lomond School on Wednesdays at 7.30. Their website is here. Contact Pipe Major John Low on 07500441592.
---
SPA Treasurer Jeannie Campbell has sent this: 'Last year the Scottish Pipers' Association received £7,500 from the Heritage Lottery Fund (HLF) for this project researching the lives of the pipers and the music they played and composed during the Great War. The Association is presenting the stories of the pipers and their music in a series of five concerts. 
'The fourth concert will take place at The College of Piping in Glasgow on Saturday 18th April 2015 at 7.30pm. The concert will feature the pipers and music of the Seaforth Highlanders and the Cameron Highlanders. Once again the stories of the pipers will be told and their music introduced by the military historian and writer Colin Campbell. A quartet of young pipers from the Cadet Services will play to start each half and the soloists will be top professional pipers Niall Stewart and Iain Speirs. Music composed by William MacLean, Danny Campbell, Robert Meldrum, William Taylor, Colin Thomson, David Mathieson, Robert Current, Donald MacLeod and many others will be featured. 
'Admission will be free of charge…Refreshments will be available during the interval. The concert will be streamed live over the internet…We are looking forward to another wonderful evening of music and stories. At previous concerts we have welcomed relatives of some of the composers, who have attended in person or watched online from as far away as Australia, some hearing their ancestor's tune played for the very first time. We are expecting that this will be the case again at this concert. For anyone with an interest in piping or in the First World War this will be an event not to be missed.'
Earlier in the day at the same venue, the SPA will be holding their annual professional competition, so morning, noon and night a great day of piping is to be had.
---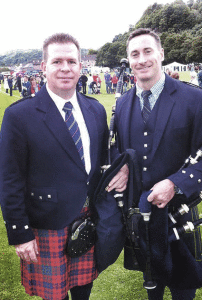 I see from Toronto Police Pipe Band's Facebook site that Sean McKeown has taken over from Ian K. MacDonald as pipe major. According to the blurb Sean has 'been appointed Pipe Major of the Grade 1 band for the 2015 Competition Season'.  Ian K will keep playing with the band. I wish Sean all the best and look forward to seeing him in charge and hearing the band at the Worlds. Qualification for the final would be a major first achievement.
Ian K may now be able to concentrate a little more on his solo work.  Last year at Oban he gave a good account of Lament for the Only Son when placing second in the Argyllshire Gathering Gold Medal.
---
What on earth is marching education? Whatever, congratulations to SLoT's Stephen Creighton on his new post with Premier Drums. Here's part of the blurb: 'We are pleased to announce the appointment of Stephen Creighton as our new head of marching education. Stephen is the lead drummer of the world-renowned St Laurence O'Toole Pipe Band from Dublin, Ireland who are the current holders of the Champion of Champions Grade 1 drumming title. Recognised for his musicality and tonal perfection, Stephen has won two World Grade 1 titles as well as the British, European, Scottish and seven All-Ireland Grade 1 titles. As an accomplished soloist, he has consistently been ranked in the top 12 senior drummers for 22 of the last 24 World Solo Champions.
'The newly created position will see Stephen's responsibilities include the development of a marching education programme, creating a long-term strategy that will strengthen the Premier brand and its relationship with players, partners and tutors. The programme will also focus on creating tuition aids for players and teachers whilst working closer with community and charitable outreach projects to further promote Premier within the marching drum community. In addition, Stephen will join Premier's product development team to work closely alongside Keith Keough, generating ideas for the improvement of current pipe band products, and identifying opportunities for new products that can be added to the range. 
'Having performed on Premier's world-class products for a number of years, I am thrilled by this appointment,' said Stephen. 'This is an exciting opportunity to pass on my experience and knowledge, taking Premier to ever greater heights, whilst championing the importance of music education.'