Pipe bandsmen and women coming to the Worlds are being urged to buy their SFU concert tickets now to support the band and its leading piper Andrew Bonar in his fight to recover from a brain tumour.
SFU have already announced a fundraising concert and ceilidh in British Columbia, Canada, with all proceeds going to the BC Cancer Foundation for brain cancer care and research.
Today pipingpress.com editor Robert Wallace urged bandsmen and women who will be in Glasgow for Worlds Week to support the band and Andrew by making their concert on August 15 an early sell out.
'Clearly the hundreds of people in the pipe band and solo piping community who know and respect Andrew will not be able to travel to the SFU's very worthwhile concert,' he said.
'But we in Scotland, and those from abroad who will be here for the Worlds, can show solidarity with the band and Andrew by buying their tickets for Glasgow Royal Concert Hall now. I know they are already going very well, but what better way to let Andrew know we are thinking of him than by the 'sold-out' notices going up way ahead of schedule? It may not seem much, but anything that helps boost morale at this difficult time for Andrew and his family has to be worthwhile.
'Everyone will know Andrew from his playing and from his dignity and discipline – win or lose – as a front rank piper with SFU. I remember too when he won the Silver Medal at Inverness and the gracious way he commented on how 'lucky' he had been.
'I say to everyone: let's make both concerts a sell-out; let's do it for SFU and, more than anything, let's do it for Andrew. Please click on the ad NOW and order your tickets.'[wds id="4″]
---
Andrew, who is an air traffic controller at Vancouver International Airport, was diagnosed with a brain tumour last autumn after he developed severe headaches and problems with balance and co-ordination. He had an operation in November to remove the tumour and his treatment continues but he has been unable to play his pipes. He has been with the SFU band for 35 years, winning six Grade 1 Worlds titles.
The SFU concert press release: 'The SFU concert will take place at 6:00 PM – 7:30 on March 28 at the SFU Theatre on Burnaby Mountain with the ceilidh following at 8pm at the Club Ilya in the Cornerstone building at SFU. We will be performing alongside the Heather Jolley Highland Dancers, of which Andrew's daughter, Kate, is a member.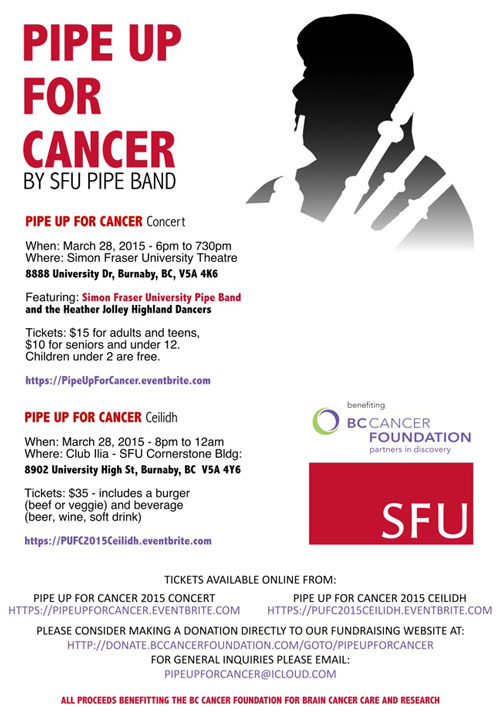 Tickets for the concert are $15 and are available from https://PipeUpForCancer.eventbrite.com. There are a very limited number of ceilidh tickets priced at $35 and include a burger and beverage. They are available at https://PUFC2015Ceilidh.eventbrite.com.
SFU Pipe-Sergeant Jack Lee: 'Together, we can make a difference for brain cancer patients now and in the future. Donations (eligible for a tax receipt) can be made directly to our fundraising website at http://donate.bccancerfoundation.com/goto/pipeupforcancer. Let us know you're coming through our Facebook 'event''