The above picture shows the front rank of the all-conquering Strathclyde Police Pipe Band in the 1980s playing up the road at the Cowal Games. It comes to us courtesy P/M Barry Donaldson, now of the City of Edinburgh Pipe Band. P/M Donaldson writes:
'The picture shows the band parading up the street on the Saturday morning. The picture shows [left to right] P/M Ian McLellan, the late Harry McAleer, myself and John Wilson. Just out of shot is P/Sgt Angus John MacLellan, who sadly passed away a few years ago.
---
[wds id="2″]
---
'It was a great Cowal for us. The previous day John won the Open Piobaireachd, Harry won the Open Strathspeys & Reels and I won the Open Marches – and we all shared the second prizes as well. On the Saturday we won the Cowal Championship and were proclaimed Champion of Champions. We had already secured the World Championship earlier that summer and I think this was during our six-in-a-row period.
'We had that many trophies coming down the street on the Saturday evening that there were as many people carrying trophies in front of band as there were in the band. Fond memories indeed.'
As well as leading the City of Edinburgh band, P/M Donaldson is now a much sought after piping tutor and a senior adjudicator on the solo circuit. His band's next major function is the 'Wheel of Fortune' contest being held early next month. Check it out here.
In March the pipe major will be travelling to the US as senior instructor at the South Florida Pipe & Drum Academy. The Academy has just released this poster: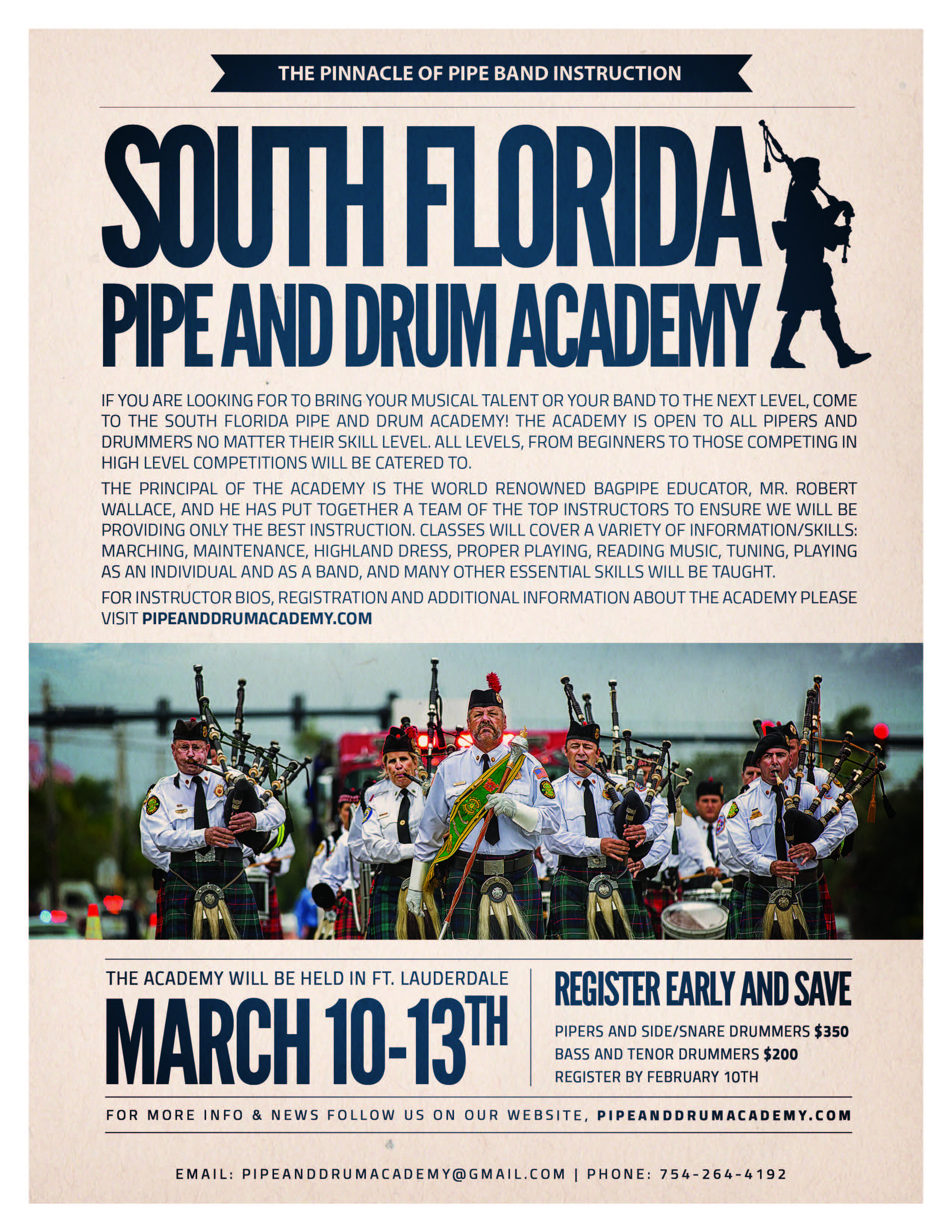 There's always something worth reading at pipingpress.com – made free for the worldwide piping and pipe band community by your support for our advertisers and the ppresshop….