Robert Wallace: One of the giants of Breton piping and pipe bands, Erwan Ropars, has died after a short illness. He was 64. He shot to fame in the Celtic music world when he led his band, Bagad Quimper, to multiple successes in the Breton Championships and when he helped forge a new approach to pipe band presentation in the region by encouraging and devising concerts using combinations of many different instruments. He and other stalwarts such as Alan Stivell, Dan ar Braz and Patrick Molard took Breton music to a whole new audience worldwide.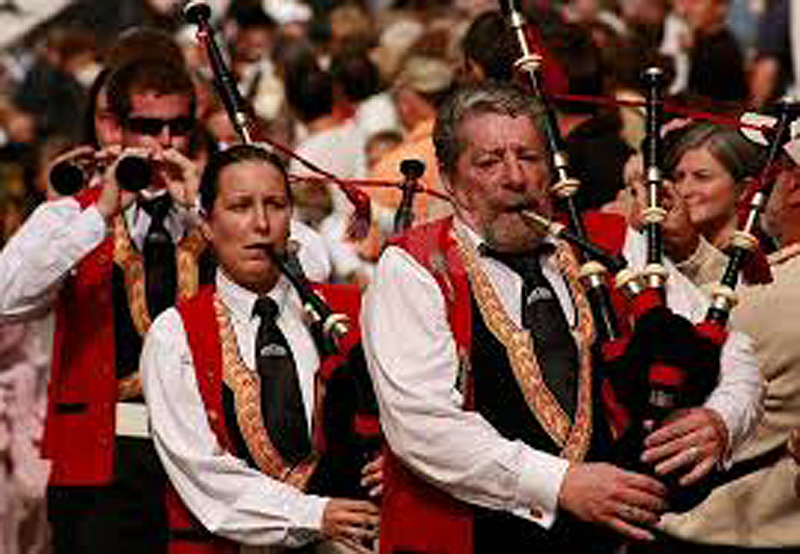 Erwan was never one to follow too closely the Scottish/Irish model of piping. He was dedicated to his own Breton music and to making it as accessible to as many people as possible both in Brittany and in the wider piping world. In this he succeeded. When criticised by staunch traditionalists over the use of the great Highland bagpipe in Breton music he would retort with anger and frustration at the barriers these book-taught purists erected. To him the instrument was completely suited to his milieu, and when combined with the bombarde produced a unique effect immediately attractive and immediately redolent of his homeland.
The Bagad Kemper (the Breton spelling) website has the following: 'ERWAN ROPARS : KENAVO LE GRAND BLEU ! C'est avec une immense tristesse que nous avons appris le décès d'Erwan…Figure emblématique du Bagad Kemper : trente ans (1968-1998) dont un quart de siècle en tant que penn soner, formateur, musicien aux multiples talents, passeur de mémoire, c'est également pour tous ceux qui ont croisé son chemin un Grand Monsieur. Kenavo l'artiste, kenavo l'ami…
Rough translation: 'Erwan Ropars: Farewell the Big Blue…It is with great sadness that we learned of the death of Erwan….emblematic of Bagad Kemper for 30 years (1968 – 98) with a quarter of a century of playing and teaching, a multi talented musician who was a great man to everyone who crossed his path. Farewell to an artist and friend…'
I will miss that gruff voice, the iron grip, the uncompromising dedication to the music he loved. Nor will I forget the time he taught me how to eat an orange in public. None of your ripping the peel with the thumbs and squirting juice everywhere…sharp knife, careful dissection and a fork.
Listen to Bagad Kemper from the late 70s playing a march and then a slow air:
• Erwan's funeral is expected to be early next week. If anyone would like to leave a message of condolence please do so below.