New Shotts Contest Set to Be an Annual Event after 2014 Success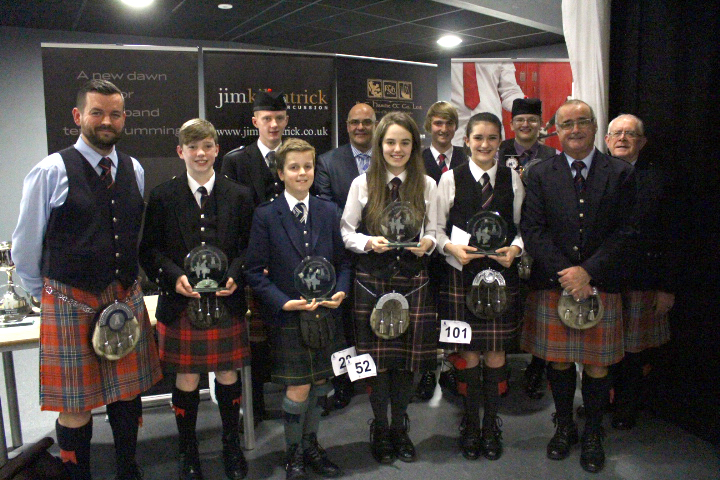 Robert Wallace writes: This was a well-run competition. It was held at Calderhead High School, Shotts (a superb facility), with sponsorship from pipes/drums, RG Hardie, D Naill & Co., TyFry Drumsticks, The National Piping Centre, D2 Percussion, Jim Kilpatrick Percussion, Scott Currie One Stop Pipe Band Shop, Canning Reeds, MacLeod Highland Supplies, McCallum Bagpipes.  Well done to all of them for supporting such a worthwhile contest.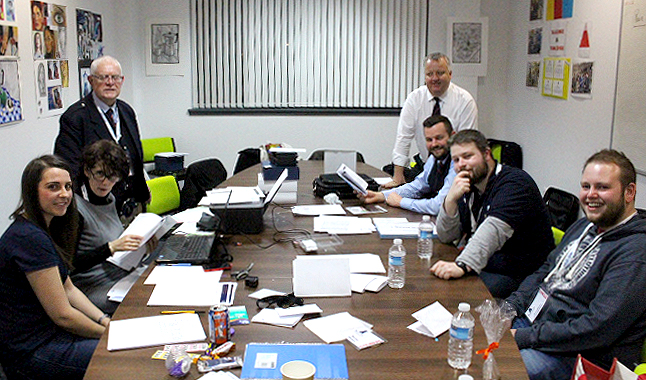 I arrived mid afternoon and was immediately struck by the friendly, yet business-like atmosphere in the spanking new school's assembly area. To add to the high spirits, there was even sunshine outside –  which for Shotts in November is something to write home about. I listened to a few performances in the Assembly Hall. It had a perfect acoustic for the bagpipe, not something you get at the average school. At an interval it was out for coffee, where, after a long chat with my old Muirheads mucker Robert Barnes, I met Sandy Bell, chairman of the band, who kindly shepherded me into the nerve centre of operations where officials were busy collating crit sheets and results. Sandy told me that the school had come courtesy the local authority whose head of music, Mr Jim Park, has done so much to help piping and drumming in the area.
Mr Park's wife is head teacher at Calderhead. Whilst mentioning local authorities, I would like all those readers  who, like me, live in the North Lanarkshire area to drop a line to your local councillor to congratulate the council on their enlightened attitude to piping and drumming. Their provision of high quality tuition in their schools reflects great credit on them in these cash straitened times, where budget cuts usually mean music cuts.
North Lanarkshire have their own top juvenile band under P/M Ross Cowan, and the association with Shotts stretches back to the days of P/M Robert Mathieson, something that was mentioned in Mr Park's closing remarks.
Before that we had a raffle conducted by the hilarious Dan Nevins. This guy should be doing stand-up. The large audience was often in stitches, none more so than when Jim Kilpatrick won an hour's piping tuition with Glenn Brown. Jim thought about it for .1 of a second and then called for a re-draw. It all added to the friendly atmosphere I talked of earlier.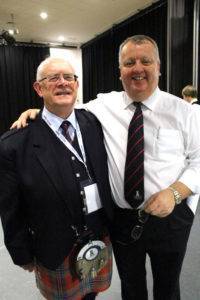 So to the results announced by Ewan McAllister, and wasn't it nice to see that there is still a strong McAllister family link with the band?
This competition was extremely well staged. It should become an annual event and the organising team led by P/M Ryan Canning can be well-pleased with their first year.
Section A Chanter Age 18 and Under
Event 1 – Slow Air (two parts)
1 C Ramsay 2 H Bishop 3 R Mitchell 4 A McIntyre 5 L Harvey
Judge: Ryan Canning
Event 2 – March (two parts; any time signature)
1 C Peters 2 C Ramsay 3 C Cleland 4 A McDermid 5 N Knowles 6 S McAlpine-Scott
Judge: Ryan Canning
Section B Piping Age 15 and Under
Event 3 – March, Strathspey and Reel
1 L Russell 2 D Stewart 3 J Campbell 4 P Christie 5 H Fredlander 6 J Miller
Judges: Peter Hunt, Cameron Drummond
---
---
Event 4 – Piobaireachd
1 A MacPhee 2 D Stewart 3 B Hanley 4 L Russell 5 H Fredlander 6 J Ednie
Judges: Chris Armstrong, Callum Beaumont
Event 5 – Ground of Piobaireachd
(Only for those competitors not entered into Event 4.)
1 B Watson-Massie 2 B Dickinson 3 P Christie 4 D Mair 5 J Smith 6 C MacLeod
Judges: Chris Armstrong, Callum Beaumont
Section C Piping Age 18 and Under
Event 6 – March, Strathspey and Reel (submit two)
1 C MacDougall 2 J Dew 3 G Stewart 4 A Hutton 5 F Hogg
Judges: Ryan Canning, Glenn Brown, Finlay Johnston
Event 7 – Piobaireachd (submit two)
1 C MacDougall 2 J Dew 3 F Hogg
Judges: Glenn Brown, Finlay Johnston
Best Overall 15 and Under: Donald Stewart
Best Overall 18 and Under: Cameron MacDougall
Section D Snare Sticks and Pad Age 18 and Under
Event 8 – March (two parts; any time signature)
1 J Meneer 2 H Dillon 3 A Hall 4 M Wright 5 S Weir 6 C Malloy
Judge: Jim Kilpatrick
Section E Snare Drumming Age 15 and Under
Event 9 – Four parts of 2/4 March from RSPBA Approved Tunes List.
1 J Taylor 2 L McIvor 3 R Thom 4 J McVey 5 C Nelson 6 O Turnbull
Judges: Jim Baxter, Paul Turner
Event 10 – March (minimum 4 parts), Strathspey (minimum 2 parts) and Reel (minimum 2 parts)
1 C Taylor 2 L Kyle 3 R Thom 4 L McIvor 5 F Hall 6e N Brophy/R Power
Judges: Jim Kilpatrick, Arthur Cook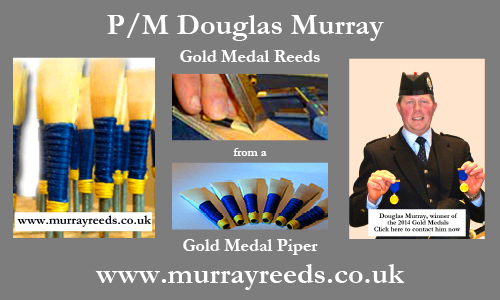 Event 12 – March, Strathspey and Reel
1 C Edwards 2 C Hart 3 A Joyce
Judges: Jim Baxter, Paul Turner, Arthur Cook
Section H Tenor Drumming Age 15 and Under
Event 14 – March (four parts; any time signature)
1 L Letham 2 K McCron 3 P King 4 J Merrilees 5 L Carroll 6e K Robson/J Mitchell
Judges: Amanda Cook, Sharleen Donaldson
Section I Tenor Drumming Age 18 and Under
Event 15 – March, Strathspey and Reel
1 R McAleese 2 A Geal 3 H Nimmo 4 K Lennon 5 N Kirk
Judges: Amanda Cook, Sharleen Donaldson