The picture above shows the stately auditorium in which lovers of pipe music were able to enjoy the latest recital promoted by the  Royal Scottish Pipers' Society.  Quite magnificent I am sure you will concur ….. and the music from recitalists Sarah Muir, Fred Morrison and Stuart Liddell was almost as good as the visuals.
We gathered in the Assembly Hall at The Edinburgh Academy (for it is this school that is blessed with such poetic architecture) with time for chat beforehand at a well stocked, and well run, bar. Before being called to our seats, the BBC's Gary West told me of his recent trip to the Caledonian Ball in London with the Atholl Highlanders, the BBC's Ian MacInnes of his Gaelic studies, and RSPS organiser Neil Mulvie of his Gaelic studies.
Other notables in the audience were Andrew Wright, Hon. President of the Piobaireachd Society, Alan Forbes, Secretary of the Society's Music Committee, Matt Wilson and a contingent from his Dollar Academy pipe band (including Iain MacFadyen's pupil Sandy Cameron), Archie Kenneth Quaich winner and journalist Tom Peterkin, drummers Steven McWhirter and Gus Sicard of Inveraray Pipe Band,  and many others who will be known to readers of Piping Press.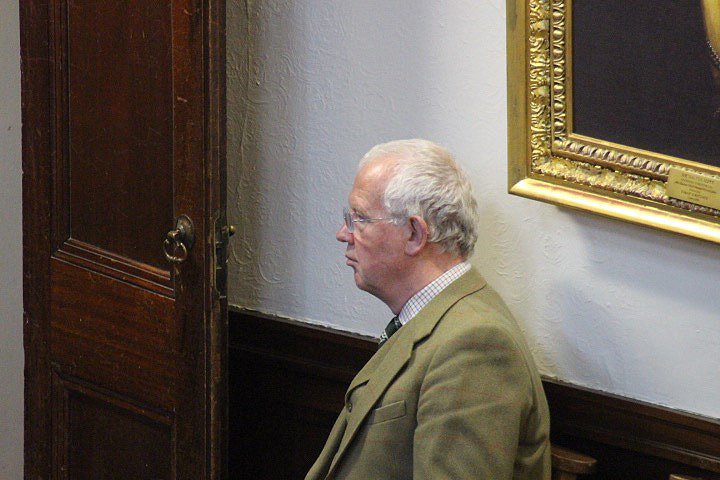 Sarah Muir began. MC Andrew Cook told us that she was a pupil of William McCallum and Glenn Brown and that she played with Shotts & Dykehead Pipe Band. Despite a couple of chokes and over-reaching at times, she played well on a good instrument and left the stage to firm applause. Next came Fred Morrison whose attire did not match the surroundings but whose playing did – magnificent. I have said before that when Fred went into the folk music world he was a huge loss to the solo piping board. He was, and is, one of the truly musical individuals around. In recent times he has made a partial comeback and I hope he continues with it.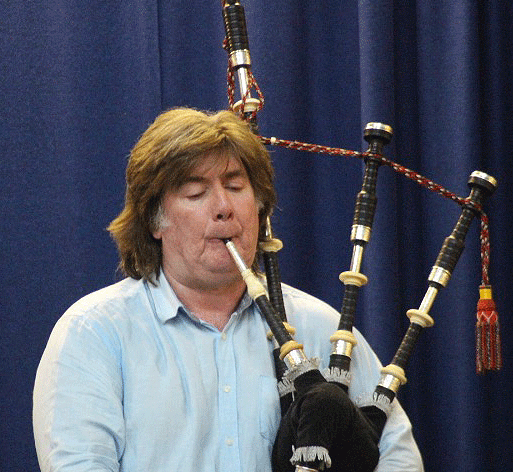 From the moment he blew up his pipe we knew we were in for something to relish. The instrument did not move. He did not tune it: there was no need. Perfect in pitch and timbre, the hall's clear acoustic rang with its harmonic perfection for fully 40 minutes. As a lesson in professionalism and instrument preparation there could be no better. His set included the piobaireachd Lament for the Children and a raft of ceol beag all played with effortless style and panache, with one caveat: his competition strathspeys and reels did not have the lift of yesteryear, the foot-stompin', even-note ceilidh style a little too much in evidence for my taste.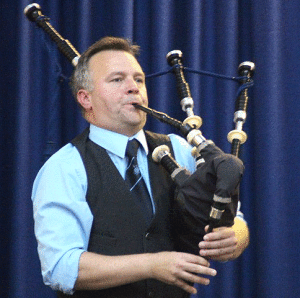 On came Stuart Liddell, pipe major of the Inveraray Pipe Band. Not such a settled pipe, but Stuart was not long in getting it into order and he took us up to the break with a 20 minute set full of high-grade piping.
Searching the building for a suitable photographic coign of vantage, I missed the start of the second half but got back into the hall in time to hear Stuart's second set. Highlight here had to be his piobaireachd, Battle of Auldearn No2, beautifully expressed throughout and beautifully fingered by this master piper. How he manages to combine this level of solo playing with running a band challenging for the World Championship title is a mystery to we mere mortals, but Stuart has been blessed with that greatest of gifts – natural talent.
Nothing to do with the bagpipe, its playing or setting up, causes him the slightest difficulty; it just happens, and he is able to grace any stage, band or solo, with ease.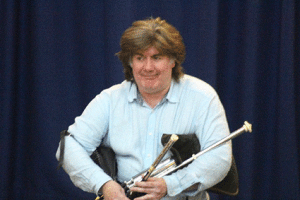 Fred came back on to finish the night and displayed his versatility with tunes on the low whistle and uilleann pipe. He charmed the audience with his playing and his polite patter. I liked the one about the Rev John Walker of Seattle for whom Fred wrote a tune. During a session at the minister's home, Fred noticed that he was dropping off. 'Are you okay?' asked Fred. 'Oh yes,' said the Rev. Walker and, referring to longevity, 'life is just one big piece of ceol mor and I am on the return to the ground.' The poor chap duly died within a couple of years.
So ended a night of exceptional playing. The Royal Scottish Pipers' Society deserve all credit for laying on such an enjoyable recital. On the drive home I mused over what was the most memorable aspect of the evening. In the final analysis it had to be the two piobaireachd played by Fred and Stuart. This was the glistering gold. They demonstrated once more the greatness of the great Highland bagpipe. To  reach the soul it needs only a chanter and drones balanced as one, and a maestro to finger and express classic ceol mor. If purity is the true beauty then here we have it.