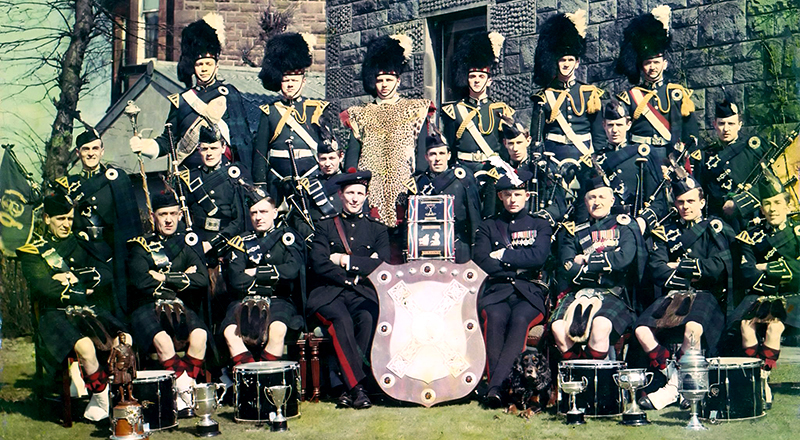 An account has now been set up and is able to accept donations for the James H McIntosh Cultural Fund, writes Jimmy's widow, Joyce. Details are being worked out, but funds will certainly go towards piobaireachd education.  For now, you may send a memorial contribution, with a cheque made out to: Charlotte Stephenson, and please write 'James H. McIntosh MBE Cultural Fund' on the memo line. Mail it to: Charlotte Stephenson, c/o James H. McIntosh, MBE Cultural Fund, 110 Crescent Drive, Pittsburgh, PA 15228, USA.

This will be the only fund set up. There is now an obituary page where you may leave your condolences if you wish. This may be found on the following website: www.standardfuneralcenter.com. There are tributes from students, as well as photos of Jimmy's life on jimmymcintosh.net.
---
---
Former pipe band administrator George Dalgleish has written: 'It's been many years since being involved in pipe band matters with Camelon and Muirheads, and laterally as secretary of the Stirlingshire Branch of the RSPBA. It's sad that the branch no longer functions, however there were very valuable trophies belonging to it, the Abbotshaugh Trophy donated by Mr Frank Muirhead for one, plus a large number of other trophies. Where are they now?
'If bands are holding any of these trophies they should be returned to the RSPBA for safe keeping until the Stirlingshire Branch is fully functional again and a new Brach Secretary elected. We both know the Stirlingshire Branch was very active in the 1960/70s. Sadly Muirhead & Sons no longer exist as they were a strong influence within the branch. Hope you and the family are well and that bands will come forward with the missing trophies. 
---
Northern Ireland's 'Kids with Cancer Charity Concert' will be held tomorrow, Saturday 20th February 2021 from 7.00pm. Due to the pandemic the concert will take place online. It is pay per view only with the money raised going to the Children's Cancer Unit Charity at the Royal Victoria Hospital, Belfast. Tickets for the concert are £20 each and can be purchased by contacting Gary Smyth on www.facebook.com/gary.smyth.52 or text 07814446179, or through Eventbrite www.eventbrite.com/e/kids-with-cancer-charity-event-2021-tickets.
The pipers and drummers who will be playing through the medium of pre-recorded videos are (drummers): Stephen McWhirter, Gareth McLees, Steven Shedden, William Glenholmes, Gordon Brown, Kerr McQuillan, Jamie Coffey and Jordan Baillie. Pipers: Lincoln Hilton, Stuart Liddell, Robert Watt, Andrew Carlisle, Ashley McMichael and Ryan Cupples Menendez. Bands: Closkelt, West Australia Police, St Joseph's Clondalkin, Tullylagan, Matt Boyd Memorial Pipers and the Ravara Drum Corps.
---
Still in Ulster, Portadown based painter Bracken Anderson has sent samples of his work. Bracken writes: 'I was art college trained during the 70s and I was in the North Irish Horse then as well. My grandfather was in the old RUC.' Contact Bracken here.
---
Reader Stuart Brown: 'Earlier in Piping Press you included a link to a tribute to my former tutor John Stewart. Unfortunately the link did not work for me and I wondered if you knew of another link I could try to view the tribute?
'John was a fantastic tutor and a lovely man and I look back at my time with him with fond memories. I once had the opportunity to play his set of MacDougalls and an easier and finer instrument I have yet to play. I learnt a lot from him and enjoyed my weekly sessions whilst in Aberdeen for my studies.
'It would appear the original post was for friends only. It would have been nice to have been able to have seen the tribute to John,  however I will always have special memories of my time with him.'
If anyone can help Stuart with a copy of the video please contact him here.
---
Reader Simon Maclaren: 'I wonder if I could suggest a wee alteration to the name of the 1962 World Champions? The name on PP is given as 227 Argyll & Sutherland Highlanders Regt. R.A. (TA) – John Weatherston MBE BEM. I believe that the correct name was 277 (Argyll And Sutherland Highlanders) Field Regiment, Royal Artillery (T.A.)
The correct name is taken from their record release here. This followed the 'amalgamation' of the 5/6 Bn A&SH with 277 RA in around 1960. This seems correct and I am fairly sure the record release, being contemporaneous, would be correct. I think I even had a copy. If you check on Wikipedia I am the person who made the update there.
Thanks for that Simon. Change duly made. The 277 are pictured with P/M John Weatherston up top.
---
Silver Chanter, Dunvegan Castle 1968:
1 John MacDougall, Lament for John Garve MacLeod of Raasay
2 Iain MacFadyen, The Glen is Mine
3 Seumas MacNeill, The Battle of Waternish
4 Hugh MacRae, Lament for the Only Son
5 Davis Ross, The Groat
Judges: James Campbell, Seton Gordon, Archie Kenneth
---