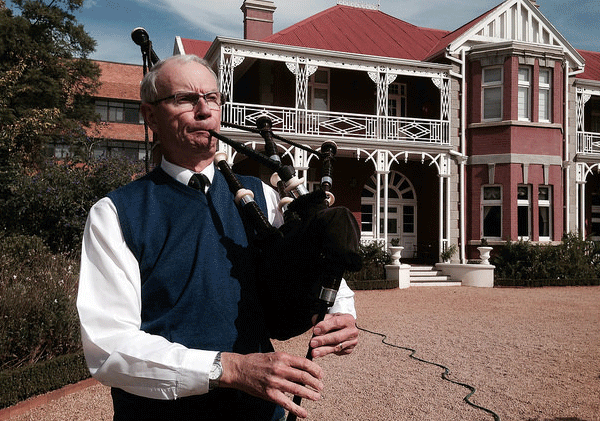 The Piping Press Audio Archive has a full range of solo performances in both ceòl mòr and ceòl beag. The library is free to everyone. During this covid lockdown/holiday period why not spend some time exploring it?
We also thought it would be of interest to see which recordings have been the most popular to date. The current listening figures show that South African piper Chris Terry (pictured) has by far the most popular recording (the piobaireachd The Glen is Mine) with our editor Robert Wallace closest to him but over 2,000 listens behind.
There are healthy figures for piper/composer Dave Mason and his relatively new 6/8 march for John Cruickshank VC, and also for Donald MacPherson with the Lament for Mary MacLeod.
As you might expect, a recital by Alasdair Gillies gets a good showing but he is trumped by former Monktonhall piper Donald McBride's recital recording from 1997.
Niall Matheson's new tune for Alasdair has roared away in only ten months since it was posted, and it should be noted that the best figures are usually achieved by those recordings that have been in place longest; the archive started in 2014. Some recordings have been in situ for five plus years, others only for several months.
The fact that piobaireachd gets such high figures perhaps reflects the interest in the different approach pipers take to different tunes.
Top band (not that there are many in the archive) is Muirhead and Sons with an MSR recording from Toronto in 1978. Hugh MacInnes's Toyota Pipes & Drums are not far behind.
The hit parade figures are as follows:
Chris Terry, South Africa – The Glen is Mine – 3,428
Robert Wallace – MacDougall's Gathering – 1,326
Robert Wallace – Company's Lament – 1,123
Donald McBride – 1997 Recital – 1,107
Donald MacPherson – Lament for Mary MacLeod – 965
Donald MacPherson – Lady MacDonald's Lament – 847
Alasdair Gillies – Recital, College of Piping – 890
John MacFadyen – Too Long in this Condition – 799
Angus MacColl – Former Winners' MSR, Oban, 2015 – 701
John MacDougall – Former Winners' MSR Oban 1971 – 695
Jimmy McIntosh – Lament for the Children – 675
Muirhead & Sons – MSR, York Uni, Toronto, 1978 – 666
Donald MacLeod – Jigs – 664
Andrew Pitkeathly – ceòl beag, 1973 – 647
Toyota P&D – P/M H MacInnes – 635
Dave Mason – John Cruikshank VC 6/8 – 631
Donald MacPherson – MSR, Oban – 630
Gordon Walker – Uist & Barra MSR – 616
Jimmy McIntosh – Earl of Seaforth's Sal. – 589
Robert Reid – MSR – 579
John MacDonald, Inverness – Lament for the Children – 555
Bob Brown, Balmoral – MSR – 548
Hugh MacCallum – MSR, Oban 1971 – 515
Robert Wallace – Nancy's Lullaby – 493
Clan McRae Society PB – 1948 – 485
Gordon Walker – MSR, Lochaber – 459
Niall Matheson – Sal. to P/M Alasdair Gillies – 455
Alan Bevan – GM winning tune, Inverness 2008 – 442
Donald MacLeod – Lament for John MacDonald, Inverness – 435
John MacDonald, Inverness – MacCrimmon's Sweetheart – 417
Iain Speirs – Gold Medal tune, 2007 – 407
John MacFadyen – Clanranald's Sal. – 406
There are many other recordings in the archive which are well worth a listen. Here's the link. If you are a fan of classical pipe music then Piping Press recommends that you join the Piobaireachd Society. This will give you access to a vast archive of recorded material. Click here.