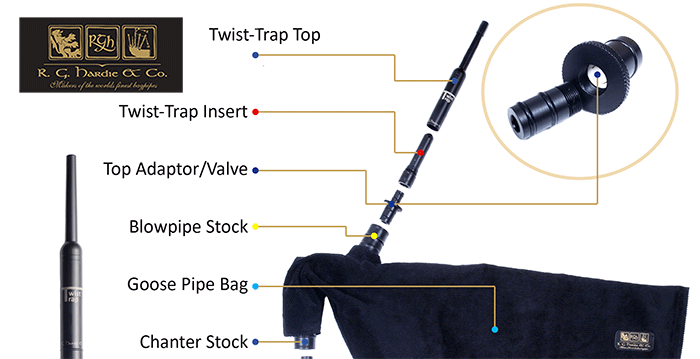 I would like to make readers aware of a new product we have developed, Twist-Trap Goose Pipes, writes Alastair Dunn, Managing Director of RG Hardie Ltd. Our goal is to make learning to play bagpipes as easy as possible, and along with Twist-Trap Practice Pipes, they provide a smooth transition from practice chanter to Highland Bagpipes.
Twist-Trap Goose Pipes are unique in that they can be played with either a practice chanter or pipe chanter and include our Twist-Trap chanter top. The practice chanter adaptor is also available as a separate product should someone wish to fit a practice chanter to their current bagpipe set.
Bagpipes can be a challenging instrument to learn and now more than ever we need the instrument to be accessible and easier to pick up and play.
Twist-Trap Goose Pipes allow beginners to refine their blowing technique without worrying about the drones, making progression to bagpipes much easier.
'Goose Pipes differ from Highland Bagpipes in that they use a practice chanter to produce the sound and they don't have drones. They require much less pressure to play, compared to Highland Bagpipes, making it easier to focus on the technique of maintaining a constant sound. 
'The Twist-Trap prevents moisture build-up on the reed allowing for longer practice sessions and the practice chanter can be disconnected from the set to play as a standalone instrument. The practice chanter and adaptors can also be removed to fit a bagpipe blowpipe and pipe chanter, so you can practice playing at a pressure similar to the Highland Bagpipes.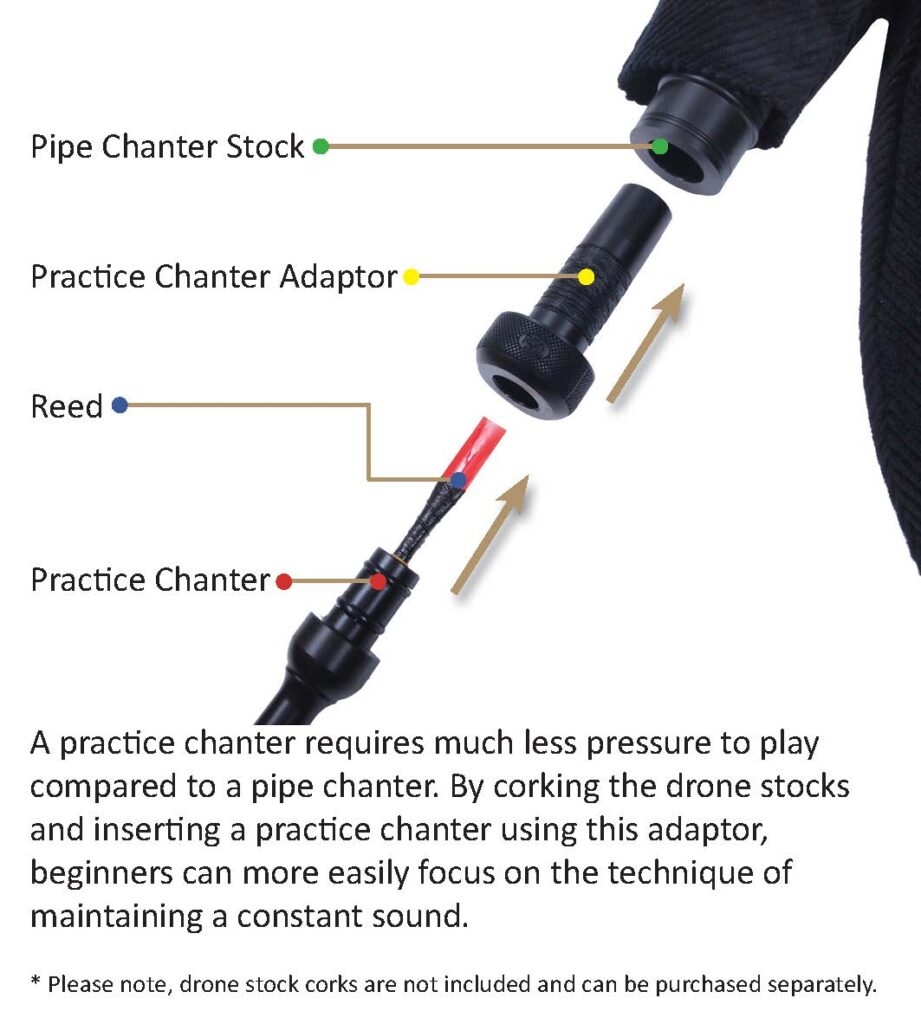 Here is the link to our website.
Are you a Piping Press advertiser? Do you have a product to sell? Please get in touch and we'll make sure it reaches thousands of readers worldwide.
The Simon Fraser University Pipe Band from British Columbia, Canada, have traditionally led a Christmas parade in aid of charity. This year it had to be a virtual event.
The band write: 'For the past several years, the band has been honoured to lead the Vancouver Santa Claus Parade in early December in downtown Vancouver. With the cancellation of the Parade this year, the organization wanted to continue to bring cheer to the community during these challenging times by letting people know that 'Santa Claus Is Coming To Town' with a bagpipe arrangement by band member Alastair Lee of the popular Christmas song.
'Band members each recorded their pieces separately in their homes and they were combined together to produce the resulting audio track and video clip. The audio track is available on popular music streaming and download services and the video clip will be launched on the SFU Pipe Band's social media channels.
'In the absence of the Parade, the Simon Fraser University Pipe Band organization will be donating proceeds from the streaming and downloads of the audio track to the Greater Vancouver Food Bank and the CKNW Kids' Fund (the two charities identified by the Vancouver Santa Claus Parade to support) and we encourage people to also donate directly to support these charities.'
---
Red Hot Chilli Piper Cameron Barnes and actress Blythe Duff have re-recorded the popular Xmas song Fairytale in New York and it has now been released with proceeds going to creative charities.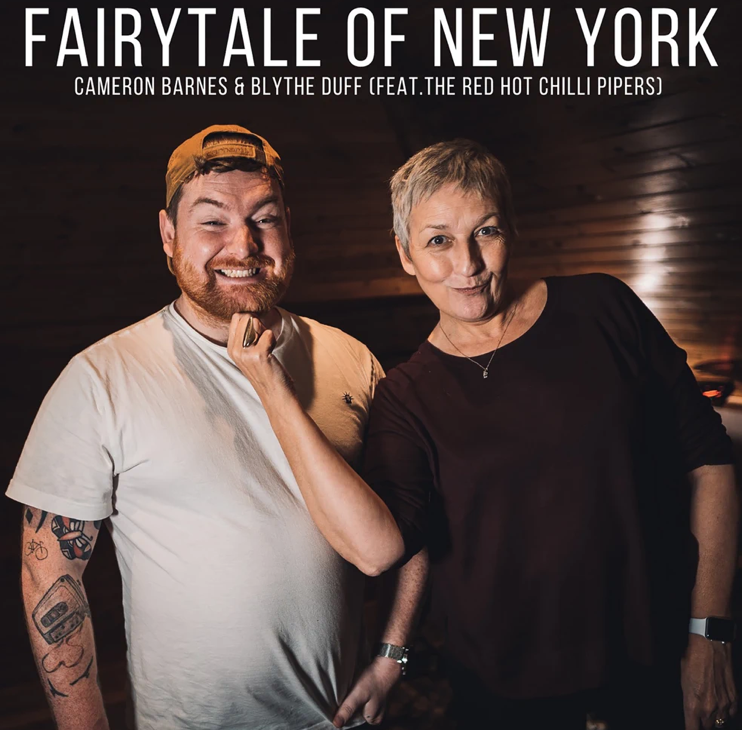 Cameron is the son of well known piper and judge Robert Barnes, Methil.
---