By Jimmy McIntosh MBE
I don't know if getting older makes one over critical, but I did not think that the playing here was outstanding, especially as it was advertised as showcasing Scotland's best players. There is no question that the pipers were all technically very good, but I felt there was not as high a standard of musical expression as I had expected or hoped, and though the contest was broadcast over the internet this lack was something one could discern.
I had not heard young Connor Sinclair play before so I was impressed with his handling of the big tune, Donald Ban MacCrimmon. He kept the tune moving along. I think he could have paid more attention to phrasing, and especially tried not to cut short the ends of phrases.
The lack of phrasing was more obvious in the Taorluath and Crunluath variations, where there was a tendency to just play through the lines of notes. I also found it unusual to see almost continuous blowing and no use of the bag to wind the instrument. I'm sure we will see more of this young lad in future prize lists.
Stuart Liddell got one of my favorites, The Children, but I was not fond of his treatment of the echo movements. He cut up to the third E, F or D following the second echo throughout the ground and variations. So much more sadness could be portrayed by just softening that second echo beat. In his Taorluath and Crunluath Singling variations, I felt Stuart was using the cadences to slow the tempo.
Cadences have nothing to do with tempos. The duration of the theme note controls the tempo. Theme notes are held longer in Singling variations, and become shorter in Doubling variations. I actually taught the judge [Murray Henderson] to play this tune, but slightly different from the way Stuart played it.
Sarah Muir is another young piper I had not heard play, but I was very impressed with her portrayal of Antrim. I thought she played a relaxed and very complete tune. I was surprised in Variation III, to hear what is often called the 'pendulum' variation played in this rather erratic fashion.
I have not heard it played that way for ages. Nevertheless I thought she balanced her tempos well throughout the tune. I would suggest to Sarah never to finish a performance on a B, but come down to low A to finish off. Incidentally, I won the Dunvegan Gold Medal playing Lament for the Earl of Antrim many years ago now!
Callum Beaumont played one of his successful tunes, MacLeod of Colbeck. I felt he could have shown more expression in Variation I doubling. In the Tripling, I thought he was expanding the Cs and Bs too much. Callum could also add more phrasing in the Taorluath and Crunluath variations, rather than just playing through the lines of music.
Iain Speirs got one of my regular tunes, MacSwan of Roaig. I don't think he got his drones perfectly set and this detracted a bit. I liked his playing of the Ground and how he played his phrases in 4/4 time in Variation I. I do think he could be a bit more subtle with his phrasing in the doubling of the Variation. More…..
---
Jimmy has written a 2/4 march for his tutor RB Nicol, one of the famous 'Bobs of Balmoral' and has kindly shared it with PP readers: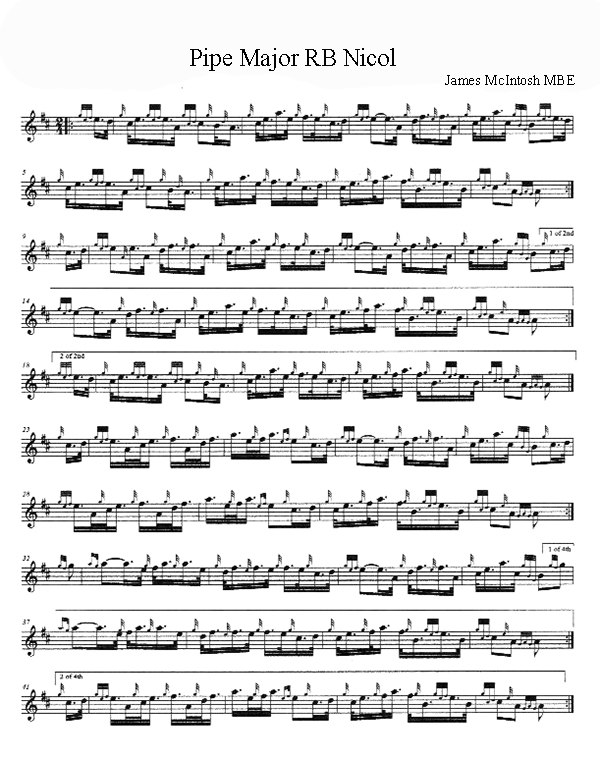 ---
In the Crunluath doubling, Iain fell into the trap of cutting both the timing of the crunluath movement and the breabach connecting notes, rather than simply shortening the value of the theme notes. The embellishments themselves should stay constant and should not vary between singling and doubling.
Last on was Fred Morrison playing my favorite, Patrick Og. I play this tune two or three times a week. I'm not sure Fred was entirely comfortable playing it and it varied quite a bit from the way I was given the tune. Nevertheless, he had immaculate fingering and a very good bagpipe.
A few weeks ago, the Piobaireachd Society finished up seven or eight one-hour weekly sessions, going over a tune or two each week. Many of the points I have noted above were covered in those sessions. In fact, one session was devoted entirely to an explanation of the 'Fundamentals of Piobaireachd' where phrasing, light and dark shading, and rhythm were fully explained. I believe members of the Society can still access notes and recordings from most of the sessions.
It was most surprising to me that so few competing pipers and their tutors attended the 'Talk Piobaireachd' sessions on Zoom. These were excellent opportunities to learn from experts, yet so few took up the opportunity. I hope the Society resumes these talks over the winter as they say they will. I would urge everyone who wishes to keep furthering his/her piobaireachd knowledge to attend.
---