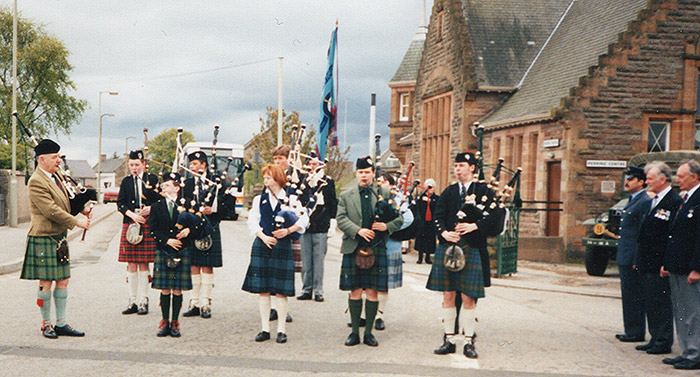 We celebrated the 75th Anniversary of VE Day a couple of weeks ago and I thought Piping Press readers might be interested in these old photographs my mum has looked out from VE day 25 years ago.
The pipers in the picture above are as follows: Front Rank (L-R): P/M John D. Burgess, Alan Clark, Fiona Maclean (née Mackay), Stewart Mackay, Niall Stewart
Second Rank (L-R): Alistair Stewart, David Macdonald, Paul Dzialdowski, Val Duff (née Spence), Donald Mackay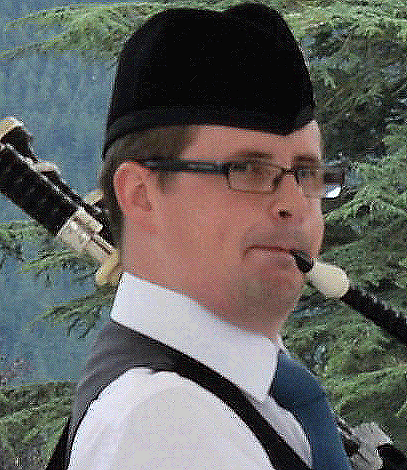 Donald Mackay is from Ardross, brother of Stewart in the front rank, and not the same Donald who is P/Sgt with Scottish Power Pipe Band. They did however both get tuition from John D.

The march assembled at the 'Men of Alness and West Rosskeen WWI and WWII War Memorial' beside the Perrins Centre in Alness, Ross-shire. We then played down the high street until we turned left on to Mitchell Lane.
A new war memorial had been erected there to celebrate 50 years of peace in Europe. The memorial was constructed of a propeller from a Catalina amphibious aircraft that had been recovered and restored from the Cromarty Firth.
During WWII, Alness was home to RAF Alness, a large training and operational base for Catalina amphibians and Sunderland seaplanes. I don't have any photos showing this but there are some online.
I have some old scrap books full of newspaper cuttings that my mum has compiled over the years (which the final picture is from) but I need to take some time and go through them and see what may be of interest to readers. It would be fairly modern history (20+ years) but I'm sure some of it would be worth publishing.
John Burgess was the local school's instructor in Easter Ross and launched many youngsters on their piping careers. It is now 15 years since he died. Here is a snapshot of his life from the 'Box & Fiddle' archive:
'……After winning all the juvenile prizes, some several times over in the years until 1949, John turned professional at the age of fifteen and shot to instant stardom in 1950 by winning the Gold Medal at Oban, his first major event , playing In Praise of Morag, and following this with the Gold Medal at Inverness playing Castle Menzies. John was then aged sixteen and thus became the youngest ever Gold Medallist.

'Not only did he win the medals, he also came second in the Oban Open Piobaireachd with the 'big' nameless tune Cherede Darievea, and won the March. At Inverness, John won the Strathspey and Reel, was second in the March and third in the Jig. In 1951 he added the March at Oban and completed the full set of light music prizes with the Strathspey and Reel at Inverness in 1953.

'John's sharp wit was evident from the start. In 1951 John and 'big' Donald MacLean were heading for the Games in South Uist. This was the time of the Cambridge spy scandal which involved Soviet secret agents Guy Burgess and Donald MacLean. When the ferry arrived at Lochboisdale the newspaper billboard greeting them proclaimed 'Burgess and MacLean in Russia'. John immediately quipped 'You know, I thought the journey took a bit longer than usual……'
Read the full article here.