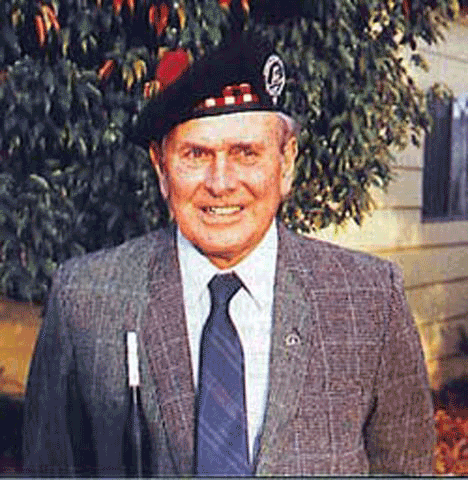 I recently came upon a recording of P/M Donald Shaw Ramsay (above) discussing and playing his famous 2/4 march composition, Jimmy Young. In this recording he points out numerous clerical errors in the tune as it was published in the Edcath Collection, Book 2, published by Hugh MacPherson.
He then goes on to play it on both the practice chanter and full pipes. By the way….what a tremendous player he was! The errors were a number of cut notes that Donald intended to be held, such as the first F in bar 6 of the first part, and the first E in bar 6 of the second part.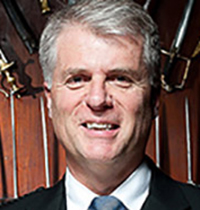 By Jack Lee
He also changed the introductory notes when going into the second ending of the second part. The ending phrase of each part begins with a gracenote on E.
I noticed that it was published that way in Edcath and played that way by Donald on the practice chanter. When he played the tune on the pipes he played an E doubling rather than just a gracenote.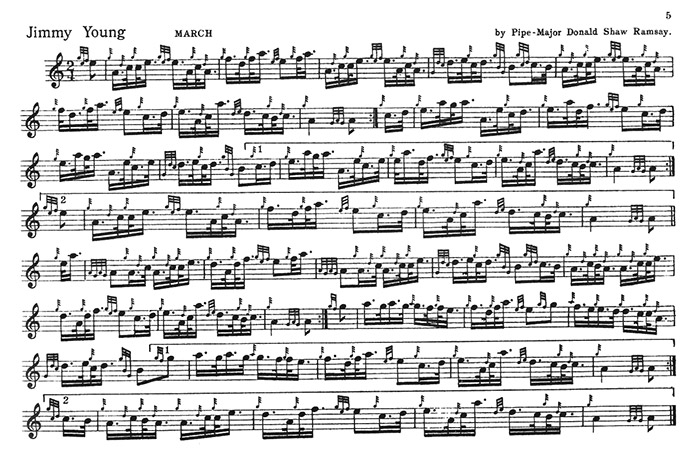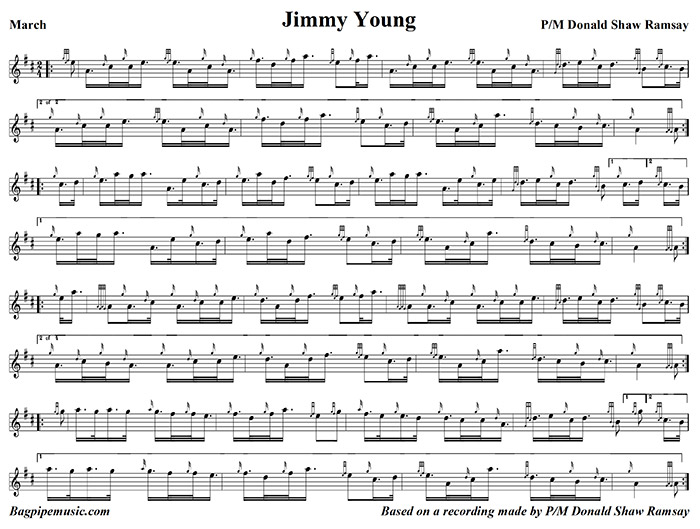 Jimmy Young was a noted solo piper and a member of Ramsay's Edinburgh City Police Pipe Band in the 1950s. He was instrumental in having the trophy in his old pipe major's name presented for the Jigs at Oban.
In 1964 Jimmy Young moved to South Africa where he became pipe major of the Transvaal Scottish Pipe Band. On returning to Scotland he judged solo competitions extensively and was employed at the former College of Piping until 2009. He died in 2017.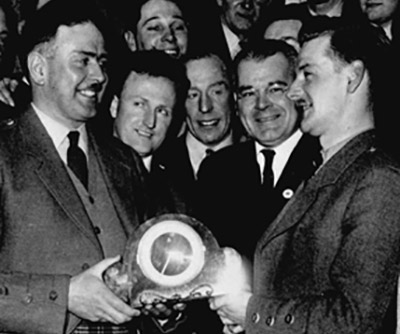 I have always thought that D.S.Ramsay looked like a great player. The way he carried and presented himself with the instrument was really something. But it put a big smile on my face when I heard him play. He was excellent and played extremely quickly. I wish I had met him. Our paths just didn't cross when he was out in the USA.
As many readers will know, P/M Donald Shaw Ramsay moved to California later in his life. Donald and Bessie's daughter married a policeman from San Francisco and moved out there. It was not long before the parents moved to California as well.
Donald Shaw Ramsay became the pipe major of the San Francisco Police Pipe Band with Willie McErlean as his lead drummer. Willie was a tremendous musician and later would be the lead drummer of the Triumph Street Drum Corps when they won the 'Sash' at the 1979 World Championship.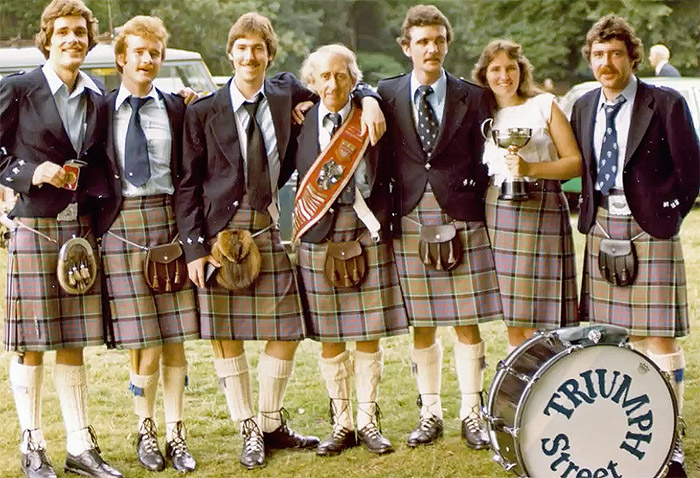 The teaching of Donald Shaw Ramsay and Willie McErlean had a huge impact on the standard of pipe bands in the California area. Donald and Willie remained close friends from that point forward.
Later Donald made this recording of Jimmy Young [below] and sent it to Willie in Vancouver.
Through Therese McErlean (wife of the late Willie McErlean) and Robert MacNeil (President of the BC Pipers Association) I ended up with a copy of this recording. When you listen to the recording the errors made in the Edcath book seem a bit obvious and many pipers would naturally correct them as they played it.
But, I think pipers would appreciate knowing that this is how the composer intended his great march to be played.
I have attached a copy of the tune from the Edcath as well as the corrected version, which I wrote out in Bagpipe Music Writer software [see above]. I have also attached the recording. Have a listen – it is really superb:
Jack Lee is one of the world's top solo pipers and P/Sgt of the Simon Fraser University Pipe Band. Jack runs his own bagpipe and accessories company. Lee & Sons, in Vancouver, British Columbia, Canada.