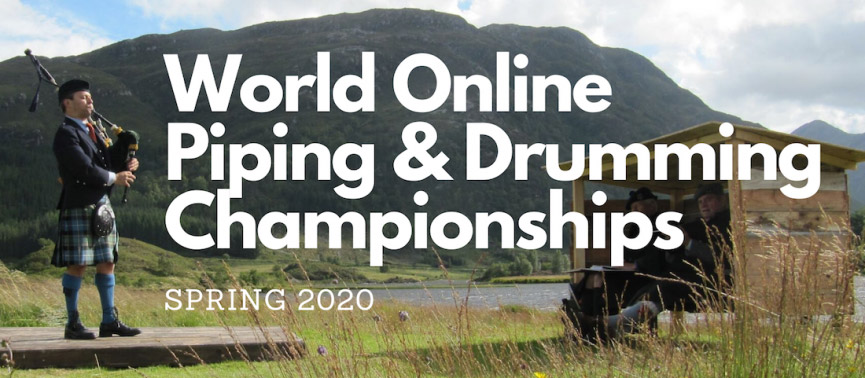 The World Online Piping & Drumming Championships for Spring 2020 is an exciting and fun way to compete against pipers and drummers from around the world, write the promoters. There's no need for travel. You can compete from the comfort of your own home.
Every competitor will have the opportunity to compete for the title of World Online Piping & Drumming Champion and the chance to win awards in several additional categories.
Solo competition events for pipers, side drummers, tenor drummers, and bass drummers. All competition levels from Beginner, Grade 5, 4, 3, 2, 1, and Open. Open Piping and Side Drumming prizes total $2200
Players submit their competition video from the safety and comfort of home. You can take as many tries as you want to get your best video. 
A portion of every entry fee will go to The Center for Disaster Philanthropy COVID-19 Response Fund — a top-rated international charity that supports those directly affected, first responders, and medical professionals. 
Every competitor gets a comment sheet from one of our world-class judges. They include: Alastair Dunn, Andrew Douglas, Andrew Womersley, Bruce Gandy, Callum Beaumont, Chris Pollock, Ciaran Mordaunt, David Hilder, Brendon Eade, Gareth McLees, Gordon Craig, Gordon McCready, Greg Dinsdale, Harold Gillespie, Harvey Dawson, Ian K. MacDonald, James MacHattie, James W. Troy, Keith Orr, Keith Paton, Margaret Dunn, Seamus Coyne, Shaunna Hilder and Terry Lee.
Drummers can play with a live piper, recording of a piper or no piper at all. Also, playing on a drum is optional. Drum pad or table top is ok. 
Kilts are encouraged but optional. Registration deadline is April 20, 2020. Videos must be submitted by May 1, 2020. 
Prizes will be announced in all categories, including overall winners in each grade and most points overall in all grades. The P/M Alasdair Gillies Memorial Challenge is an age-grouped event with a scholarship awarded to the top winner. 
In addition, we'll be giving out prizes in many fun categories including Best Dress & Deportment, Best Video Background, Best Soloist competing in service member uniform (military, police, fire, civil service, etc.), Best School Piper or Drummer competing in school band uniform 
Awards will be announced LIVE on May 5, 2020. For more details, including the list of events, judges, awards, and online entry form, please visit the World Online Piping & Drumming Championships here.

The 35th edition of the Scottish Weekend has been postponed until next year due to the uncertainties surrounding the Corona-crisis, write the promoters.

The Scottish Weekend has successfully celebrated 34 editions already and is one of the leading international cultural events in Limburg [Belgium]. With participants from tens of different countries and thousands of visitors from both within and beyond our nation's borders, the Scottish Weekend has become a household name on Alden Biesen's agenda.

For an international organisation at this level, there absolutely need to be a number of basic certainties in place. Naturally, we are hopeful that circumstances will soon change for the better, but the autumn will definitely not be the right time yet to organize a grand international gathering in a cozy and warm context. Besides, our 35th edition is supposed to be festive and grand!

Chairman Pieter Jans confirms: 'We know that September feels like a long time away still, but logistically, it is much closer than it seems. We had come a long way in our preparations for this 35th edition already.
'And now would be the time to book plane tickets, make hotel reservations, confirm bands and market exhibitors, that's why we had to make this decision now. We are hoping to see you all again next year, for an extra festive 35th edition in true festival context, fitting for anniversary celebrations!'