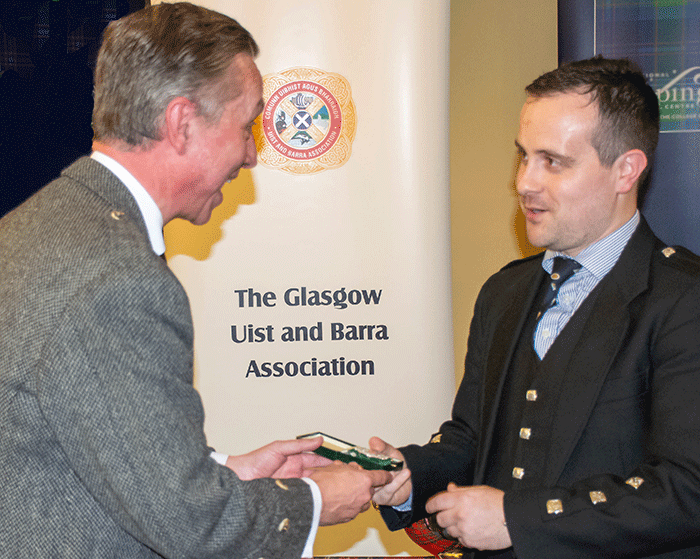 Covid -19: It is too early to get drastic but all pipers must observe with more vigilance than ever the normal hygiene practices associated with our instrument. Keep that practice chanter clean, wash out the blowstick and bag with warm water and mild disinfectant. Don't swap and share.
Will there may soon be a need for pipe majors to use antiseptic wipes every time they test a chanter or tune a drone? Who knows but let's all do our bit to contain this nasty bug.
---
Super piping tonight at the SPA Semi-final KO when the brilliant Stuart Liddell takes on the brilliant Callum Beaumont. Venue is the NPC Otago Street with doors open at 7pm. Take your sleeping bag and stay around for the Uist & Barra in the same place tomorrow morning at 9. Defending his title will be Finlay Johnston the 2019 overall winner (pictured above).
Logan Tannock, the new President of the SPA, has asked me to remind everyone that entries close for the Adult Amateur competition this weekend. Entry form here.
Members of the Piobaireachd Society can access the AGM agenda and minutes from 'News' on the website home page. The schedule for the 2020 Conference (on March 21 in the NPC, Glasgow) is:
9.15 Welcome
9.20 Set Tunes discussion and demo: Laird of Anapool, Mrs MacLeod of Talisker
9.40 The Legacy of the MacKays, Raasay
10.15 Coffee/Tea
10.40 Set Tunes discussion and demo: Sound of Waves/ Lament for Donald Ban MacCrimmon
11.00 The Boys' Brigade and its contribution to piping
11.30 Set Tunes discussion and demo: Unjust Incarceration/ Cherede Darievea
12.30 Lunch

1.30 Set Tunes discussion and demo: MacLeod of Colbeck/ King George III)
1.50 The Elusive Appogiatura
2.30 Coffee/Tea
2.50 The Life and Music of Hugh MacCallum
3.20 Set Tunes discussion and demo: Lament for the Harp Tree/ Lament for Patrick Og)
3.40 Close
4.15 AGM
The Conference is open to non-members of the Society and prices start at £10. Check them out here
---
Subsequent to our story about the judging errors at the Piping Centre junior contest, another parent has written. He said that his son was criticised for playing too fast yet when he looked up recommended timings on the internet and checked them against a recording of his son's performance they were spot on. The timings were: 2/4 March 78 bpm, strathspeys 120bpm and a reel 84bpm.
Firstly, don't believe everything you read on the internet. Not by a long chalk. And I would add that, for myself, I do not like children playing at professional tempi. It compromises fingering and expression. Much better that they are a little off the pace but play with accuracy and understanding of the required phrasing. The kid will be old enough soon enough.
I'll give the father the last word however: 'The Piping Centre is commonly acknowledged as a centre of excellence and the main hub of bagpiping. Is this monopoly justified given the quality and choice of judges and the errors associated with this competition? These in-house judges should be trained up to an appropriate level.'
---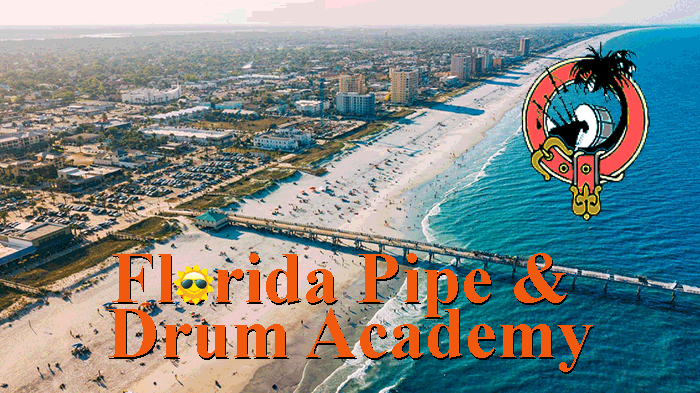 Following the successful 2020 Florida Pipe & Drum Academy the promoters have announced that the 2021 school will run from Feb 21 to Feb 26 in Jacksonville. Registrations open on April 15 with student numbers capped at 20 pipers, 20 snare, 10 tenor, and three bass.
Instructors are myself, Barry Donaldson, Matt Pantaleoni, Donald McBride, Stephen Creighton and Simon Hodgett. Drumming students will receive a free pair of sticks and piping students will be provided with a new chanter reed. All levels of skill are welcomed.
---