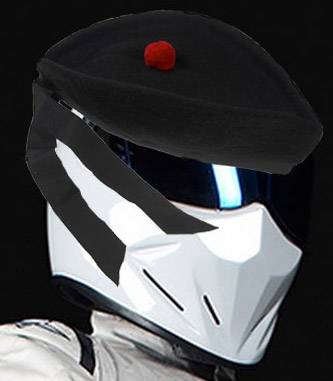 Some say he is at his late granny's heilan' hame for Hogmanay; others that he is on the slippery slopes of the Alps, or perhaps Lake Louise; but all we know he has roused himself from his slumbers, cast off the wooly hat and penned his year end review eagerly awaited by our wonderful readers. It may be an antidote to an awards industry that had just about awarded everything, save the award for the best award ceremony ……
Having escaped the political mire of old Scotia I was mightily surprised when I heard the dulcet tones of the Editor. He had tracked me down via some stalker app on my old Nokia (amazing, I know) and asked for a few hundred words on the impending year end.
I thought of two short words very quickly – but before I could articulate he pressed home the need for a considered, knowledgeable 2019 summary for my readers. Considered? Knowledgeable? Had he been quaffing freely of the Dalwhinnie I sent him in 2006? He laid the compliments on pretty thick, like butter on an Xmas turkey, and with the verbal arm up the back I gave in…
It's easy, of course. You know, sipping Kir and looking at a blank piece of paper and the fountain pen drying by the second. Yes, I still do it the old fashioned way with pen and ink on papyrus, then carrier owl to PP Towers, rather like Harry Potter.
However, as the glass emptied the page filled and in my mind's eye I could conjure up the sights, sounds and smells of the 2019 season. Some best forgotten, but in the main a very good year for Grade 2 with new names making it big and old ones not so.
That St Thomas scaled the heights to take the World Championship was well deserved and should never have been in doubt after their blow at North Berwick. They had been in touching distance in 2018 and 2017, now rightly advancing to take its place against the big guns of Grade 1 in 2020. With a strong sound, solid technique and straightforward repertoire for the Ensemble, they will do just fine. I have no doubt their ranks will increase and having two Grade 1 Bands in the USA will be fascinating to watch. Just when they will compete head to head is worth keeping tabs on.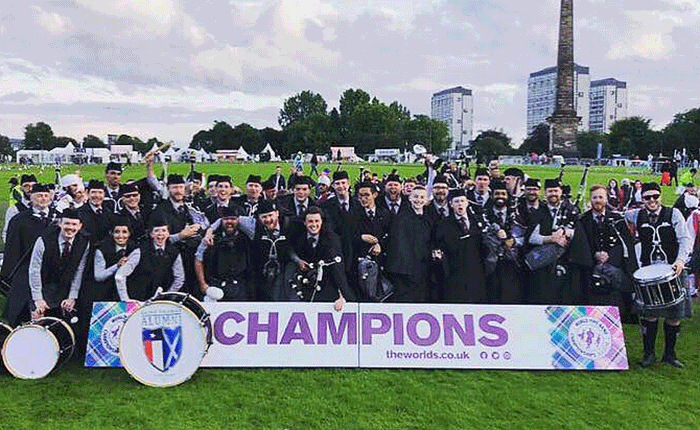 Closer to these Isles, the boys and girls of Closkelt were exemplary. The sound is baked in and on its day the sweetest out there. I think they were marginally overtaken by a more oiled St Thomas with a minutely better set. They were head to head on drumming and I thought the gap in piping was smaller than the result. However, plenty of silverware and an upgrade to G1. They will make waves in the grade with the sound quality and those languishing at the nether end will be usurped by a newcomer of quality.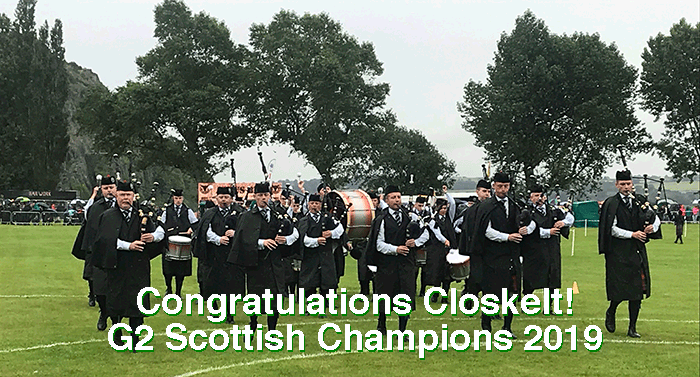 In honourable mentions, Ravara had an up and down season and I pointed to consistency being the absolute key. On occasion it flashed brilliance and I am a fan of the drum corps. Newcomers, Royal Burgh of Annan impressed from time to time and it is clear they are having a go. I commend the group for that and there could be further improvement for the year ahead. I did think they were sometimes too complex for the whole corps but applaud their inclusiveness. Learning from mistakes is important.
---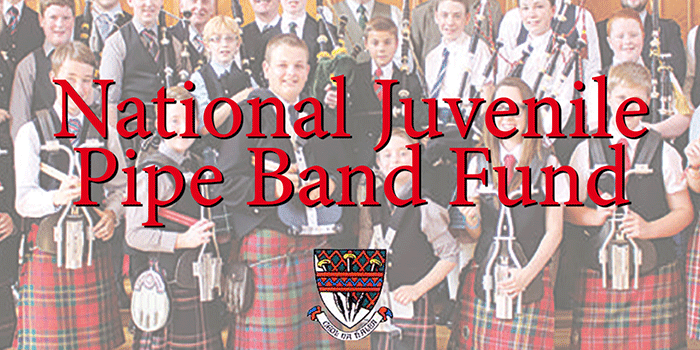 ---
Another bright star rising in the southern side of Lanarkshire, Uddingston Strathclyde also roared onto the scene after the faltering steps at the first big time championship outing in Paisley. Again a band in the rise and to be admired for getting it done. Playing tight to win would be my advice, and whilst enjoying music, there was a degree of tension to do well and that showed in glimpses here and there. It is a well balanced group and in 2020 they should simply go out and do what they do without any fear. High hopes.

It may have been a season the Mac Cals would rather forget after the glitter and glamour of the 2018 Centenary year. Back to basics and finding that cornerstone sound and swing that delivers solid March, Strathspey and Reel sets where adjudicators nail on strong comments for strike, tempo, transitions and dynamics. If they get back to the strong pulsed strathspey's of old, they will be there or thereabouts. Pipe Band Club, Celtic Nelson and Peel will all feature, should they decide to head back to Scotland for next summer.

Finally, on the 2019 names, the North East of Scotland provided an interesting tussle between a few bands after the roundabout of personnel in the off season. Let's see where we end up this year and I'm going to hear more from Portlethen, Highland Granite and Buchan.
---
---
They say that 2020 vision is a pure as it can be but I can't profess to have visions of the see'er, only data can give me a steer on what might be. My predictions for 2019 were on the money for the overall winner at Glasgow Green, and I reckon the third through sixth from last year will be battling it out, plus a surprise on the cards from St Joseph's, my dark horse for the season.
And finally, as old Sir Trevor used to say on the News at Ten, my sincere thanks for those of you who took the trouble to vote in the recent poll to give me my assignment for the 2020 season. I'm pleased to be on the Grade 2 beat again and look forward to hearing some great music. I know the silverware is often distributed to those making least mistakes, but I detected a bit of a shift to risk being rewarded by some of the adjudicators, not least the World Champions St Thomas, who played exceptionally well but 'went for it' too. The final piece of advice I can offer to all bands is don't leave the circle wondering what might have been.
MacStig Band of the Year: City of London. A sleeping giant in waiting.

The Wet Wet Wet Award for most drookit day out: 1st place, Lurgan (UK Champs.) and the ankle deep foot-bath in the lower field, and bringing in trailer loads of bark to stop losses at sea.
Dishonorable mention – Inverness (Europeans) for lulling us into a false sense of a nice morning and cloudburst drowning in the afternoon.
The Dissonance Award: 1st place, Inverness for the proximity of the Grade 2 and Grade 1 arenas and interesting set up of the 'stand'. Ouch.
Dishonorable mention: Paisley for the aircraft overhead, motorway traffic and acoustics of a bare open field. It's not a natural amphitheatre.
The Longest Day Award: The World Championships, Glasgow. Although a bit of an improvement on 2018, still a very long day (two days for some).
Dishonorable mention: The road and miles back from Inverness, only compensated by a decent supper at House of Bruar chip shop.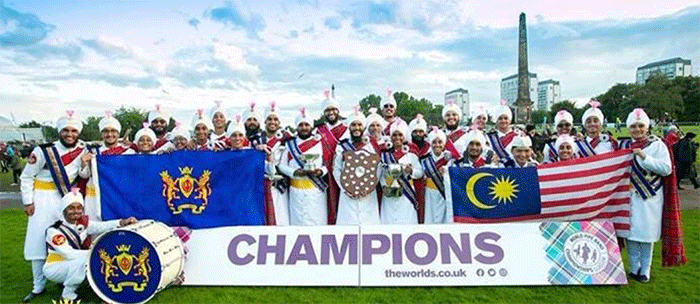 The Ron Jon Surfer Award: The entire band from Sri Dasmesh, Malaysia (above) and their celebration in winning 4B World Championship. Only a body surf through the puddles would have been more fun, but imagine the laundry of those white tunics.
Honourable Mention: The two kids standing waving at the big screen at Glasgow Green for a full 90 minutes, hoping to be on TV.
The Plaid Plaid Award: I missed the name of the band, but the yellow and black kilted warriors at the Worlds' march past. Yellow Flashes.
Social Media Award: I can't mention the Twitter handle for reasons of sensitivity, but you know who you are. Satire can exist in a democracy.
---
Florida Pipe & Drum Academy