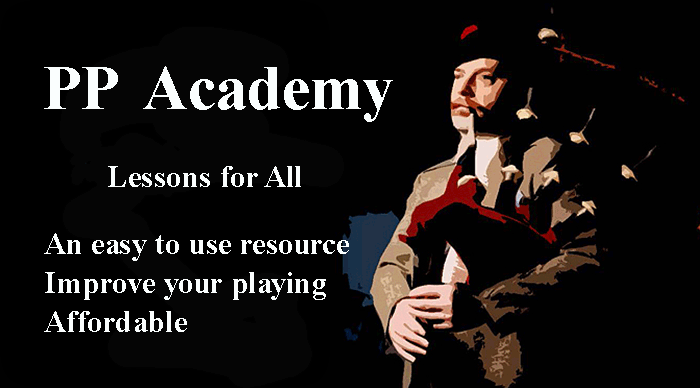 Don't struggle with your tunes this winter. Don't suffer in silence! Avail yourself of expert tuition from Piping Press. Get lessons in Piobaireachd and MSR from our editor Robert Wallace, an internationally renowned tutor. For example, there are dozens of tunes to choose from in our Classic Piobaireachd lessons catalogue.
You can play along with the recording and get all the required linking of phrase and variation so important to the successful delivery of ceol mor. Here's an example from the start of the tune, the Big Spree:
Or maybe you have never played piobaireachd before. Then why not order the easy to understand, best written Piobaireachd Tutor Book on the market? Free audio and/or video with each of the 20 lessons covering all the ceol mor technique including, crunluath, chedari, hiharin, embari, dare, dre and edre, and four quick to learn tunes, the Wee Spree, Clan Campbell's Gathering, the Boat Tune and Duncan MacRae of Kintail's Lament. This book is also available in German.
Once you are on the road to piobaireachd knowledge you can choose from our catalogue of Beginner Piobaireachd and start broadening your repertoire. Soon you will be ready for the classic tunes mentioned above.
And whilst we are on piobaireachd, why not join the Piobaireachd Society and do your bit for this charity by supporting its work for the great music? Click here to join for only £15 (£5 students) and here to buy the Society's world class books from only £12.50 each.
MSRs
Worrying about your March, Strathspeys and Reels? Then relax; we have a full range of classic competition MSRs for you to choose from.
Each tune is played on the practice chanter. First time through it is taken slowly at practice tempo. You can join in and play along easily. This is a much better learning tool than just listening to an expert play the tune on the pipes. Our way, you learn it from the 'inside' with all the required phrasing and pointing and at a tempo you can manage. Here's an excerpt from John MacColl's John MacFadyen of Melfort:
Then we raise the tempo slightly so that the melody is closer to what you would play on the pipes:
Select your chosen tunes by clicking on the 'View Product' button above and below, or go to the Piping Press Shop for more options. Use the 'Search' box and type in 'Classic 2/4 Marches' or 'Classic Strathspeys' etc.:
If the tune you require in any category is not listed then just email us at pipingpress@gmail.com and we'll see what we can do.
Need to brush up on your technique? Get Tutor Books 1 & 2. All the exercises you will need to keep those fingers in tip top condition. These books are not just for beginners!
Need further inspiration? Check out the brilliant pipers on the PP Audio archive.