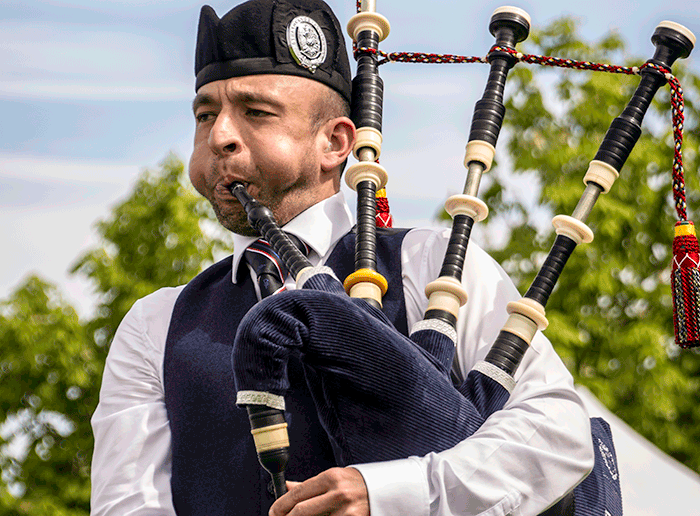 Niall West, Band Manager, Glasgow Police Pipe Band, sends the following announcement:
Glasgow Police Pipe Band are delighted to announce the appointment of Alisdair McLaren [above] as Pipe Major. Alisdair has vast experience having previously been Pipe Major of Western Australia Police Pipe Band, before moving to the UK. He played during a successful period with Strathclyde Police before enjoying huge success with Field Marshal Montgomery Pipe Band.
Alisdair is very well acquainted with leading Drummer David Henderson through years of collaboration via the National Youth Pipe Band of Scotland.
On his appointment, Alisdair said: 'I am honoured to be appointed to the position of Pipe Major of The Glasgow Police Pipe Band. As a young piper growing up in Perth, Australia, the Strathclyde Police Pipe Band, as it was known then, were one of the top bands which inspired me throughout my musical development. To now have the opportunity to lead such an important and iconic band is a great responsibility and privilege.
[wds id="2″]
'I would like to most importantly thank Iain for his dedication, leadership and support to me over the last few seasons and I look forward to his continued involvement within the pipe corps. Going forward, I'm very excited about working with Drum Sergeant David Henderson and the rest of the team, as we look to further build a solid foundation into next season and beyond.'
Leading Drummer David Henderson commented: 'I'm delighted with the appointment of Alisdair McLaren as Pipe Major. Alisdair brings with him a wealth of experience at the highest level, knowledge and enthusiasm; all necessary attributes when striving for success. I am positive that together we will build a team capable of reaching our short and long term goals and I look forward to the journey ahead.
'I would like to thank Pipe Major Iain MacPherson for his dedication and leadership of the band as Pipe Major. He has been a driving force in building a young band with huge potential for the future and I am grateful for the time I had working with him. I am delighted he will be continuing as part of the team going forward. I look forward to what are exciting times ahead for the Glasgow Police Pipe Band.'
Departing Pipe Major Iain MacPherson said: 'I was fortunate enough to initially play with the band in the 1980s and it was an honour to serve as Pipe Major after my retirement from the Police in 2012.
I am indebted to Duncan Nicholson and Niall West in working so hard to avoid the band folding during a most difficult phase several years ago. In that regard, many thanks are due to the Scottish Police Federation who recognise the worth of our historic band and now provide significant financial and administrative support.
'I feel that, as Pipe Major, I was in a bit of a 'caretaker' role recently, whilst trying to build for the future. It's really pleasing that positive interest in the band is on the rise again from Police Scotland and the worst years are behind us. I'm moving from the central belt for family reasons, but plan to continue having a tune with the band next season! Good luck to Alisdair, he has my full backing and ongoing support.'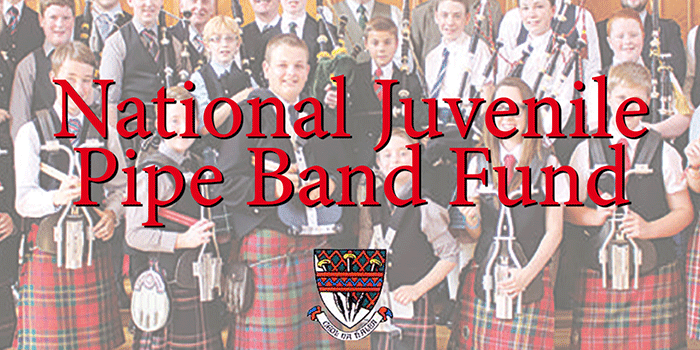 Band Manager and Drum Major Niall West said: 'I'd like to extend congratulations to Alisdair McLaren, the new Pipe Major of Glasgow Police Pipe Band. His experience, drive and musical attributes will serve him well in what is undoubtedly a challenging but prestigious role.
'His appointment comes as a result of succession planning, and he has been instrumental in the last three years, along with Iain MacPherson, in building and continuing to build a pipe corps of talented individuals who this year surmounted a steep learning curve to achieve very good performances and commensurate results at the World Pipe Band Championships.

'Under Alisdair and David Henderson, I anticipate that the future of the band is very healthy. In addition, our heritage as a Police Band is of significant historic and cultural importance and Alisdair as much as anyone is keenly aware of that: he was Pipe Major of a 'full time' police band in Australia, a former player with Strathclyde Police Pipe Band and he upholds the standards which underpin our police band philosophy.
'At this time I'd like to thank both Iain MacPherson and his predecessor, Duncan Nicholson for their unstinting commitment to making our band the best it could be in the most trying circumstances over recent years.
'Indeed, that period was marked with some excellent performances, not least of all, the 'Ceolry' concert. It is a result of their efforts, among other factors, that we are now able to look forward to an exciting future in a stable and positive environment, supported by the Scottish Police Federation. Good Luck, Alisdair!'
[wds id="8″]