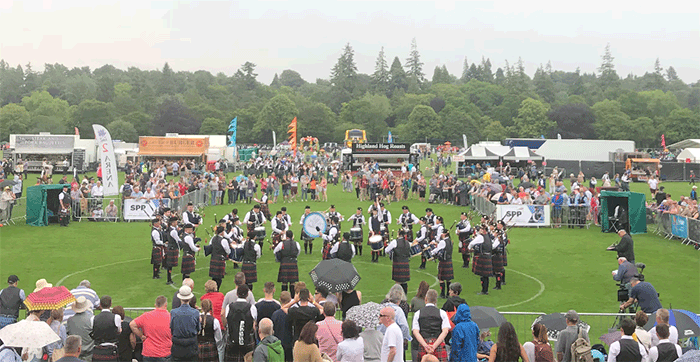 Thanks to the many thousands of readers we had for our reports on the European Pipe Band Championships. It is clear from what both MacStig and I wrote, and from the responses received, that there needs to be an audience dimension added to major pipe band championship planning.
Would the RSPBA consider giving one of their directors the responsibility of checking out facilities for listeners? An 'audience czar' would surely have prevented the G1 and G2 arenas being so close together at Inverness. He/she would have sussed the distance between the performance arena and the main stand too.
The czar could push for at least one custom built stand at every G1 major and would have a designated standing room only area at ringside (a good idea from one of our readers). He might also ask for 'Silence When Bands are Performing)' signs to be erected.
All of these things would enhance the listening experience – along with an open circle rather than a closed. As I've said before, if the audience doesn't matter then don't charge admission. If they wished, Paisley and Dumbarton could ignore all of the above. It might be a shade callous of them to do so, but you get in for free.
[wds id="2″]
Sorry to report the passing of Diana Henderson a regular at the Piobaireachd Society in the 1980s and early 90s. Diana (72) was competant piper and a learned writer. She delivered a paper on the origins of the Society at the Annual Conference in 1987 and has completed a history of the Society as yet unpublished.
Diana was born in Guildford, Surrey, in 1946 and educated at Hawick High School before going to Strathclyde University to read law. She went on to gain a PhD in Military History.
She joined the university OTC and, having graduated in 1970, was commissioned into the Women's Royal Army Corps. She was a TA officer for 30 years.
Alongside her military service, she practised as a solicitor in Arbroath and Inverness and immersed herself in various aspects of Highland culture including the pipes.
Her full-time appointments included director of development at Hopetoun House, Edinburgh University, Fettes College and Queens' College, Cambridge. She was also a director of the Earl Haig Fund Scotland and of the Royal British Legion's Poppy Factory. She played a leading part in establishing the Scots at War Trust with the aim of conserving the archives of Scottish regiments.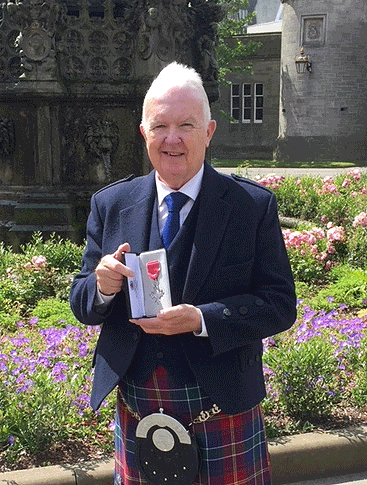 Hearty congratulations to Mervyn Herron, formerly one of the RSPBA Northern Ireland Branch's main men. Mervyn writes: 'I have just been to be presented with my MBE for services to pipe bands in Northern Ireland.

'It was a highly proud moment for me and my family after over three decades doing what was a voluntary job. It was delightful to meet the HM Queen at Holyrood House in Edinburgh. She was very interested in pipe bands when we spoke, and I think she liked the fact that so many young folk are now involved as she had recently met North Lanarkshire Schools band.'
Hearty congratulations too to P/M Richard Parkes MBE for the Honorary Doctorate he received this week from Queen's University, Belfast. Just one of the many well deserved accolades to come Richard's way.
Aiton Shepherd, formerly of Zimbabwe and now in Perth, Western Australia: 'I have been a bit tardy in sending you the photos you requested. They are not very elegant! The set on the right is of me playing what may be an 1860s MacKinnon set (according to Blue MacMurchie), or the work of Alexander Glen (according to the Bagpipe Place Museum). The other set (left) is an early 1900s Henderson half set.'
Forgive me Aiton but the cover on the Hendersons has got to go! Also, from the picture, that set looks too big to be a half set, but pictures can be deceiving.
A few results from the US magazine Piping World from 1969:
South Uist Games
Piobaireachd
1 Calum Beaton, Stoneybridge
2 Willie MacDonald, Benbecula
3 Willie Morrison, Locheynort

March, Strathspey & Reel
1 Willie Morrison
2 John MacCormick, Glasgow Police
3 Willie MacDonald
March
1 John MacCormick
2 Willie MacDonald
3 Willie Morrison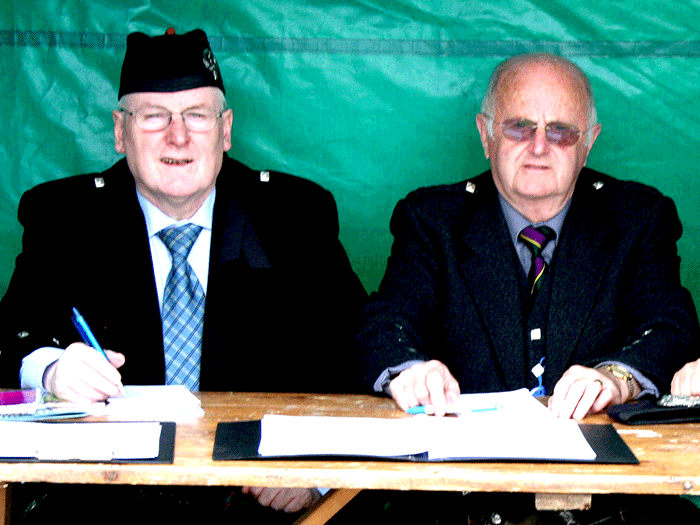 Strathspey and Reel
1 John MacCormick
2 Willie Morrison
3 Willie MacDonald
Jig
1 Willie MacDonald
2 Willie Morrison
3 Calum Campbell, Benbecula
Willie MacDonald is the late Gold Medallist and Clasp winner and all round character. Perhaps some of the police band worthies can tell us something about John MacCormick who was clearly a fine piper.
Willie Morrison, Locheynort, is the champion piper, regular solo piping adjudicator, reedmaker and teacher. I hope to catch up with Willie at Luss on Saturday.
[wds id="8″]