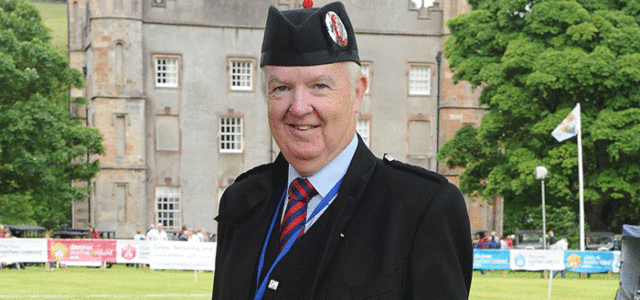 Two notable pipe band devotees have been honoured in HM The Queen's New Year's Honours List.
John Kelly reports: Mervyn Herron (above) from Northern Ireland said he is 'over the moon' after being awarded an MBE for services to the Royal Scottish Pipe Band Association (RSPBA) Northern Ireland.
The 67-year-old first joined the ranks back in the early 1980s and devoted over 30 years to the organisation before his retirement in 2016.
During that time he worked tirelessly in the planning and execution of pipe band competitions in NI and further afield.
Recounting how he first became involved in the RSPBA – an organisation that would come to dominate a large part of his life – Mr Herron added: 'I sort of fell into it.
'I had been in a local band and was approached to take on a secretarial role in the association locally in Co. Down.
'I told them I couldn't do it long term due to my work commitments – I ended up doing 33 years.'
Thankfully Mr Herron quickly fell in love with the role and described it as 'an addiction'.
'Once you got into it you couldn't picture doing anything else,' he added.  An RSPBA director until 2015, Mr Herron resigned as the NI branch's Contest Committee Chairman in 2016.  

'It was a hard decision to make and I miss it every day,' he concluded.
---
[wds id="2″]
---
Meanwhile up in Perthshire corks were popping at the news of an honour for Vale of Atholl mainstay Gillie McNab.
Gillie was awarded the British Empire Medal for services to the band and the local community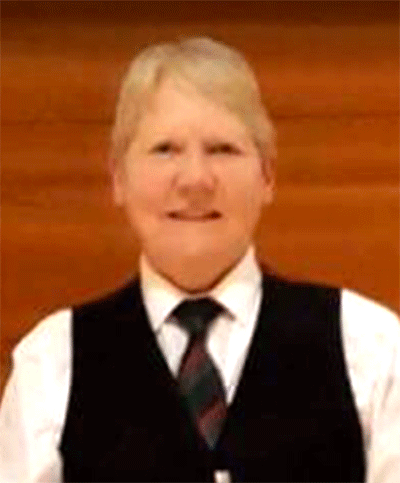 The band said: 'On behalf of the entire Vale organisation and many others no doubt, a huge congratulations to Gillie on her New Year's Honour.
'Gillie's commitment to the community, development of young musicians and the Vale itself over so many years has been nothing less then outstanding.'

The band's Facebook page records: Gillie McNab started to learn the chanter in 1966 being taught by Pipe Major AIlan Cameron and soon progressed onto the pipes and started playing in the band in 1967, the first female to do so.
Gillie became band secretary in 1968 but retired from this post when she got married in 1972.
She carried on playing in the band however and with, eventually, three children she headed off to competitions.
Gillie became, secretary and mother figure of the Vale's Junior Band and became overall secretary again in the 1990s.
She had four children in the junior band by this time! Gillie was chosen as Pitlochry Citizen of the Year in 1998 by the Rotary Club for services to the pipe band.

Eleven members of her family travelled to Forres to play at the launch of the European Championships and all are current members of the Vale.
Gillie continues to play at all the band engagement along with her children and grandchildren, and carries on teaching beginners on chanter as she has done for the past 30 years.
If readers know of any other piper, drummer or pipe band member who has been similarly honoured please get in touch.
---
[wds id="8″]