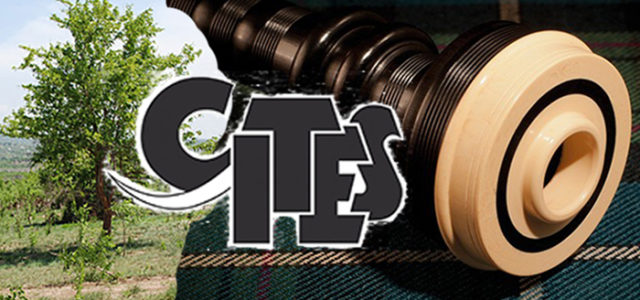 Christmas has come early for UK bagpipemakers with the announcement that from March next year they will not have to apply for a Convention on Trade in Endangered Species (CITES) certificate for every instrument they sell.
The ruling, in place since January 2017, meant that all manufacturers had to charge up to £60 on each set to pay for a licence to export their African blackwood (ABW) pipes.
The process could also involve considerable delays and time consuming form-filling.
The decision is also good news for pipers travelling with their ABW pipes. Ivory is still a problem – African blackwood, from March, is not.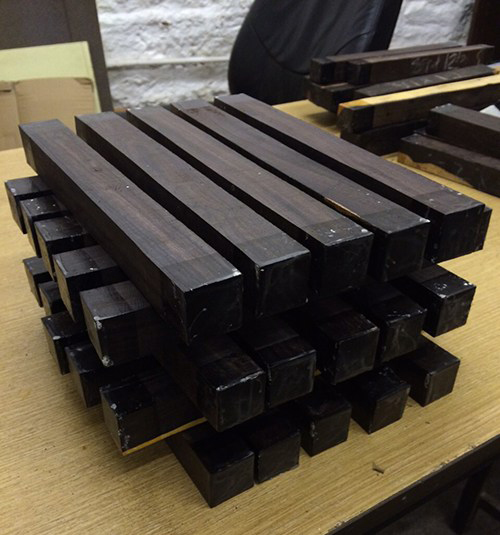 The breakthrough came at a meeting of the Convention's Standing Committee in Sochi in Russia two months ago.
The committee's working group recommended the following approach to the revision of the existing Annotation #15 which covers ABW.
---
[wds id="2″]
---
All parts and derivatives, except:
a) Leaves, flowers, pollen, fruits, and seeds;
b) Finished products to a maximum weight of wood of the listed species of 500g per item;
c) Finished musical instruments, finished musical instrument parts and finished musical instrument accessories.
The report goes on: 'The Standing Committee shall re-establish the working group on annotations, in close collaboration with the Animals and Plants Committees, recognizing that the Animals and Plants Committees are an important source of expertise and advice to Parties on such scientific and technical issues.
'The group shall include, but not be limited to, members from the Standing Committee, Animals Committee, Plants Committee, observer Parties, CITES Management and Scientific  Authorities, enforcement authorities, including customs, and industry representatives.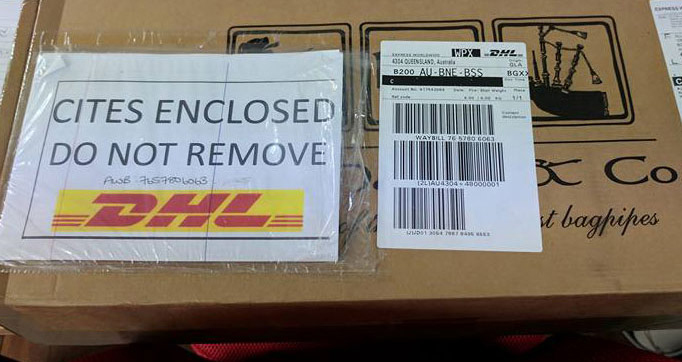 The Standing Committee shall particularly endeavour to ensure balanced representation of importing and exporting parties.
'The terms of reference for the working group shall be to….'consider and prepare clear definitions for terms used in the annotation, including, for example, the terms 'musical instruments' and 'transformed wood', in order to facilitate their use and understanding by CITES authorities, enforcement officers, exporters and importers.'
This shows a major shift in CITES policy with the recognition that pipemakers and other instrument manufacturers should not have to pay twice for using ABW.
Controls on ABW, dalbergia melanoxylon, and other protected wood species will remain for wood importers and exporters.
But provided manufacturers retain the paperwork which proves their wood came from an authorised dealer they can sell their finished instruments without any legal requirement or impediment.
Barring unforseen problems, finished musical instruments, parts and accessories will be exempt from CITES rules after this change is signed off at their next meeting in March.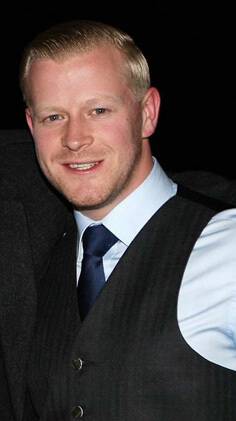 Leading manufacturer Craig Munro, Managing Director of Wallace Bagpipes, said: 'This is the best Christmas present any bagpipemaker could have.
'The CITES regulations were an impediment to business and costly and time-consuming for everyone involved.
'African blackwood will still be protected. That is very important, but from March instrument makers can continue their businesses without additional paperwork and cost.'
Stuart McCallum of McCallum Bagpipes said: 'We at McCallum Bagpipes are absolutely delighted that this regulation is to be lifted.
'Our information is that it will take 90 days from the final agreement before it is implemented so that would mean the rule change coming into effect in early summer 2019.
'As manufacturers we will still have to make sure all our raw wood is CITES authorised and that is as it should be. We will be more than happy to comply with this.'
Alastair Dunn of RG Hardie said: 'Any change in legislation that reduces administration cost is welcome.
'The cost to a business is not just the value of the permit. We also deal with the administration time in filling out permit applications, payment processing and resolving incorrectly processed shipments with customs and couriers.
---
[wds id="8″]
---
'There is no doubt that African blackwood is the finest material available to produce bagpipes, so sustainable supply is critical to ensuring our customers can enjoy playing world class instruments. I think the new proposed structure provides a better way forward.'
Martin Cowell of David Naill & Co added: 'We have been told by our suppliers that the rules are set to change with regards to finished products.
'I believe this will mean that manufacturers will not need to accquire permits for them.
'Wood will of course remain, quite rightly, on a CITES appendix but this will only apply to anyone seeking to buy blackwood in its raw state.
'I do think that the inclusion of blackwood on the CITES appendix 2 has been a wake up call to everyone in the trade.
'Blackwood is a valuable resource and in no way a throw away commodity. The rules will stay in place for the time being however, with a CITES permit required on all instruments shipped outside of the EEC.'
From January 2nd, 2017, ABW was listed on CITES Appendix 2.
The tree takes 60 years to reach full maturity. It has been subjected to extensive poaching and smuggling even in protected areas of Tanzania, one of the main producing countries.
Appendix 2/ Annex B listing means the wood is now endangered and must be controlled or it risks extinction.
It was not a total ban on its sale or exploitation as a commercial raw material.
Within the European Union there was very little change. A pipemaker importing blackwood from a supplier in, say, Germany and selling a finished bagpipe to a customer in the UK or France could continue as before.
The only obligation within the EU was that instrument makers had to make sure their African blackwood was legally sourced and imported and that relevant documentation so proving was retained and readily accessible should inspection of stock be required.
For ex-EU sales things were more complicated and had significant ramifications for Scotland's independent retailers.
The respected bagpipemakers who advertise with Piping Press: RG Hardie, D Naill, RT Shepherd, McCallum, and Wallace are all committed to using only certified blackwood.
These companies already supply outlets throughout the US, Canada, Australia, New Zealand and elsewhere.
Each shipment to a country outwith the EU required an export licence from the UK CITES Management Authority's Centre for International Trade in Bristol, with the overseas customer – individual or company – applying for an import licence from their own country's CITES authority.
The cost of such an export permit in the UK is a minimum £59 and each shipment can take 15 working days to process.
Manufacturers could ship 10 or more sets of African blackwood pipes plus wooden practice chanters, repairs etc. but still only pay one licence fee.
---
[wds id="8″]