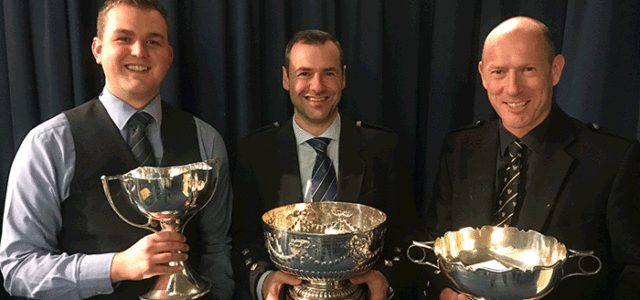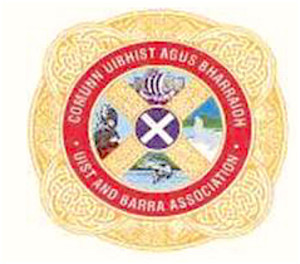 A successful competition was held at the National Piping Centre, Otago Street, in Glasgow. The main hall was busy throughout the day. Eleven competed in the ceol mor and 13 in the light music. Pipers were given their tunes one week in advance and were allowed four minutes tuning. The efficient stewarding meant a smooth-running event with good continuity and a stream of good performances. The picture above shows the main winners: Craig Sutherland (MSR), Niall Stewart (H&J and Overall) and Iain Speirs (Ceol Mor). 
Piping convenor: John Angus Smith; Announcer Catriona Nic a' Phi.
Ceol Mor, Glasgow Highland Club Silver Medal and Finlay MacKenzie Challenge Trophy
1 Iain Speirs  £220
2 William McCallum £175
3 Angus MacColl £110
4 Jamie Forrester £85
5 Stuart Liddell £65
MSR, Oban Times Challenge Trophy
1  Craig Sutherland £165
2  Niall Stewart £110
3  Stuart Liddell £85
4  Alasdair Henderson £75
5  William McCallum £65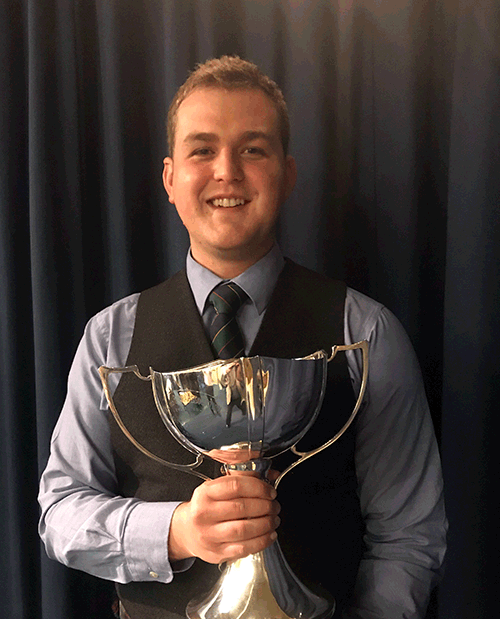 H&J, Angus John MacDonald Trophy
1  Niall Stewart £70
2  Alasdair Henderson £60
3  Iain Speirs £50
4  William McCallum £40
5  Gordon McCready £30
Overall for the Charles Hepburn Rose Bowl: Niall Stewart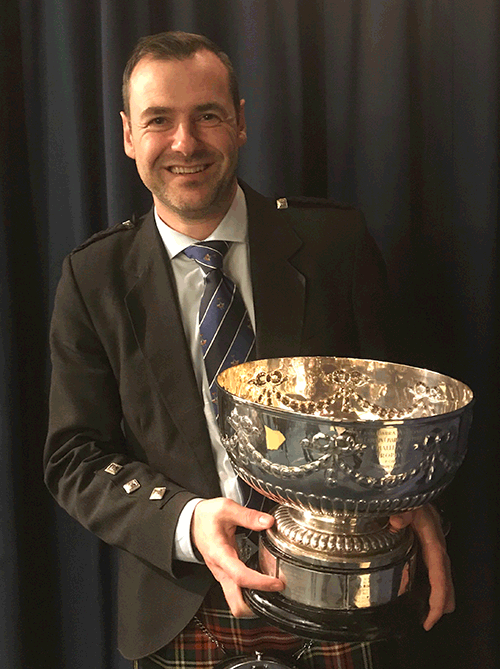 The full list if invitees for the ceol mor and their tunes:
1. Alasdair Henderson – My King has landed in Moidart
2. Stuart Liddell – Unjust Incarceration
3. Glenn Brown – Laird of Anapool's Lament
4. Gordon McCready – Lament for Captain MacDougall
5. Craig Sutherland –  End of the Great Bridge
6. Peter McCalister – War or Peace
7. William McCallum – Old Men of the Shells
8. Angus MacColl – Battle of the Pass of Crieff
9. Jamie Forrester – MacLeans' March
10. Roderick MacLeod – Earl of Ross's March
---
---
11. Niall Stewart – Blind Piper's Obstinacy
12. Iain Speirs – Nameless (Cherede Darievea)
Outstanding pipers Ben Duncan and Sarah Muir competed in the light music only (MSR and H&J) and Peter McCalister the ceol mor. Judges: A Dòmhnullach, W Morrison, J Taylor.
The Editor writes: 'As reader Mrs MacKinnon says in our Comments section, this was a thoroughly enjoyable day of high quality piping. There were outstanding performances particularly from the winners. Iain Speirs was out on his own in the ceol mor. Here was a performance that showed a thorough grasp of timing, nuance and phrasing. The 'big' namless tune is never easy but Iain's fluent subtlety held everyone throughout its considerable length. I forgot to ask his permission, so I hope he won't mind my playing a short excerpt from the crunluath variation:

Other tunes I heard and enjoyed (not in any particular order): If Jamie Forrester did not have the bagpipe of the day then I don't know who did. He would surely have been placed higher in the piobaireachd had he better expressed the first variation of MacLean's March. Jumping up to the C at the beginning of the first phrase and then rushing the doubling and then playing the taorluath in a definite swingy 6/8 cost him dear I greatly fear; Stuart Liddell didn't quite capture the brooding, threatening menace necessary in the first line of the Unjust Incarceration and at times his pulsing seemed slightly awry in the variations but you just cannot keep the maestro out of the list.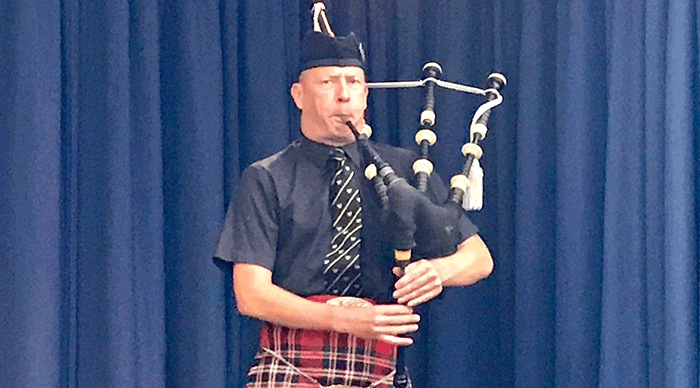 Gordon McCready never quite locked the drones down onto the low A but apart from an under-phrased Var 1 doubling made a good job of Captain MacDougall; Angus MacColl pitched for the top with a fine Laird of Coll's Barge (Pass of Crieff). More on the high A for the lovely descent to B in the Thumb would have pleased this listener but Angus showed beautiful control in gently increasing tempi through singlings, doublings and treblings; Craig Sutherland needed to set his Big Bridge out better – promising but ultimately lacking in musicality.
Niall Stewart didn't quite catch the pulsing on the short theme notes of the Blind Piper – excellent pipe; Peter McCalister wasn't quite as good with War or Peace as he was at Inverness – the fingers had tightened up and he had a mistake; finally Glenn Brown tackled the hardest tune in the canon, the Laird of Anapool. This was shaped up well but a problem with his blowstick meant he was pushing on to get finished. You cannot tackle this beautiful beast with anything other than complete control of the pipe, but nevertheless there was a lot of merit in what Glenn gave us.
In the light music it was pleasing to hear so many pipers playing their marches at a proper professional tempo. It made for good listening. There was also a wide selection of material on offer, not just the usual Highland Wedding type pot boilers we hear so often in the bands. That said, pipers need to be judicious in what they select. I remember young Alex Gandy playing Mrs MacDonald of Dunach in the Former Winners at Inverness a couple of years back. Some of us suggested that if he was to progress he would have to get on to something with more depth. I think he has now done so.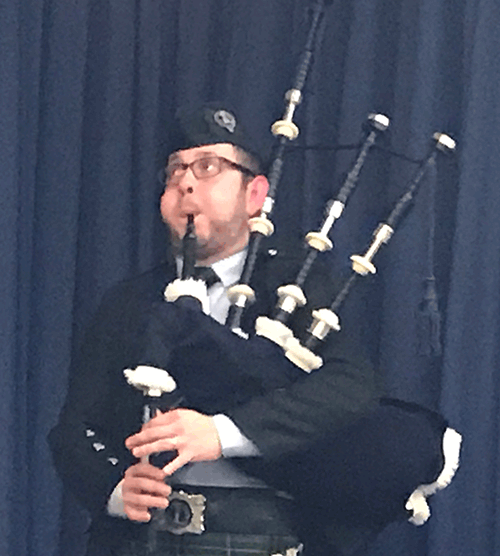 Some pipers need to look at their current submissions and ask the same question. If I get asked to play X will it stand a chance against MacLean of Pennycross or P/M John Stewart or Inveran or Allan Dodd? Is it really good enough? If there is even a smidgen of doubt get rid of it. The same test needs to be applied to the Hornpipe & Jig where there were some tunes better suited for the pipe band and others of dubious provenance on offer. Again the question needs to be asked. I want to try something different yes, but is 'Tyler's Techno Tenor Tassles' going to hold its own again Crossing the Minch or P/M George Allan or the Train Journey North?
Anyway the ceol beag was a triumph for Niall Stewart, Kyle, with his clean, relaxed hands, expression and control (and a full, harmonically rich bagpipe) gaining him a first and second and the overall prize. Lastly a big well done to Craig Sutherland for winning the MSR in fine style and to Alasdair Henderson for his cultured delivery in both the MSR and H&J. Our piping tradition is safe with young pipers of this quality now donning the mantle of responsibility.
---
[wds id="2″]