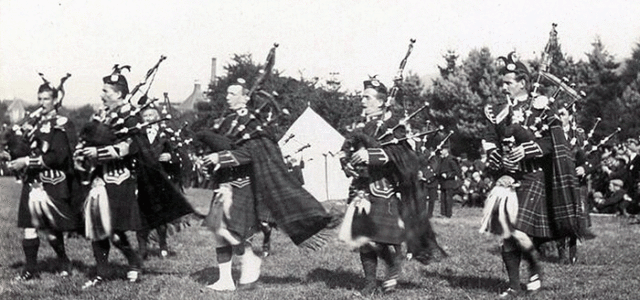 I'm grateful to New York based piper and collector Yahya Hussein for the above picture. It is from his collection of old Highland games prints.
It shows (r to l) Willie Ross, GS McLennan, unknown with white spats, John MacKay and Alexander Matheson – all Gold Medallists – leading the parade at Lochaber Gathering in 1905. There are other prints Yahya has forwarded and I'll run them in due course. Thank you sir!
---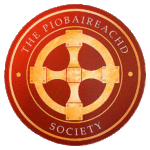 The definition of what constitutes an amateur piper varies from country to country. Here it has always been someone who accepts prizemoney in a senior solo competition and this is the definition adopted officially by the Piobaireachd Society. It can't be too rigid however. Someone who got fourth in the jigs at Drumtochty Games in 1980 and then gave up for thirty years could hardly be classed as a professional piper. The Society cover this, allowing for arbitration by the promoter. Common sense has to play its part. Those who run amateur events might like to refer to the Society's sage advice. It forms part of the rules for their popular Archie Kenneth Quaich just announced. Check them out
here
. Entries close December 13. The Society has also just posted two high-quality videos from the Edinburgh Fringe concert they promoted last August. The tunes were played in continuous fashion with no tuning. See what you make of it by clicking
here
. Helpful timings are given so that those who don't have time to listen to the whole thing can be selective.
---
South West Scotland Pipe and Drum Academy hold their annual juvenile solo contest tomorrow. Chairman Andrew McCartney: 'This is scheduled for this coming Saturday, 29th September, commencing with the first classes at 10am in Lockerbie Academy, very close to the M74. We have a total of around 60 performances, and a brand new set of spalted beech trophies, so it is all set for a good day. The trophies are for the winners of U14 Novice Piping, U15 Piping and all U18 competition categories, beautifully crafted by local designer-maker Peter Smith.'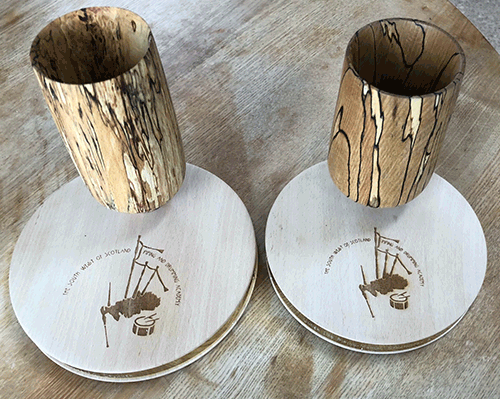 ---
The Scottish Fire and Rescue Service Pipe Band: 'We are delighted to recently appoint Olly Brownlie as the new Pipe Major of the Grade 2 band and William Corkindale as the band's new leading drummer. Olly most recently served as Pipe Sergeant for the last two years and was Pipe Major of the Novice band. Both Olly and William are former members of the Glasgow Police Pipe Band, with William playing under Eric Ward with much success. The Novice band is now under the direction of Pipe Major Michael Clark. Michael is also a member of the Grade 2 SFRS band and has served as one of the band's tutors for the last two years. Both bands have begun working hard for 2019 and look forward to taking to the arena next season! Whilst our Grade 2 band's bass and tenor section is full we would encourage any pipers or snare drummers interested in joining to get in touch. Email me on
obrownlie07@gmail.com
.'
---

The Press & Journal newspaper in Aberdeen covered the RAF Centenary Lunch at the Royal Northern and University Club well with a good mention for the Guest of Honour Jack Cruickshank VC. Check it out
here
. Mr Cruickshank, as I am sure you will have read, is the subject of our composing competition – first prize £1,000. You always meet interesting people at these lunches. The woman next to me lives in Bellabeg House, Strathdon. Her grounds are used for Lonach Games. When Billy Connolly had nearby Candacraig she met all the Hollywood stars who visited. Billy was lovely, she said, no swearing, perfect manners, the very antithesis of his stage persona. Robin Williams was a genius who could ad lib a 30 minute Connolly impression with perfect Clydeside argot; Steve Martin arrived with a young girlfriend and ignored everyone; Dame Judi Dench was a fund of humour and interest. All I could offer the table was the disappointing news that Lonach only attracted four entries for the piobaireachd this year!
---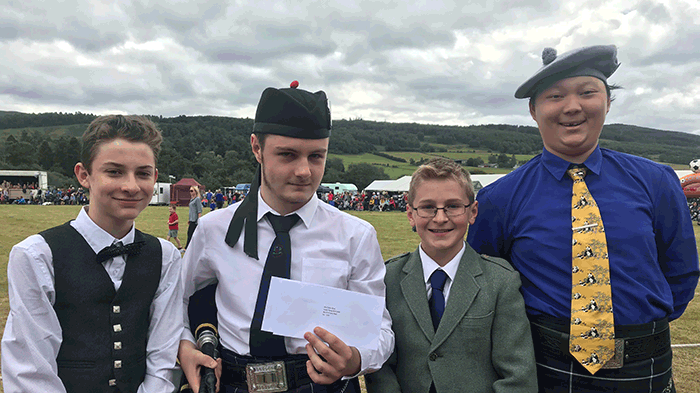 Still with the games I must tell you about the encounter fellow adjudicator Ronnie Clark had at Aberfeldy in early August. Winner of the MSR and H&J was young Bobby Allan with a display of neat fingering and good phrasing. Bobby just needs to get a little more control into his playing and he will do even better. A real prospect this lad.
Second on was Chinese piper Dannaidh Cheng who hails from Guanzhou (Canton). I am not sure that young Dannaidh (he says it's Cantonese Gaelic) has quite perfected his competition etiquette or his command of English.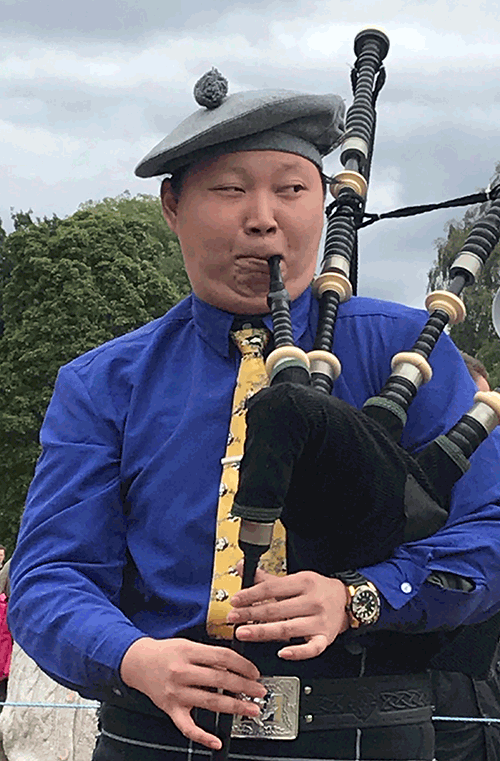 This was his approach to the bench for the H&J: 'Sorry I f… up in my march. If I f….. up in my jig I send you 12 chicken claws.' China hands will know the latter are a delicacy often eaten for breakfast in that vast country. Mid belly laugh we thanked Dannaidh for his offer and he strode to the board and made a good stab at the Curlew perhaps thinking all the while about those claws. It's why we love the games……
---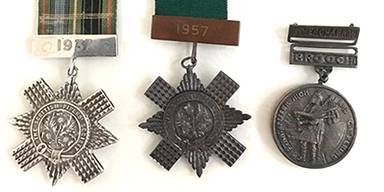 I mentioned the medals won by P/M JB Robertson, Scots Guards, last week. JB's son Jim has been in touch (see Comments) saying he would like to get in touch with the owner. Here's Jim's email:
james.robertson5@sky.com
. Thanks to Roddy Livingstone for supplying.
---
[wds id="2″]