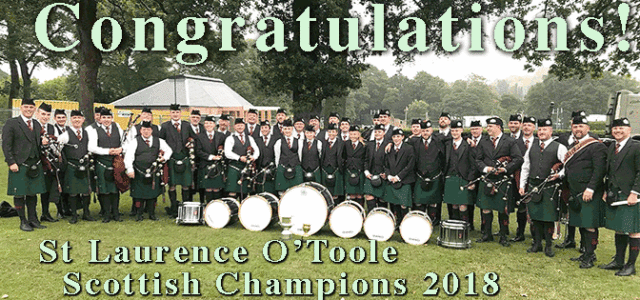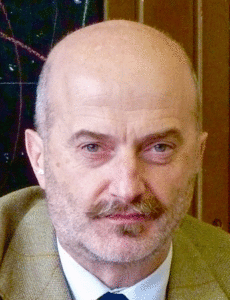 Some thought my comments on the St Laurence O' Toole's performance at the British Championship at Paisley a couple of months ago a little harsh and they may have disturbed the boys in green too.
But when you know a band can do so much better, when they fall short of your expectation, it always sharpens the pen. Those made of stern stuff knuckle down, roll up the sleeves and hit the practice hall with a 'we'll show that baldy so-and-so' attitude.
On Saturday SLoT did just that. They produced an excellent performance of Links of Forth, Blair Drummond and the Smith of Chilliechassie about as far in style and impact from what they served up at Paisley as it was possible to be. Here was the complete package. The sound had purity, clarity and projection. The fingerwork was clean and precise and the tempi and phrasing just so.
Being last on may have helped the judges in their decision-making but there can be no doubt that collectively they got this one spot on. SLoT's approach to the flags was almost nonchalant. I noticed P/M Alen Tully's tenor drone top came off just as they entered the field. He replaced it exactly where he knew it should be and marched on without even bothering with a check tune. Two rolls from warmer sounding side drums and off they went, cruising through their set and finishing to loud applause.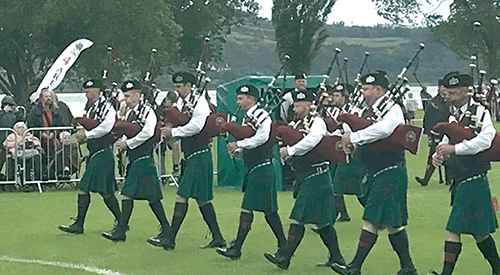 Two other bands were in the frame for first: Field Marshal and Inveraray. FM ended up third. They gave us perhaps the best expressed march in the Braes of Badenoch and their distinctive sound and brilliant fingering had me thinking the day might be theirs – especially after the way they handled the fifth part of Blair Drummond. The precision in those double Cs to low A had to be heard live to be fully appreciated. However I thought I detected some wandering in Pretty Marion – especially towards the seventh and eighth parts. Maybe this needs a look. I also noticed a number of pipers just standing doing their own thing and paying little attention to the pipe major. Some even had their legs apart instead of heels together, toes at ten past two. Maybe this is where FMM are losing it these days. It is almost unthinkable that unless they win the Worlds – which they may well do – they will end the 2018 season without a Major. (That said, they were robbed at Paisley).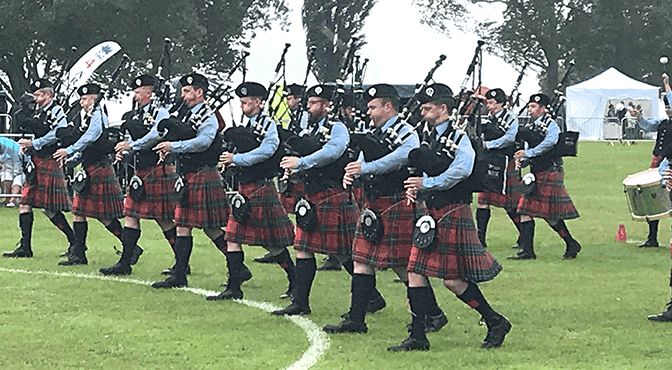 Inveraray were the other band vying for first. Their set was a fraction safe I felt, but beautifully put together with a lovely sound from the pipes. Readers will know that I don't often listen to a band 'drums first' but occasionally at the Scottish Steven McWhirter's corps came crashing in so loudly that one had no option. I appreciate this corps' dynamic imperative, they just need to lessen the overall volume a soupçon.
Fourth prize went to Scottish Power and it was refreshing to hear them tackle Willie Fergusson's Kantara to El Arish as their march – it works so very well in a band. So far so good – until the strathspey where the tempo dropped significantly and one's interest in the music began to lag. Had it not done so I may not even have noticed the slight rough edge to the Power's drone sound. But let's cut them some slack. In pipe bands we are daft enough to listen to bagpipes drones first aren't we? The Power's may have mixed perfectly well had we heard them face on. As it was from where I was standing downwind of the circle they were in tune but verging on coarse. It was obvious when compared to Fife Police who followed.
There was no dragging of tempi here. P/M Murray pushed them through Lord Alex, Tulloch Castle, and John Morrison the way a Grade 1 band should be pushed. They were perhaps a shade cavalier at the reel intro but I liked their forcefulness, their high tempo expression, their determination not to die wondering.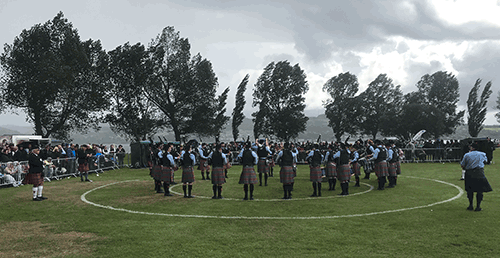 We were all delighted to discover later that Shotts had placed sixth on the day. They really had the worst of the weather but managed to hold it together despite a deluge of rain whipped by winds straight off the Clyde estuary. The gods certainly had it in for them at Levengrove. P/M Canning's wry shake of the head at the end of the reel said it all and he and his band deserve the greatest credit for their stoical refusal to buckle under the most extenuating of circumstances. Had they just downed sticks and walked off no one could have blamed them. 
Just outside the list in my view were Boghall & Bathgate. The phrasing and pointing could improve (third part Balmoral Highlanders a case in point) – better in the strathspey; rich drum sound; well set chanters.
Now to Grade 1B. What grade I hear you say? Well the truth is that I have been going on about splitting Grade 1 for so long with nothing being done that I have decided to do it anyway – solely for the purposes of this article you understand. For it is evident to anyone with ears worthy of the name that although all bands that make it to Grade 1 are high quality outfits, there is a significant gulf between the top and bottom of this grade. Anyone wishing for a visual representation last Saturday only had to glance up at Dumbarton Rock, acknowledge the dip in the middle and there you had it.
---

---
At the Scottish we had proof yet again that the MSR discipline is not the métier of the bottom half, the main failing the inability to consistently phrase and point at tempo. They have the tone and the general idea but not the finesse in fingering or timing to threaten the top six. But there is hope. There are loads of good quality competition MSRs not quite so difficult as the big tunes – Kantara to El Arish for one. Opt for these and pipe majors might be able to get the tempos up without compromising technique, pointing and phrasing. Worried about your strathspeys? Have a listen to John Wilson on 'Pipeline' from last Saturday. Get 15 or 20 pipers playing tightly together like that and you are on a winner.
So in first place in Grade 1B, receiving the Piping Press Virtual Trophy and absolutely no cash (say that again in Ian Embelton deadpan) were Lomond & Clyde my worthy Grade 1B Scottish Champions. An improvement in this band from earlier in the season with P/M Wilton finding his feet and the official points table showing them clawing their way up from the bottom as the weeks in the top tier unfolded. Highland Wedding proved difficult for them and an easier march might leave an even better impression. L&C are not the only ones who find controlling and pointing the runs up from C to high A and birl difficult. A close second in my G1B were Johnstone. Their tartan may be blue but, despite the unison issues, there was nothing but cheery brightness in their Allan Dodd, Tulloch Castle and John Morrison; good sound too. Third I gave to Glasgow Skye: semi solid with a good tone.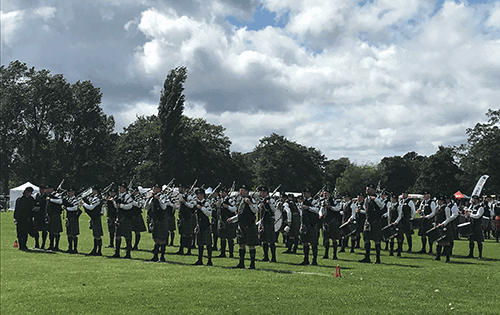 Where does Dumbarton leave us vis-à-vis the Worlds? SLoT's noses are in front now and they have the big concert to come. Remember 2010. FMM and I'ray will have something to say about that, make no mistake. These are proud, brilliant pipe bands. P/M Liddell has a title to defend; P/M Parkes badly wants number 12. I can't see anyone else cracking this triumvirate at Glasgow Green though I am hearing good reports re SFU from BC land. And don't discount the Power, Fife or Shotts either. They are well capable of producing the necessary performances for an upset. It's going to be thrilling to see and hear them all battling it out. Once again the pipe band enthusiast wins all round.
---
[wds id="2″]